Announcing Jazz Mentors 14: "What Does a Publicist Do?"
The Council for Living Music and AFM, Local 802 present
Jazz Mentors 14: What Does a Publicist Do?


with Lydia Liebman, Matt Merewitz, and Jason Paul Harman Byrne
Thursday, February 22nd, 2:00-3:30PM
322 West 48th Street, Club Room
New York, NY
Free and Open to the Public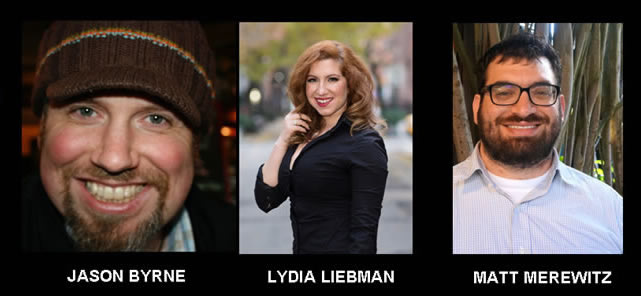 On Thursday, February 22nd, jazz publicists Lydia Liebman (Lydia Liebman Promotions), Matt Merewitz (Fully Altered Media), and Jason Paul Harman Byrne (Red Cat Publicity) will be on hand to discuss the role of a publicist in the career of a jazz artist. They will address such subjects as: What does a publicist do? When is it the right time to engage a publicist? And: What are the best ways to publicize oneself in the era of digital platforms, social media, and an increasingly mobile app-driven culture.
THE PANELISTS



Lydia Liebman
Lydia Liebman is the president of Lydia Liebman Promotions, founded in 2010. Since taking on Danilo Perez's Berklee Global Jazz Institute as her first client, Lydia has gone on to promote the albums and tours of an impressive array of artists including Mark Whitfield, Brandee Younger, Scott Tixier, Brian Lynch, Helen Sung, and Dave Liebman. Last year, she spearheaded the Grammy campaign for indie duo the Baylor Project, which garnered two nominations.
In addition to her work as a publicist, Lydia has worked extensively in jazz radio; highlights include apprenticeships with Sirius XM's Real Jazz and The Checkout from WBGO. She is also the Senior Assistant Editor of NYC publication Education Update.

Matt Merewitz
Matt Merewitz is the founder of Fully Altered Media, a standard-bearing PR and social media firm. He began his professional career at DL Media in Philadelphia, working with artists and labels such as Jason Moran, Aaron Parks, Frank Foster, Cryptogramophone Records, Mack Avenue, and Marsalis Music, among others. During this time, he also freelanced as a PR consultant to Ars Nova Workshop, Pi Recordings, and others. Merewitz moved to New York City in 2009.  He has since represented top artists, labels, and institutions including Vijay Iyer, Linda May Han Oh, Tyshawn Sorey, Chris Potter, Dave Holland, Nels Cline, NYC Winter Jazzfest, Chicago Jazz Festival, Vision Festival, and The Jazz Conception Company.
Jason Paul Harman Byrne
Byrne's Red Cat Publicity (launched in January of 2005) boasts a client list comprised of the best of the best in modern jazz, including Anat Cohen, Andreas Varady, Leni Stern, Camila Meza, Mark Guiliana, Ben Wendel, Dayna Stephens, Gilad Hekselman, Joe Locke, Ingrid & Christine Jensen, Yotam Silberstein, Kevin Hays, The New York Standards Quartet, Brooklyn Jazz Underground Records, Frank Carlberg & Red Piano Records, Motema Music, and others.
With Red Cat Publicity Byrne is able to offer creative artists publicity services with intensity and dedication. Being an experienced publicist, and musician, he is an effective press agent for artists wishing to expand their awareness and audience, thereby furthering their careers.
Jazz Mentors is made possible in part by a grant from the New York City Council with the support of Speaker of the New York City Council, Corey Johnson.