*BE ADVISED: the Local 802 building is closed until further notice in compliance with Governor Cuomo's "stay at home order" that went into effect on March 22, 2020 at 8 PM.*
Business Representatives Working Remotely Until Further Notice
Your business representatives will continue to be available to you remotely during Local 802's business hours of Monday through Friday, 9:30 AM – 5:30 PM, to answer any contract questions. Find the staff directory here to email and/or call individual business reps. If your telephone call is not immediately answered, PLEASE leave a message. Business reps will be closely monitoring voicemails throughout the workday and will respond as soon as possible. However, please note that business representatives will not be present in the 802 building to meet face-to-face with members until further notice.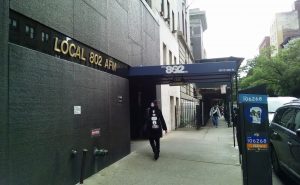 Local 802 office
322 West 48th Street
New York, NY 10036
212-245-4802
Office Hours: 9:30 AM – 5:30 PM, Monday – Friday
Membership Department Window Hours: Monday – Friday, 9:30 AM – 5:00 PM
Electronic Media Checks Window Hours: Monday, Tuesday, Thursday, Friday, 10:00 AM – 4:30 PM; Wednesday, 10:00 AM – 5:30 PM
Contact us
Click below to get in contact with staff in each of the following departments. If you aren't sure who to contact, call 212-245-4802 to speak with our switchboard operator.