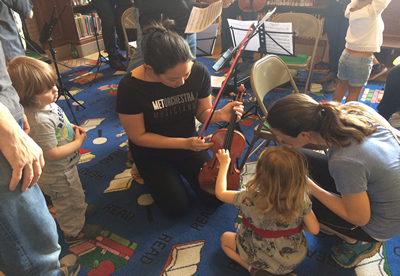 We are the Associated Musicians of Greater New York, American Federation of Musicians Local 802, the largest local union of professional musicians in the world. We unite to fight for the common interests of all musicians by advancing industry standards that dignify our labor and honor and enrich our art. We seek to organize a community of all musicians and aspiring musicians, and we reach out to all who share our interests and our passion. We are committed to upholding the integrity of live musical performance and to advancing the vital role of music in education, and in the economic, cultural and social life of our community and beyond. We advocate for economic and social justice for musicians and for society as a whole.
Visit Local 802
The Local 802 AFM building is located at 322 West 48th Street between 8th and 9th Avenues in Manhattan and operates Monday-Friday, 9:30 AM-5:30 PM, unless otherwise noted below in our building directory. To find the best staff member to discuss a particular issue with, visit our staff directory or call (212) 245-4802.
---
*BE ADVISED: the Local 802 building is closed until further notice in compliance with Governor Cuomo's "stay at home order" that went into effect on March 22, 2020 at 8 PM.*
---
Business Representatives Working Remotely Until Further Notice
Your business representatives will continue to be available to you remotely during Local 802's business hours of Monday through Friday, 9:30 AM – 5:30 PM, to answer any contract questions. Find the staff directory here to email and/or call individual business reps. If your telephone call is not immediately answered, PLEASE leave a message. Business reps will be closely monitoring voicemails throughout the workday and will respond as soon as possible. However, please note that business representatives will not be present in the 802 building to meet face-to-face with members until further notice.
First Floor
CLOSED UNTIL FURTHER NOTICE
Clubroom and Rehearsal Room B*
*To reserve rehearsal space at Local 802, contact Maureen Cupid-Pierre at 212-245-4802 ext. 111.
Second Floor
CLOSED UNTIL FURTHER NOTICE
Office of the Recording Vice-President
Membership Department and Membership Department Window:

Monday – Thursday, 11 AM – 4 PM

Electronic Media Department:

Monday – Friday, 11 AM – 4 PM

Electronic Media Checks Window:

Monday – Friday, 11:30 AM – 3 PM.

At 3pm, the check window will close to enable staff to perform necessary administration of the day's receipts.
Third Floor
CLOSED UNTIL FURTHER NOTICE
Musicians Health Fund: Monday – Friday, 9:00 AM – 4:30 PM
Fourth Floor
CLOSED UNTIL FURTHER NOTICE
Office of the Financial Vice-President
Finance Department
IT Department
Actors Federal Credit Union: Monday – Friday, 9:30 AM – 5:00 PM (New Accounts and Notary Service, 10:30 AM – 4:00 PM)
Fifth Floor
CLOSED UNTIL FURTHER NOTICE
Office of the President
Department of Field Services (Concert, Hotels, Jazz, Latin, Single Engagements, Teaching Artists, Theatre)
Department of Strategic Campaigns (Organizing, Communications)
Legislation, Political Action, and Public Relations