Tomoko Akaboshi is a Musician of New York.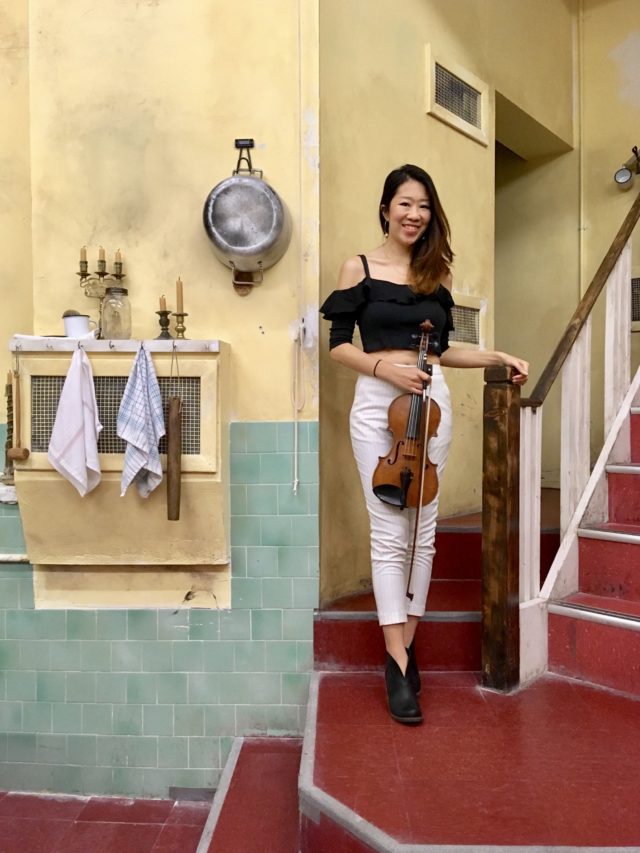 Violin and viola player Tomoko was born in Tokyo, Japan, but spent much of her childhood in the U.S. before returning to Japan for high school, college, and the beginning of her music career. She moved to New York roughly five years ago determined to establish herself as an improviser and theater violinist. Tomoko recently played violin in the Off-Broadway production of Sweeney Todd: the Demon Barber of Fleet Street (pictured here on the set of Sweeney Todd.) She previously held a Broadway chair as Concert Mistress in Amazing Grace, and has subbed on several other Broadway shows. Outside of performing and recording work, Tomoko works as a musical consultant, coordinator, and translator for major orchestras across four continents. When she can, she loves traveling and discovering new food.
"I have two cultures inside me. While I speak both English and Japanese, my knowledge of the musical vocabularies in each language has enabled me to do a wide variety of fulfilling work. When I moved to the States with just a single suitcase and a violin, I said, 'okay, well, I don't have any work. I have to create my own.' At first, I didn't really know anyone. It's really difficult because the nature of our work is that you meet people at gigs and, if you do well, you might get another call. But if you don't have those gigs in the first place, where do you make those connections? Finding the answer was initially a struggle but going through that process helped to develop a sense of determination that still aids me today." #MusiciansofNY
View this post on: Instagram and Facebook!
#MusiciansofNY tells the stories of the working union musicians of New York, with posts about a new musician every Wednesday! Find more Musicians of New York stories here.