JAZZ IN THE AFTERNOON
presents
The Ross Kratter Jazz Orchestra
To benefit the ERF
**Donations can be made by cash, check and/or credit card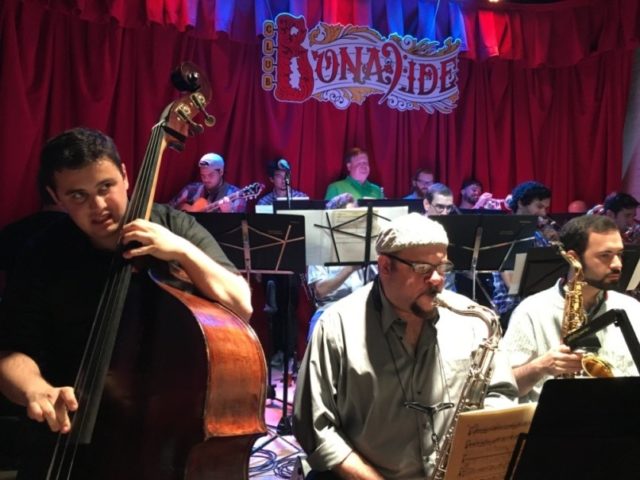 Join us on Thursday, July 12 at 5 p.m. at Local 802 in the Clubroom. Come relax between gigs and enjoy live music! Your donations will support the Local 802 Musicians' Emergency Relief Fund, which helps musicians in need. For more information, contact Bettina Covo at (212) 245-4802, ext. 152.
The Ross Kratter Jazz Orchestra is composed of members of the Mike Stern Band, Arturo O'Farrill's Afro-Latin Jazz Orchestra, Victor Wooten Band, Postmodern Jukebox, Streetlight Manifesto, various Broadway show orchestras, and many more, and has played all over New York to sold-out audiences since its founding in 2010.
The band was founded by bass player, composer, and arranger Ross Kratter in 2010. Kratter's compositions and arrangements, heavily influenced by Thad Jones, Bob Brookmeyer, Charles Mingus, Sy Johnson, and others, make up the majority of the band's book, with the rest being comprised of arrangements and compositions from other members of the band. While he is primarily known as a jazz musician, Kratter is equally comfortable in any and all styles of music and has performed with such notable and varied artists as Joshua Redman, the Drifters, Bob Franceschini, Victor Wooten, Bob Reynolds, Mike Longo's New York State of the Art Jazz Ensemble, Randy Johnston, Badal Roy, Joe Alterman, Domenick Allen, Scott Record, Frank Lacy, the Gabriel Alegría Afro-Peruvian Sextet, Allen Vizzutti, and many more.