Jazz in the Afternoon – Supporting the Emergency Relief Fund through live music performance
Jazz in the Afternoon is a vibrant series of free, informal concerts designed to raise awareness and funds for the Local 802 Emergency Relief Fund, a 501(c)3 not-for-profit  organization offering 802 musicians assistance in times of dire need.
Once a month, dedicated band leaders and musicians volunteer their time, talent, and love of music to support the ERF, performing free concerts that range from big band jazz to duos, with a roster that includes some of the finest jazz, Broadway, television/film, and classical musicians in the greater New York area.
Most performances begin at 5:00pm and last until 6:30pm in the Local 802 Clubroom (322 West 48th Street, New York, NY 10036).  Donations are accepted at the door via cash, check, or credit card, and the concerts are open to the general public. Join us for great music for a great cause!
Fundraising for the ERF
The Musicians' Emergency Relief Fund is funded by voluntary contributions and donations, and fundraising is especially important in these difficult financial times. As a non-profit 501(c)(3), the ERF relies upon voluntary contributions in order to provide musician members with reliable assistance in times of trouble and dire need. These funds are used to provide musicians who find themselves suffering through catastrophic illness, dramatic career downturns, or demonstrable financial hardship with support and assistance.
Upcoming Performances
March 8, 2018
The Russ Kassoff Big Band
featuring jazz vocalist Catherine Dupuis and special guest Don Shelden, with special arrangements by Marion Evans!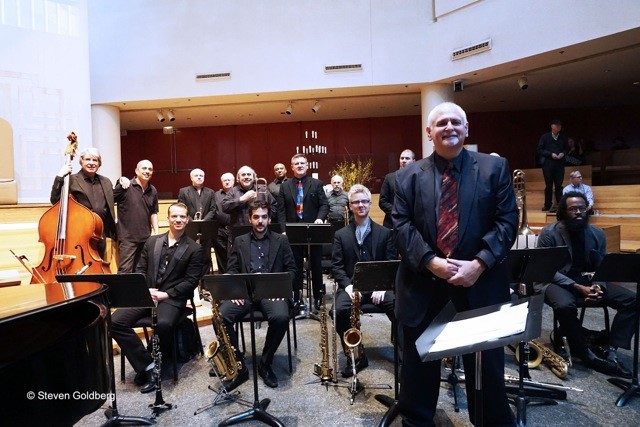 The Russ Kassoff Big Band was formed in 2003 after a successful run of concerts featuring Russ as featured composer, arranger, orchestrator, and piano soloist. The virtuosity of the magnificent musicians in the band contributes to the new fresh sound of these hard-swinging original charts. Russ's repertoire is eclectic and diverse, including many new and innovative arrangements of his original compositions in addition to such classics as Ellington's Perdido, Horace Silver's The Preacher,  Fats Waller's The Joint Is Jumpin', and Tori Amos' Winter.
From 5:00pm to 6:30pm at the Local 802 Club Room, 322 West 48th Street between 8th and 9th Avenues, first floor. Donations can be made by cash, check, or credit card. More info about this event can be found here.
Previous Performances
February 15, 2018
The Ed Palermo Big Band
with guest vocalist Nina Hennessey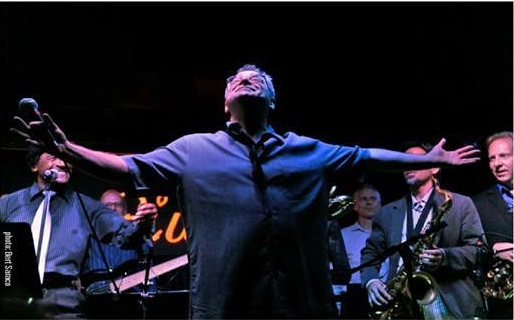 Ed Palermo is not a "business as usual" musician. After all, when most people think of "big bands" they think of Duke and Dorsey. But go to see Ed Palermo's Big Band and you might hear Zappa, Hendrix, the blues of Paul Butterfield & Mike Bloomfield, or one of Ed's own compositions, loaded with lush turns and unexpected twists.
January 18, 2018
The Ross Kratter Jazz Orchestra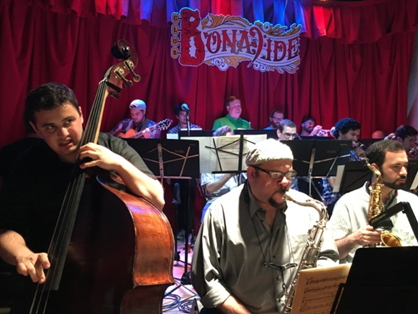 The Ross Kratter Jazz Orchestra is composed of members of the Mike Stern Band, Arturo O'Farrill's Afro-Latin Jazz Orchestra, Victor Wooten Band, Postmodern Jukebox, Streetlight Manifesto, various Broadway show orchestras, and many more, and has played all over New York to sold-out audiences since its founding in 2010.
The band was founded by bass player, composer, and arranger Ross Kratter in 2010. Kratter's compositions and arrangements, heavily influenced by Thad Jones, Bob Brookmeyer, Charles Mingus, Sy Johnson, and others, make up the majority of the band's book, with the rest being comprised of arrangements and compositions from other members of the band. While he is primarily known as a jazz musician, Kratter is equally comfortable in any and all styles of music and has performed with such notable and varied artists as Joshua Redman, the Drifters, Bob Franceschini, Victor Wooten, Bob Reynolds, Mike Longo's New York State of the Art Jazz Ensemble, Randy Johnston, Badal Roy, Joe Alterman, Domenick Allen, Scott Record, Frank Lacy, the Gabriel Alegría Afro-Peruvian Sextet, Allen Vizzutti, and many more.
December 14, 2017
Trumpeter and commercial recording artist Greg Ruvolo's Big Band Collective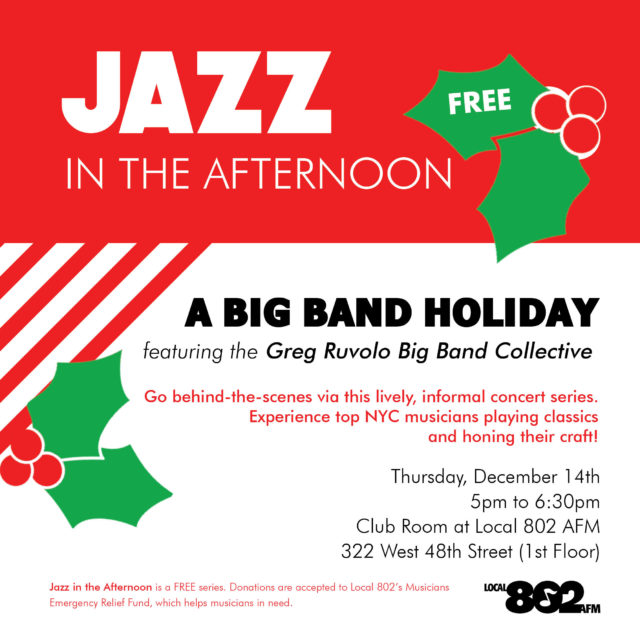 Greg Ruvolo has toured with Ray Charles, Frank Sinatra, and the big bands of Woody Herman, Gerry Mulligan, and Louis Bellson, and he brought his Big Band Collective back to Local 802's Clubroom for a special "Jazz in the Afternoon" holiday performance!
The Greg Ruvolo Big Band Collective performance featured an exciting blend of selections from the Great American Songbook, jazz standards, and holiday compositions in the modern Big Band style. Ruvolo's band boasts some impressive talent. The group's live and session resumés include stints in the Saturday Night Live band, time backing Steely Dan, and various roles in the big bands of titans like Buddy Rich, Thad Jones, Mel Lewis, and Count Basie.
November 16, 2017
Acclaimed NYC Jazz Musician Memo Acevedo and Daughter Jacquelene Acevedo with 10-piece Manhattan Bridges Orchestra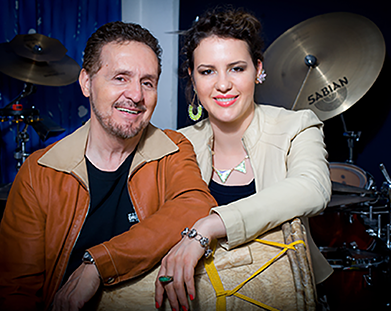 The "Jazz in the Afternoon" sessions series, featuring some of NYC's best musicians, returned for another memorable event with Memo Acevedo and his daughter Jacquelene Acevedo, as they presented their 10-piece band, Manhattan Bridges Orchestra. Memo and Jacquelene generate a great deal of buzz around the world, and we were honored that they brought their music to Midtown for "Jazz in the Afternoon."
On drums and percussion, Memo combines the diversity of Latin styles with the classic sound of bebop, a mixture that he calls "global jazz." Memo has performed with major artists and bands, including his mentor, the late Tito Puente, as well as Stephen Stills, Tom Scott, Gonzalo Rubalcaba, Dave Valentin, Joss Stone, Frankie Valli, Moacir Santos, Mark Murphy, Cachao, Irakere and Klimax, and many others.
October 12, 2017
Filmharmonic Brass Performs Excerpts from the Original Musical "Movie Music Magic!"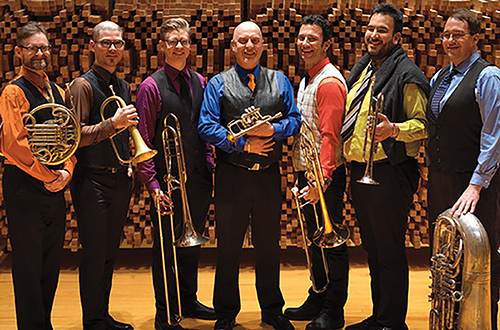 October's "Jazz in the Afternoon" session was a great introduction for those who hadn't been previously. Filmharmonic Brass performed excerpts from original musical "Movie Music Magic!" The Filmharmonic Brass is the brainchild of trumpet player Dominic Derasse. This ensemble of seven of New York's top brass players exclusively records and performs music connected with the moving image. The group's exciting musical is a live, magical, interactive experience for audiences of all ages to enjoy their favorite film soundtracks including The Magnificent Seven, Star Wars, Gone with the Wind, 2001: A Space Odyssey, Jaws, Fantasia, Beauty and the Beast, Aladdin and more.
September 28, 2017
Trumpeter Greg Ruvolo and Friends Celebrate the Music of Composer and Arranger Dick Lieb
Trumpeter, commercial recording artist, and band leader Greg Ruvolo, who has toured with Ray Charles, Frank Sinatra, and the big bands of Woody Herman, Gerry Mulligan, and Louis Bellson, brought his Big Band Collective to the Clubroom to perform the music of Sesame Street and Tonight Show composer and arranger Dick Lieb. The group performed standards such as Yardbird Suite and 'Round Midnight, as well as original compositions.