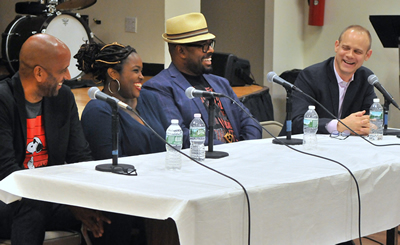 It's called the music business for a reason. The business side of music is often anathema to most musicians – something to be ignored, feared or misunderstood.
The Jazz Mentors series connects up-and-coming musicians with some of New York City's premier artists to discuss the business of jazz. Each forum features discussion led by preeminent members and leaders of the jazz community about how to build and maintain a successful music career.
The business components of establishing a career in music are frequently under-appreciated and misunderstood by young and emerging musicians. To address this, Jazz Mentors audiences are guided through some of the most vital aspects of launching a career, including representation, touring, protecting your recordings in digital format, the impact of streaming services, and building a secure financial future, among others.
Located at Local 802, the informal setting allows for relaxed communication and a free-flowing exchange of ideas between the audience and the artists, encouraging full participation and interaction. The events are free and open to the public.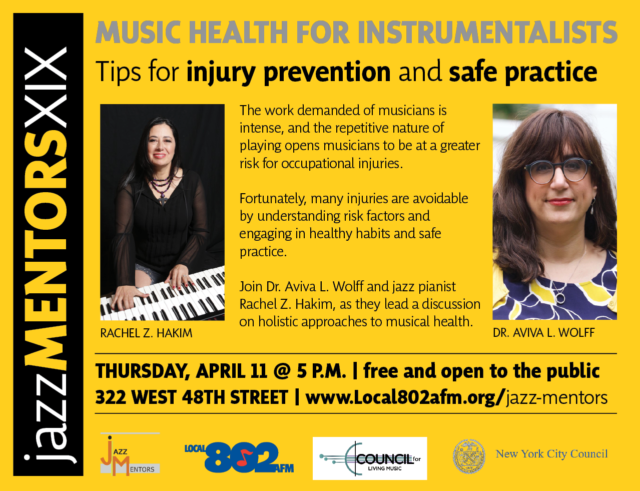 Jazz Mentors XIX "Musical Health for Instrumentalists: Tips for Injury Prevention and Safe Practice"
with
Dr. Aviva L. Wolff, occupational hand therapist and Rachel Z Hakim, jazz pianist
Thursday, April 11, 2019
5:00pm – 6:30pm
Local 802 Club Room
322 West 48th Street
New York, NY
The work demanded of musicians is intense, and the repetitive nature of playing opens musicians to be at a greater risk for occupational injuries. Fortunately, many injuries are avoidable by understanding risk factors and engaging in healthy habits and safe practice. Join Dr. Wolff and jazz pianist Rachel Z. Hakim, as they lead a discussion on holistic approaches to musical health.
Free and Open to the Public