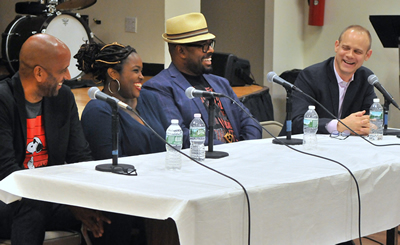 It's called the music business for a reason. The business side of music is often anathema to most musicians – something to be ignored, feared or misunderstood.
The Jazz Mentors series connects up-and-coming musicians with some of New York City's premier artists to discuss the business of jazz. Each forum features discussion led by preeminent members and leaders of the jazz community about how to build and maintain a successful music career.
The business components of establishing a career in music are frequently under-appreciated and misunderstood by young and emerging musicians. To address this, Jazz Mentors audiences are guided through some of the most vital aspects of launching a career, including representation, touring, protecting your recordings in digital format, the impact of streaming services, and building a secure financial future, among others.
Located at Local 802, the informal setting allows for relaxed communication and a free-flowing exchange of ideas between the audience and the artists, encouraging full participation and interaction. The events are free and open to the public.
Upcoming Events
The Jazz Mentors
Ben Allison
Ben Allison (Bassist, composer and intellectual property advocate) has quickly established himself as one of the most identifiable arrangers, composers and performers of today. As the leader of The Ben Allison Band, The Easy Way Trio, Man Size Safe, Peace Pipe, and Medicine Wheel, Ben has toured extensively throughout the world. Additionally, Mr. Allison is well known as a recording industry visionary and advocate, currently serving as vice President and member of the Board of the NY Chapter of the National Academy of recording Arts and Sciences.
Gail Boyd
Gail Boyd is President of Gail W. Boyd, P.C., an entertainment law firm, and Gail Boyd Artist Management, a wholly owned company of the law firm. She is a graduate of De Paul University and De Paul University School of Law. Ms. Boyd has been involved in entertainment law since 1976. She has been involved specifically in music with a specialty in jazz since 1979.
As a lawyer, Gail Boyd has represented jazz artists such as Betty Carter, Tommy Flanagan, Kenny Barron, Gretchen Parlato, Record Executive Steve Backer, and Randy Weston and has consulted with several labels including Motema Records. Several artists on the Gail Boyd Artist Management Roster are Grammy © Award nominees and winners, and are critically acclaimed by the jazz press. Artists currently represented by Gail Boyd Artist Management are: John Clayton, Jazzmeia Horn, The Baylor Project, The Clayton-Hamilton Jazz Orchestra, The Clayton Brothers Quintet, Don Braden, Laurence Hobgood, Scott Tixier.
Jason Paul Harman Byrne
Byrne's Red Cat Publicity (launched in January of 2005) boasts a client list comprised of the best of the best in modern jazz, including Anat Cohen, Andreas Varady, Leni Stern, Camila Meza, Mark Guiliana, Ben Wendel, Dayna Stephens, Gilad Hekselman, Joe Locke, Ingrid & Christine Jensen, Yotam Silberstein, Kevin Hays, The New York Standards Quartet, Brooklyn Jazz Underground Records, Frank Carlberg & Red Piano Records, Motema Music, and others.
With Red Cat Publicity Byrne is able to offer creative artists publicity services with intensity and dedication.  Being an experienced publicist and musician, he is an effective press agent for artists wishing to expand their awareness and audience, thereby furthering their careers.
Ron Carter
Ron Carter (Bass) is a legend of the jazz world, having played with some of the greatest musicians of the jazz cannon – from Cannonball Adderley to Miles Davis, B.B. King, Lena Horne and countless others. He has established himself as one of the most influential bassists in jazz, and has two GRAMMY awards and over 2,000 albums to his credit, as well as being named Outstanding Bassist of the Decade by the Detroit News, Jazz Bassist of the Year by Downbeat Magazine, and Most Valuable Player by the National Academy of Recording Arts and Sciences. In addition to his estimable career as a performer, Mr. Carter is a prolific advocate of music education, has lectured, conducted and performed at clinics and master classes, instructed jazz ensembles and taught the business of music at numerous universities, including the Thelonious Monk Institute of Jazz Studies, as well as at the City College of New York.
Bill Charlap
Bill Charlap (Piano) has performed with many of the leading artists of today's jazz era, a list that includes Phil Woods, Tony Bennett, Gerry Mulligan and Wynton Marsalis. Mr. Charlap, a two time GRAMMY nominated musician, is the Artistic Director of the Jazz in July Festival at the 92nd Street Y, and has produced several concerts for Jazz at Lincoln Center and the Hollywood Bowl in Los Angeles, CA. He performs with his trio at venues and festivals all over the world.
John Chin
John Chin has been a fixture on the New York jazz scene since 1998 and was introduced to the piano at age four. He began studying jazz at California State University, which he attended at the age of fourteen as part of the Early Entrance Program for Gifted Students. Upon receiving his B.A. in Music at nineteen, Chin continued his musical studies at the University of North Texas, before pursuing a Masters of Music degree from Rutgers University, and an Artist Diploma from the Juilliard School. John has performed internationally as a leader and sideman, at major festivals, as well as some of America's most storied jazz rooms. He has shared the stage with Ron Carter, Benny Golson, Jaimeo Brown, Mark Turner, and Ari Hoenig, among many others. Chin is a prolific composer, with four releases as a leader to-date. Chin was nominated for a Grammy for his work on Rene Marie's latest release, Sound of Red, in 2017.
Henry Conerway III
Henry has become a leading presence on the modern jazz scene since moving to New York in 2015, as evidenced by his ongoing work with such global touring artists as; the iconic Freddy Cole; the stalwart Jazz at Lincoln Center trumpeter, Marcus Printup; 2015 Thelonious Monk International Jazz Vocal Competition Winner, Jazzmeia Horn; Grammy nominated trumpeter, Russell Gunn; and several residencies with Jazz at Lincoln Center in Doha, Qatar.
His notable performances include such esteemed venues as: The Atlanta Jazz Festival; Jacksonville Jazz Festival; Savannah Jazz Festival; National Black Arts Festival; Toronto Jazz Festival; The John F. Kennedy Center for the Performing Arts; the Mount Vernon Jazz Series in Golden, CO with jazz masters Nicholas Payton and Russell Malone; and notable NYC jazz clubs as Minton's, Birdland, Smalls, Smoke; Jazz at Lincoln Center and its Dizzy's Club Coca-Cola.
Henry has also composed original works for film and performed in theatre settings including the Tony Award nominated Shuffle Along on Broadway. He tours with his own group and with The Artistry of Jazzmeia Horn.
Bob Cranshaw
Bob Cranshaw (Bass) was leading figure in the jazz world for decades, having performed with many of America's greatest jazz musicians, including Sonny Rollins, Lee Morgan, Sarah Vaughan, Horace Silver, Ella Fitzgerald, McCoy Tyner, Clark Terry and Bob Brookmeyer, among many others. He has been an active spokesperson for jazz musicians for decades, both with the Jazz Foundation of America and with AFM, Local 802 and has served on boards for both organizations.
Paquito D'Rivera
Paquito D'Rivera (Clarinet, Saxophone, Composition), a winner of fourteen GRAMMY Awards, has had an extraordinary jazz, Latin and classical music career. In addition to an extensive and diverse discography of over 30 solo albums, Mr. D'Rivera has founded numerous ensembles around the world, including the Orquesta Cubana de Musica Moderna, Irakere, United Nation Orchestra, the Chamber Jazz Ensemble, the Paquito D'Rivera Big Band, and the Paquito D'Rivera Quintet.
Alvester Garnett
Alvester Garnett's (Drummer) place among the great musicians of today is secure, having performed and recorded with the likes of Roy Hargrove, Benny Golson, Wynton Marsalis, Clark Terry, Wycliffe Gordon, Stefon Harris and many more. Mr. Garnett has performed across the United States and the world, having performed at many international festivals including the Newport Jazz Festival, the North Sea Jazz Festival, The Vienne Jazz Festival, The Montreux Jazz Festival and many others. He is currently performing across the United States with his wife, jazz violinist Regina Carter.
Kelly Green
Pianist Kelly Green is an up and coming jazz pianist-vocalist who currently resides in Harlem, New York City. Born and raised in Florida, she began singing as a toddler and started piano lessons at age seven. At age eleven she became interested in jazz and began attending the Jamey Aebersold Jazz Workshop every year with her father, who is a professional bass player. In her senior year of high school she recorded and produced her own album of twelve original songs called "Aspire."
Jocelyn Gould
Jocelyn Gould is a jazz guitarist based in New York City. She cites Grant Green, Kenny Burrell, Wes Montgomery and Joe Pass as primary influences of the instrument. Originally from Winnipeg, Canada, Jocelyn holds a Masters of Music in Jazz Studies from Michigan State University. Jocelyn maintains an active performance career in the U.S. and Canada. She has performed at the Detroit Jazz Festival, the TD Toronto Jazz Festival and the TD Winnipeg International Jazz Festival. She has performed internationally in jazz clubs with acclaimed musicians including Grammy nominated vocalist Freddy Cole and DownBeat Rising Star trombonist Michael Dease. She currently holds the guitar chair of The Gathering Orchestra, a big band based in Detroit under the directorship of bassist Rodney Whitaker. She recently recorded guitar duo with acclaimed guitarist Randy Napoleon for his upcoming record.
Keyon Harrold
New York City-based trumpeter, composer, arranger, and producer Keyon Harrold is a talented jazz artist whose adept skills have found him working across various genres from acoustic post-bop to hip-hop and R&B. Since graduating from the New School, he has balanced his time between recording and touring with jazz artists like trumpeter (and longtime mentor) Charles Tolliver, saxophonist James Carter, and veteran organ giant Dr. Lonnie Smith, as well as R&B and hip-hop artists like Common, Jay-Z, Erykah Badu, and others. As a solo artist, he debuted in 2009 with Introducing Keyon Harrold on Criss Cross, which featured contributions from Tolliver, pianist Danny Grissett, and others. He then appeared on albums by Gregory Porter, Marcus Strickland, and Otis Brown III, and toured as a member of Cirque du Soleil's Michael Jackson: The Immortal World Tour. He also supplied all of the trumpet work for the Grammy-winning soundtrack to director Don Cheadle's 2015 biopic Miles Ahead. In 2017, Harrold returned to his solo work with his sophomore album, The Mugician, on Legacy Recordings.
Jazzmeia Horn
Jazzmeia Horn (Vocals), winner of the 2015 Thelonious Monk Institute International Jazz Competition and the 2013 Sarah Vaughan International Jazz Vocal Competition, has quickly established herself as a rising star of the jazz world. Ms. Horn has performed at many of the city's premier venues, including Lenox Lounge, The Apollo Theater, The Blue Note, Minton's, The Jazz Standard, Smalls Jazz Club, Zinc, Jazz Gallery and Birdland, as well as many national and international venues with her group, "The Artistry of Jazz Horn."
Karen Kennedy
Karen Kennedy is the founder and President of 24/Seven Artist Development, a leading artist management firm founded in1992 to provide full-range strategic marketing and career planning.  She has successfully guided the careers of some of the top names in jazz many of whom have earned multiple GRAMMY© nominations including NEA Jazz Master Kenny Barron, educator, vibraphonist and composer Stefon Harris, pianist Jacky Terrasson, vocalist Gretchen Parlato, GRAMMY© winner saxophonist David Sanchez, pianist James Francies and guitarist/vocalist Camila Meza.
Prior to launching her business, Ms. Kennedy was an executive at several major record labels including A&M Records, Perspective Records and Silas/MCA Records.  She currently lectures at various colleges and has taught at Manhattan School of Music and The Juilliard School.  She holds a B.A. in Psychology from UCLA, an M.A. in Counseling and College Administration from the University of Southern California and is a Ph.D. candidate in Higher Education at UCLA.
Lydia Liebman
Lydia Liebman is the president of Lydia Liebman Promotions, founded in 2010. Since taking on Danilo Perez's Berklee Global Jazz Institute as her first client, Lydia has gone on to promote the albums and tours of an impressive array of artists including Mark Whitfield, Brandee Younger, Scott Tixier, Brian Lynch, Helen Sung, and Dave Liebman. Last year, she spearheaded the Grammy campaign for indie duo the Baylor Project, which garnered two nominations.
In addition to her work as a publicist, Lydia has worked extensively in jazz radio; highlights include apprenticeships with Sirius XM's Real Jazz and The Checkout from WBGO. She is also the Senior Assistant Editor of NYC publication Education Update.
Amy London
Amy London (Vocalist) is well known in New York City jazz and Broadway circles for her impeccable musicianship and effortless sound. Her career has included multiple internationally acclaimed recordings and international tours in throughout Europe, the United States and Canada. Ms. London is currently a faculty member at the New School's Jazz BFA program, and in early 2014 launched the Vocal Jazz Academy at Jazz House for Kids, in Montclair, NJ. This year, her educational responsibilities will continue to expand, as she joins the jazz faculty at City College, CUNY. Her most recent CD, "The Royal Bopsters," has garnered uniformly positive reviews.
Sherrie Maricle
Sherrie Maricle (Drummer and Bandleader) has established herself as an extremely versatile and dynamic performer, educator and conductor, performing across the United States and abroad at many of the world's most acclaimed music venues and jazz festivals. Ms. Maricle has received many awards and grants for her contributions to music performance and education, including the Kennedy Center Alliance Award for Outstanding Achievements in the Arts, a State Department grant for FIVE PLAY to tour Vietnam, and the 2006 New York City Music Educator's Award for Outstanding Contributions to Music Education.
Matt Merewitz
Matt Merewitz is the founder of Fully Altered Media, a standard-bearing PR and social media firm. He began his professional career at DL Media in Philadelphia, working with artists and labels such as Jason Moran, Aaron Parks, Frank Foster, Cryptogramophone Records, Mack Avenue, and Marsalis Music, among others. During this time, he also freelanced as a PR consultant to Ars Nova Workshop, Pi Recordings, and others. Merewitz moved to New York City in 2009. He has since represented top artists, labels, and institutions including Vijay Iyer, Linda May Han Oh, Tyshawn Sorey, Chris Potter, Dave Holland, Nels Cline, NYC Winter Jazzfest, Chicago Jazz Festival, Vision Festival, and The Jazz Conception Company.
Chris Mees
Chris Mees's journey to becoming one of the jazz world's leading influencers began with a career as a bassist through which Chris shared stages with acclaimed musicians like Geri Allen, Jimmy Cobb, Billy Hart, and Sullivan Fortner, to name a few. In 2012, Chris founded B Natural Management and became co-owner and director of J. Chriss & Company, a New York-based jazz booking agency recognized for over 30 years of representing internationally acclaimed jazz artists. Chris's artists can be found on main stages around the world. With both ventures, Chris serves as an agent of change in the music industry and is highly sought after as a consultant for jazz, blues and world music. A native of Cody, Wyoming, Chris attended Oberlin Conservatory with a full ride provided by the Wendell Logan Scholarship, which earned him a B. Mus. in Bass Performance/Jazz Studies.
Jason Moran
Since his formidable emergence on the music scene in the late 90s, jazz pianist Jason Moran has proven more than his brilliance as a performer. The Blue Note Records recording artist has established himself as a risk-taker and innovator of new directions for jazz as a whole.
Moran's ongoing visionary collaborations in the art world have brought him additional fans and respect. Moran's music is in the collections of both the MOMA and Whitney Museum of American Art. He scored a ballet for renowned Alonzo King's LINES Ballet, as well as scoring video works for contemporary American artists Glenn Ligon and Kara Walker. Mr. Moran also has worked with pivotal visual/performance artists Joan Jonas and Adrian Piper.
Endea Owens
Detroit native Endea Owens is a vibrant, multitalented jazz bassist. She has toured and performed with Jazzmeia Horn, Steve Turre, Jennifer Holliday, Camille Thurman, and Lea DeLaria from the Netflix original series "Orange is The New Black." Endea has done music exchange programs in Cuba and Trinidad and Tobago. She has performed at jazz festivals in Switzerland, Paraguay, The Cayman Islands, South Korea, Detroit, and San Francisco. Recently, Endea was featured on ABC7 News (New York) with Sandy Kenyon, as well as ABC7 "Here and Now." This episode was played in 6,500 taxis in the New York area. This year Endea was featured in The Wall Street Journal as well as Billboard Magazine. Currently, she is completing her Master's degree at The Juilliard School.
Rebecca Patterson
After graduating from Berklee College of Music in 2014 Rebecca Patterson moved to New York City and has become an active member of the the cities rich musical community. She can be heard subbing on the Lion King and Wicked on Broadway or someone around the city with her dynamic big band with co-leader Ron Wilkins that features some of her original compositions and arrangements comprised of some of NYC's finest musicians. An album will be recorded in 2018. Since her move to New York she has had the opportunity to perform with a diverse range of ensembles on Tenor and Bass Trombones and Tuba including performances with: The Count Basie Orchestra, Christian McBride's Big Band, Dizzy Gillespie All-Star Big Band, The Mingus Band, John Colianni Jazz Orchestra, Birdland Latin Jazz Orchestra, Steven Oquendo's Latin Jazz Orchestra, Arturo O'Farrill's Afro-Latin Jazz Orchestra, Livio Almeida's Brazilian Dectet, Chris Potter, Kansas, Marcos Valle, The Ed Palermo Big Band, Metro Chamber Orchestra, Billy Vera Jazz Orchestra, Mariachi Vargas, and San Antonio Wind Symphony.
Rebecca also teaches at "Jazz House Kids" in Montclair, NJ, maintains a private lesson studio, and makes guest artist appearances with schools and programs around the country. She is an artist for Shires trombones and Giddings mouthpieces.
Rufus Reid
Rufus Reid (Bass, Composition) is widely considered one of the premiere bassists, band leaders and composers on the international jazz scene. Mr. Reid, a multiple GRAMMY award nominee, has worked with many of the world's most prestigious jazz musicians, including Dexter Gordon, Stan Getz, Thad Jones & Mel Lewis, Nancy Wilson, Eddie Harris, Art Farmer among many others, and is the leader of multiple groups, including the "Hues of a Different Blue" sextet, the "Out Front" trio and "Quiet Pride ~ The Elizabeth Catlett Project" and the Kennedy Center Quintet. In addition to his formidable performance career, Mr. Reid has established himself as a pre-eminent educator, emphasizing the encouragement of young and emerging jazz artists around the country.
Marc Ribot
Marc Ribot (Guitarist and activist) has established himself as a major part of the music community through his diverse interests, projects and performances with a wide array of musicians, and via his activism on behalf of the recording industry and intellectual property rights. Mr. Ribot has released over 20 albums over the course of his 35 year career, and worked with some of the most famous musicians of our time, including Brother Jack McDuff, Wilson Pickett, Carla Thomas, Rufus Thomas, Chuck Berry, Joe Henry, Allen Toussaint, Norah Jones, Akiko Yano, The Black Keys, Jeff Bridges, Jolie Holland, Elton John, Leon Russell and many others.
Renee Rosnes
Renee Rosnes (Piano) is one of the premier pianists, bandleaders and composers of her generation. Since moving to New York in 1986, her career has included work with some of the most important musicians of the era, including Joe Henderson and Wayne Shorter, and fellow Jazz Mentor Ron Carter. Beyond her work as a performer, Ms. Rosnes has become a celebrated jazz journalist, serving as the radio host of The Jazz Profiles, an interview series produced by Canada's CBC, and as a contributor to JazzTimes magazine.
Maria Schneider
Maria Schneider (Composition) is regarded as one of the most influential composers of our time. Her music has been commissioned by a wide range of musicians and groups, from Jazz at Lincoln Center to The Saint Paul Chamber Orchestra and David Bowie. In addition to her eighteen GRAMMY nominations, five GRAMMY awards and numerous Jazz Journalists Association awards, Ms. Schneider has distinguished herself for utilizing unique and innovative funding and business techniques to realize her projects, including becoming the first composer to win a GRAMMY for a record sold solely on the internet. Ms. Schneider has also established herself as a strong advocate of the music industry, testifying before the United States Congressional Subcommittee on Intellectual Property about digital rights and appearing in national media outlets regarding intellectual property and artist rights.
Michelle Taylor
Michelle Taylor began her music industry career working as a promotion and marketing executive at various record labels including Blue Note Records, EMI and Verve Records, where she supported such prominent artists as Diane Reeves, Bobby McFerrin, Najee, The O'Jays, Natalie Cole; legendary jazz vocalists, Abbey Lincoln and Betty Carter; jazz saxophonists Maceo Parker and Stan Getz; The Harper Brothers Quintet and vocalist Shirley Horn.
After long stints heading up the marketing departments at RCA Records' Novus label and its Urban Music Division—and later at Atlantic Record's storied Atlantic Jazz label—she founded her own company, Passion Music Group (formerly, NIA Entertainment, Ltd), where she currently oversees the daily operations of this entertainment marketing company. As Founder and Managing Director, Michelle provides marketing services, event production and artist management representation for her clients. Her artist management list of clients over the years has included: violinist Regina Carter, pianist Tommy Flanagan, vocalist Carmen Lundy, drummer Lewis Nash, saxophonist Antonio Hart, guitarist Rodney Jones and vocalist Letizia Gambi. Currently Michelle is working with the young piano and organ phenomenon, Matthew Whitaker.
Su Terry
Su Terry (Saxophone, Clarinet, Flute) has been hailed as a "forward voice in modern music" during a career that has included work with many esteemed jazz masters, including Clark Terry, Al Jarreau, Melba Liston, Carmen McRae, Charli Persip, Jon Faddis and Peggy Stern. Ms. Terry has appeared as a soloist with the National Symphony, the Brooklyn Philharmonic, the Florida Pops and New York Pops Orchestras, as well as performing at the Montreux, Grande Parade du Jazz, Pori, North Sea, Montreal and Ottawa jazz festivals. In addition to her vast performance and recording career, Ms. Terry is the author of "Practice Like the Pros," two non-fiction books and an illustrated novel.
Anna Webber
Anna Webber is a New York-based flutist, saxophonist, and composer whose interests and work live the overlap between avant-garde jazz and new classical music. Her new album, Clockwise, featuring a septet comprised of several of the most creative musicians working in New York's avant-garde, will be released on Pi Recordings in February 2019. Webber's other projects include her Simple Trio, with John Hollenbeck and Matt Mitchell, and a big band co-led with Angela Morris. She has performed and/or recorded with projects led by artists such as Dan Weiss, Jen Shyu, Dave Douglas, Matt Mitchell, Ches Smith, John Hollenbeck, and Geof Bradfield, among others. Webber is a 2018 Guggenheim Fellow. She has additionally been awarded grants from the Shifting Foundation (2015) and residencies from the MacDowell Colony (2017), the Millay Colony for the Arts (2015), and the Brush Creek Foundation for the Arts (2014). In 2014 she won the BMI Foundation Charlie Parker Composition Prize as a member of the BMI Jazz Composers' Workshop. Webber is originally from British Columbia.
Matt Wilson
Matt Wilson (Drums), a GRAMMY nominee, is universally recognized for his musical and melodic drumming style as well as for being a gifted composer, bandleader, producer, and teaching artist in New York City. In addition to performing as a member of bands led by Joe Lovano, John Scofield, Lee Konitz, Jane Ira Bloom, Denny Zeitlin, Ron Miles, and Dena DeRose among many others. Mr. Wilson also leads the Matt Wilson Quartet, Arts and Crafts, Christmas Tree-O and the Carl Sandburg Project.
Wayne Winborne
Wayne Winborne is Executive Director of the Institute of Jazz Studies (IJS) at Rutgers University-Newark, the largest and most comprehensive library and archive of jazz and jazz-related materials in the world. The mission of the IJS is to promote, preserve, and make accessible jazz, a unique American art form that has been embraced by the world. Winborne has been honored with the Feminist Press' 2006 Crossing Borders award, the Brooklyn Club of the National Association of Negro Business and Professional Women's Clubs' 2007 Man of Distinction award and the National Council for Research on Women's 2010 Diversity Champion award. Mr. Winborne holds degrees from Stanford and New York University.
Rachel Z.
Rachel Z. (Piano) is a GRAMMY winner and leading performer, band leader and educator in New York City. Ms. Z.'s career has included working with some of the great jazz musicians of our time, including Bob Moses, Miroslav Vitous, George Garzone, Najee and Wayne Shorter. She teaches music theory and piano at the New School in New York City.