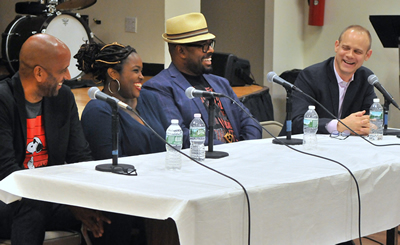 It's called the music business for a reason. The business side of music is often anathema to most musicians – something to be ignored, feared or misunderstood.
The Jazz Mentors series connects up-and-coming musicians with some of New York City's premier artists to discuss the business of jazz. Each forum features discussion led by preeminent members and leaders of the jazz community about how to build and maintain a successful music career.
The business components of establishing a career in music are frequently under-appreciated and misunderstood by young and emerging musicians. To address this, Jazz Mentors audiences are guided through some of the most vital aspects of launching a career, including representation, touring, protecting your recordings in digital format, the impact of streaming services, and building a secure financial future, among others.
Located at Local 802, the informal setting allows for relaxed communication and a free-flowing exchange of ideas between the audience and the artists, encouraging full participation and interaction. The events are free and open to the public.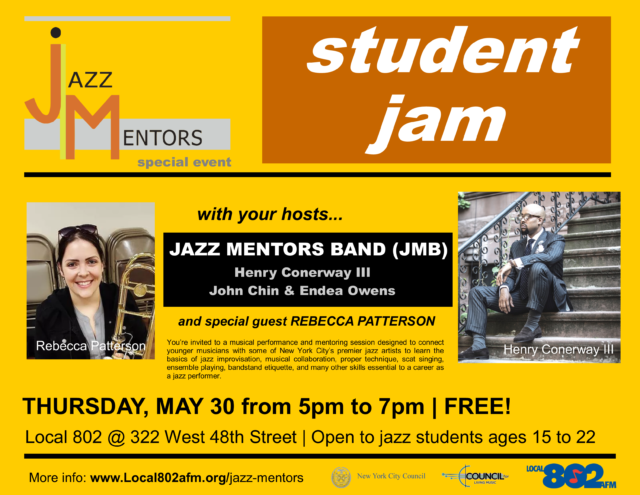 Jazz Mentors Student Jam
with
Thursday, May 30, 2019
5:00pm – 7:00pm
Local 802 Club Room
322 West 48th Street
New York, NY
Open to students of jazz ages 15-22
On May 30, 2019, Local 802 American Federation of Musicians will host the seventh installment of its JAZZ MENTORS STUDENT JAM, a musical performance and mentoring session designed to connect younger musicians with some of New York City's premier jazz artists to learn the basics of jazz improvisation, musical collaboration, proper technique, scat singing, ensemble playing, bandstand etiquette, and many other skills essential to a career as a jazz performer.
Free and Open to students of jazz ages 15-22
Guest Artist
After graduating from Berklee College of Music in 2014 Rebecca Patterson moved to New York City and has become an active member of the the cities rich musical community. She can be heard subbing on the Lion King and Wicked on Broadway or someone around the city with her dynamic big band with co-leader Ron Wilkins that features some of her original compositions and arrangements comprised of some of NYC's finest musicians. An album will be recorded in 2018. Since her move to New York she has had the opportunity to perform with a diverse range of ensembles on Tenor and Bass Trombones and Tuba including performances with: The Count Basie Orchestra, Christian McBride's Big Band, Dizzy Gillespie All-Star Big Band, The Mingus Band, John Colianni Jazz Orchestra, Birdland Latin Jazz Orchestra, Steven Oquendo's Latin Jazz Orchestra, Arturo O'Farrill's Afro-Latin Jazz Orchestra, Livio Almeida's Brazilian Dectet, Chris Potter, Kansas, Marcos Valle, The Ed Palermo Big Band, Metro Chamber Orchestra, Billy Vera Jazz Orchestra, Mariachi Vargas, and San Antonio Wind Symphony.
Rebecca also teaches at "Jazz House Kids" in Montclair, NJ, maintains a private lesson studio, and makes guest artist appearances with schools and programs around the country. She is an artist for Shires trombones and Giddings mouthpieces.
JMB
JMB's leader Henry Conerway III has emerged as one of the most "in demand" drummers on the jazz scene in the U.S. and abroad since making New York City his home in 2015, as evidenced by his ongoing work with such global touring artists as; the iconic Freddy Cole; Jazz at Lincoln Center's Marcus Printup; Grammy nominated vocalist, Jazzmeia Horn; Grammy nominated trumpeter, Russell Gunn; and several residencies with Jazz at Lincoln Center in Doha, Qatar. While matriculating at Atlanta's historic and prestigious Morehouse College (B.A. in Music Composition), Henry co-founded the group, Jaspects, which quickly became a staple in that city's music scene and successfully sold thousands of their own recordings, while booking their own tours and forming creative partnerships with many established artists. Henry has also composed original works for film and performed in theatre settings including the Tony Award nominated Shuffle Along, on Broadway.
Detroit native Endea Owens is a vibrant up and coming bassist. She has toured and performed with Jazzmeia Horn, Steve Turre, Jennifer Holliday, Camille Thurman, and Lea DeLaria from the Netflix original series "Orange is The New Black." Endea has done music exchange programs in Cuba and Trinidad and Tobago. She has performed at jazz festivals in Switzerland, Paraguay, The Cayman Islands, South Korea, Detroit, and San Francisco. Recently, Endea was featured on ABC7 News (New York) with Sandy Kenyon, as well as ABC7 "Here and Now." This episode was played in 6,500 taxis in the New York area. This year Endea was featured in The Wall Street Journal as well as Billboard Magazine. Currently, she is completing her Master's degree at The Juilliard School.
John Chin has been a fixture on the New York jazz scene since 1998 and was introduced to the piano at age four. He began studying jazz at California State University, which he attended at the age of fourteen as part of the Early Entrance Program for Gifted Students. Upon receiving his B.A. in Music at nineteen, Chin continued his musical studies at the University of North Texas, before pursuing a Masters of Music degree from Rutgers University, and an Artist Diploma from the Juilliard School. John has performed internationally as a leader and sideman, at major festivals, as well as some of America's most storied jazz rooms. He has shared the stage with Ron Carter, Benny Golson, Jaimeo Brown, Mark Turner, and Ari Hoenig, among many others. Chin is a prolific composer, with four releases as a leader to-date. Chin was nominated for a Grammy for his work on Rene Marie's latest release, Sound of Red, in 2017.
To RSVP Click HERE