10/23/19 Membership Meeting Report
The October 23, 2019 Local 802 membership meeting was our most well-attended in recent memory, with 187 musicians showing up to participate in our union's democratic process. (802 bylaws require that a quorum, defined as 95 members in good standing, be present for official union business to be conducted.)
Thank you to everyone who participated in the meeting! For those who couldn't make it, here's a summary of what you missed:
MEMBERSHIP UNANIMOUSLY PASSES ANTI-HARASSMENT/ANTI-BULLYING BYLAW AMENDMENT
President Adam Krauthamer introduced Cecelia Hobbs Gardner, a member of the Workplace Harassment Initiative committee who drafted the proposed bylaw amendment. Hobbs Gardner moved to the front of the room to present the bylaw amendment.
The process to draft a bylaw amendment that strengthened 802's anti-harassment and bullying language began in 2018 to address concerns from theater musicians who felt that then-current bylaw language did not go far enough to protect musicians from member-on-member harassment. A committee comprising members of the Broadway Theatre Committee worked with Local 802 counsel and member Harvey Mars to draft language that was presented at the October 2018 membership meeting. At that meeting, musicians broke out into small groups to discuss what was lacking from 802's response to member-on-member harassment. While the conversations were productive and spirited, the response to the proposed bylaw language was divided. Without consensus on the early draft of the bylaw, the committee withdrew the amendment to continue working on the language.
Over about five months, the Workplace Harassment Initiative committee met every two weeks to evaluate new sources, research state and federal laws, and collaborate with the new 802 administration, as well as Managing Director and Senior Advisor Jon Kantor. The committee determined that they needed to address both bullying and retaliation in this bylaw – which state and federal laws did NOT address in workplace situations – to send a strong and clear message that such behavior will not be tolerated in the 802 community.
The new language was presented on the screen and handed out to members in attendance. Charges of violating this bylaw can be brought to the trial board, and the Local 802 administration is in the process of improving that process, including providing training for trial board members. Hobbs Gardner stated that the bylaw language in question had not been updated since 1994, that the issue of harassment is toxic for everyone, and that we all have a responsibility to prevent and report it. Hobbs Gardner also clarified that the 802 Executive Board supports the proposed language.
President Krauthamer thanked the entire committee and relevant staff for their work on the bylaw language. "Democracy is what our union thrives on," Krauthamer said, as he acknowledged that from start to finish, the process of drafting the amendment was democratic and member-driven. He also clarified that the language had been vetted internally and externally by legal counsel before opening the floor for discussion.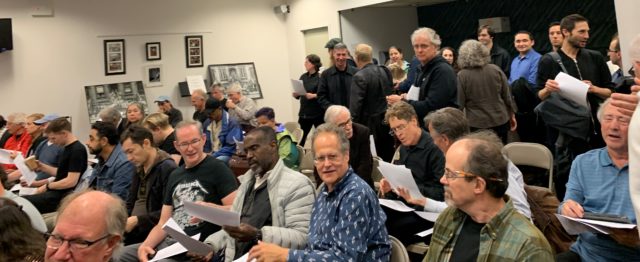 A few members asked clarifying questions, which Hobbs Gardner and 802 staff helped answer. Mars spoke in favor of the amendment, stating that the bylaw goes beyond New York law in protecting our members. Marshall Coid took the mic to speak in favor of the amendment, stating that although the language may not feel comprehensive or perfect to everyone, it is a huge step in the right direction and can always be augmented later on. Martha Hyde also spoke in favor of the amendment, calling musicians back to a moment from last year's membership meeting when a member spoke about retaliation she had faced after reporting mistreatment. Hyde reminded the membership that while passing the bylaw is important, it is only the first step in changing workplace culture. "In a lot of ways, this behavior gets rewarded," she said. "I'm going to name the fear that was named last year – what happens when you report someone? It is up to all of us to be that wall of protection. Please vote for this, but don't go home and feel it's done. This is the beginning."
President Krauthamer then called for a vote on the floor to approve the bylaw amendment as written: "ay" vote to approve and "no" vote to reject the language. The motion carried with unanimous approval. You can read the new bylaw language in its entirety here.
LOCAL 802 PRESENTS ON NEW HARASSMENT AND BULLYING REPORTING PROCEDURE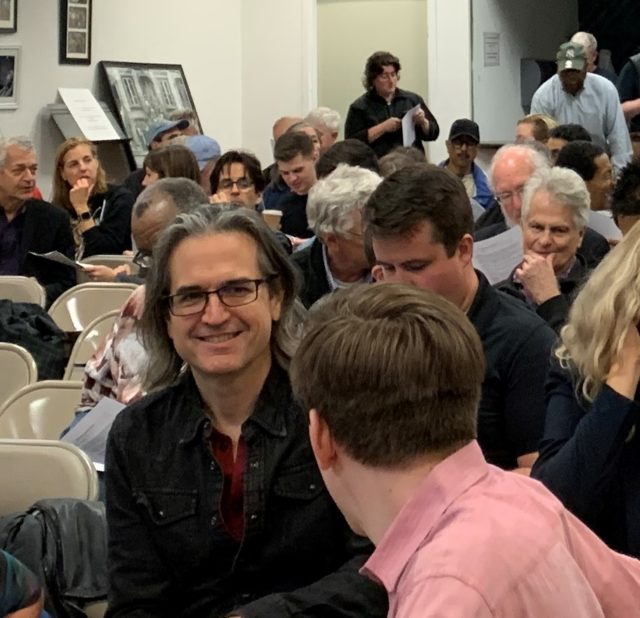 Local 802 Chief of Staff Joy Winkler presented on our local's updated reporting procedure, which has already been emailed to the membership and is available for review in the "Member Docs" section of the member portal and on the Local 802 website. Winkler clarified that it is the employer's responsibility to ensure musicians are working in a safe and discrimination-free environment, to provide harassment policies, and to follow up on investigations. The union can demand that the employer uphold these responsibilities, give advice on reporting options, and support members through an investigation process.
Members were shown the new 24/7 reporting procedure that musicians can use to report instances of bullying and harassment via a mobile app, web app, or telephone hotline. Reports can be made either anonymously or using a name, but 802's reporting liaison can only follow up with musicians if they provide their name. Once reported, a member can expect to hear from our reporting liaison within 1-2 days to discuss options.
LOCAL 802 UNVEILS NEW RESOURCE CENTER ON 802 WEBSITE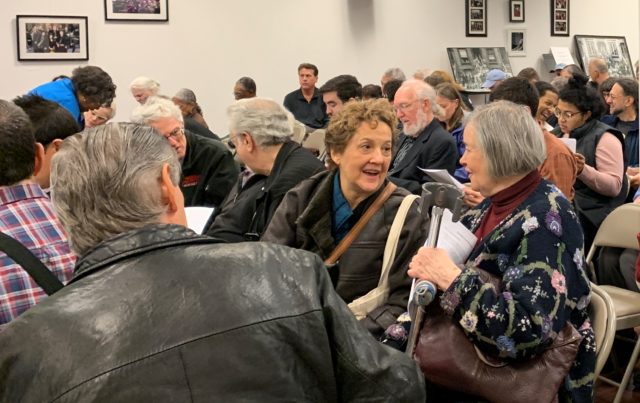 Underscoring the importance of education and resources for freelance musicians without steady employment, President Krauthamer unveiled 802's new online Resource Center, the result of a six-month project led by 802 musician and staff member Julie Ferrara in coordination with the union's IT Department. Ferrara showed the Resource Center on the screen, a curated list of links to services provided by free sources around the city. These resources include resource centers, business startups, business mentors, legal advisement, grant writing, web development, workshops/seminars, online tutorials, 802 policies (including the reporting procedure), member perks, AFM services/perks, Actors' Fund social services, government services, and non-musical side gigs. The page is a work-in-progress and members are welcome to contribute resources that meet the contribution policies posted at the bottom of the page – namely, that at least 50% of the services must be free to access. Members can also reach out to Julie Ferrara as a point person to help navigate accessing resources. Contact Julie Ferrara here.
DCINY MUSICIANS PRESENT ON UNIONIZATION CAMPAIGN
President Krauthamer introduced freelance musicians Andy Blanco and Nikki Abissi, both of whom serve on the DCINY Negotiating Committee, to present on how their unionization campaign unfolded with the help of 802 organizer Lily Paulina, Chief of Staff Joy Winkler, and communications associate Maria DiPasquale.
Distinguished Concerts International New York (DCINY) is a concert presenter founded in 2007. They produce about 20+ concerts each year, with half using a full orchestra. As of 2018, their revenue was $7.9 million, with a roster growing to 160+ musicians who played between January-June 2019, a split of about 60% union musicians to 40% non-union musicians. In January 2019, musicians began having one-on-one conversations with musicians to build support for the union.
On July 1, DCINY musicians filed for a union election with the National Labor Relations Board and launched a social media campaign to grow support for the unionization effort. Despite a vigorous anti-union campaign by the employer, 89% of the musicians voted in favor of unionization.
DCINY musicians then elected a negotiating committee and sent out a bargaining survey to the entire orchestra. As of now, DCINY musicians have only two scheduled negotiation dates with the employer, the first of which is in late November.
Blanco and Abissi thanked everyone who posted photos of support for their unionization campaign over the summer and asked the 802 community to continue supporting the DCINY orchestra. The DCINY musicians asked members to follow their social media pages @DCINYOrchestra on Facebook, Twitter, and Instagram to keep up with the campaign and find out how the larger 802 community can support the musicians in their fight for a fair contract.
Before Blanco and Abissi fielded questions from the audience, President Krauthamer added, "Our existential threat as a union is that there is not enough work under union contract. This is the way to get work under union contract. And it has to be supported by all of us through collective action. Leave here knowing that these are the leaders, we just have to follow them." Read more about the unionization campaign in DCINY musicians' own words in the October Allegro.
MEMBERSHIP VOTES TO DISMISS INTERNAL CHARGES AGAINST RECORDING VP ANDREW SCHWARTZ
The membership heard charges filed against Recording Vice President Andrew Schwartz by Michael Drapkin. Since Mr. Drapkin was not present, he designated President Adam Krauthamer to read the charges that Mr. Schwartz had violated 802 bylaws by denying Mr. Drapkin – who lives out of state in Colorado – an absentee ballot to vote in the 2018 Local 802 election. Full text of charges available to read here.
Mr. Drapkin demanded the case go to the AFM Executive Board since Mr. Schwartz's close proximity to the 802 Trial Board constituted a conflict of interest. The AFM Executive Board sent the charges back to Local 802 to adjudicate. After the charges were read, a member moved to dismiss the charges, as the act in question is too trivial to warrant charges and does not constitute malfeasance. After discussion finished, a vote was called: "ay" to dismiss the charges or "no" to uphold the charges. The motion to dismiss the charges carried with all but one members present voting to dismiss the charges.