COVID-19 Updates from Local 802
Local 802 is updating this page as we discover and receive more information about the developing COVID-19 outbreak. Scroll to the bottom for a compilation of coronavirus resources and emergency relief resources.
---
BE ADVISED: the Local 802 building is closed until further notice in compliance with Governor Cuomo's "stay at home order" that went into effect on March 22, 2020 at 8 PM.
---
Upcoming Remote Events for 802 Musicians
Find remote events hosted by Local 802, as well as our allies and partners, here.
---
Collective Action During the Pandemic
Musicians and other entertainment workers are uniquely impacted by coronavirus. This pandemic has pushed the entire entertainment industry into an unprecedented crisis. Live concerts, theatrical productions, club dates, and recording sessions have been shut down. This has meant an overnight loss of work for entertainment workers—leaving thousands unable to pay for rent or food and jeopardizing their healthcare coverage.
---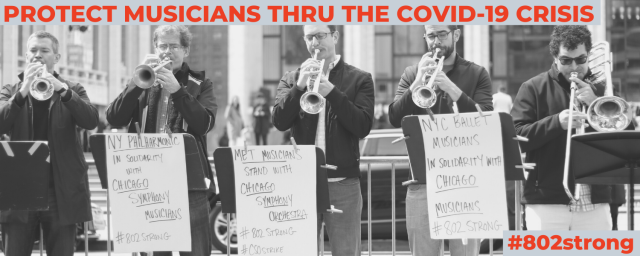 With nearly our entire industry grinded to a halt, musicians and other entertainment workers are being disproportionately impacted by the COVID-19 pandemic. While we are grateful for the measures that have already been passed by Congress to provide much-needed relief to our communities, it is not enough. Even when stay-at-home orders are lifted, there will be needed safety restrictions and limitations on mass gatherings for an extended period of time to mitigate further spread of the virus, leaving musicians and other entertainment workers without planned wages and benefits indefinitely.
As Congress pursues the next federal response to this crisis, we demand that any COVID-19 legislation include relief measures that protect entertainment workers throughout the duration of this health crisis.
---
We, the artists, craftspeople and technicians of the Performing Arts Industry ask you to support the "Worker Relief and Security Act" bill released by Sens. Michael Bennet, and Jack Reed, along with Rep. Don Beyer to extend the $600 weekly paycheck boost beyond July 31. We implore you to continue to extend those benefits to both salaried and independently contracted entertainment industry workers.
Live performance is irreplaceable. For the arts to emerge from this unprecedented moment the people who have put their full efforts into creation need support during this time when we have been asked to pause. Because we will all need the inspiration that live performance and the cultural arts offer more than ever as we come out of this moment of national crisis, please support performing artists in The Worker Relief and Security Act.
---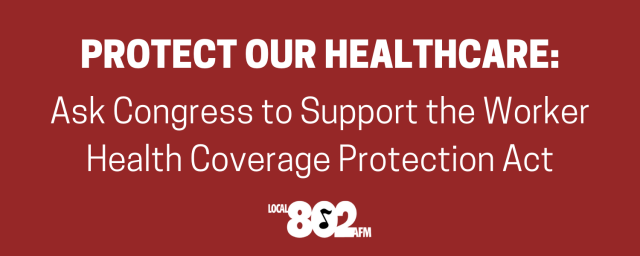 Thanks to all the musicians and other workers who contacted their members of Congress, there is now a bill called the Worker Health Coverage Protection Act that will provide coverage for the full cost of COBRA premiums for newly unemployed workers who normally receive coverage through their job. We are calling on members of Congress to pass The Worker Health Coverage Protection Act to ensure musicians and other workers who are out of work can afford to remain on their healthcare during this public health crisis.
---
In the name of economic justice for the creators of recorded musical products, the Music Workers Alliance is calling on all major corporations profiting from the distribution of music to contribute 1% of their ad revenue during each month that live performance remains shut down into an emergency fund to be administered by artist relief organizations with long-track records of assistance to performing artist communities, such as MusicCares, The Actors Fund, Sweet Relief, and The Jazz Foundation.
The Music Workers Alliance also calls on Google, YouTube, Facebook, and other major online corporations, in coordination with a wide net of music industry organizations – including representatives of independent labels and content creators – to immediately establish and empower a working group tasked with examining steps, including standard technical measures, that could address infringement in order to create a more sustainable online music ecosystem that sustains culturally diverse production and promotes economic development and small and medium-size enterprises. Many people across the world are turning to music to get through these unprecedented times. If we want the people who create that music to survive in this pandemic and the economic fallout that will follow, we need to fix an untenable situation: music workers need economic justice in the digital domain now.
---
Together We Won Unemployment Coverage for Freelancers
Musicians and other entertainment workers joined together to contact their legislators advocating for disaster unemployment status for ALL workers, including freelancers and those not protected by employee status – and WE WON! On Friday, March 27, 2020, a stimulus package was signed into law that guaranteed pandemic unemployment insurance for individuals not typically protected by employee status. Learn about how to apply for this unemployment insurance in NYS here. (More links and info below in the "INFO ON APPLYING FOR UNEMPLOYMENT BENEFITS" section of this page.)
---
New York Entertainment Workers Win Renewal of the Cobra Subsidy Program
Thanks to action taken by members of the Coalition of Broadway Unions and Guilds, including Local 802 musicians, a renewal of the COBRA subsidy program made it into the NYS budget! This important program, which pays 50% of monthly COBRA premiums for entertainment union members for 12 months, has kept over 1,150 entertainment workers on their healthcare over the past decade. Thanks to all the members who called and emailed their local legislators!
---
Freelancers Union Survey
Freelancers Union has created a survey for freelancers to gauge how COVID-19 is impacting their work and their lives. While the survey is national, the NYC Mayor's Office of Media and Entertainment will be working with Freelancers Union to review responses from New York City and communicate feedback to City Hall, as well as state and federal government, to inform policy recommendations.
---
Americans for the Arts Survey
Americans for the Arts is conducting a Survey of the Economic Impact of Coronavirus (COVID-19) on the Arts and Cultural Sector. The survey will capture a broad spectrum of data and stories that will demonstrate how the arts and culture workers are managing through the crisis as well as the effect of the outbreak on operations through cancelled events, lost wages, and additional expenses. While the survey is national in reach, the data can be parsed by specific geographic regions, artistic disciplines, and budget categories, to enable us to see the impact on New York City specifically.
---
Take Action: Call on Mayor Bill de Blasio to Protect New York City's Cultural Institutions
A number of NYC Council Members have signed onto a petition calling on Mayor Bill de Blasio to ensure New York City's cultural institutions, arts non-profits, artists, and creative workers are supported by current relief efforts and included in the Business Stimulus package.
---