A Healthy Contract
Musicians in NYC Ballet win major health provisions in new agreement
Volume CIX, No. 3
March, 2009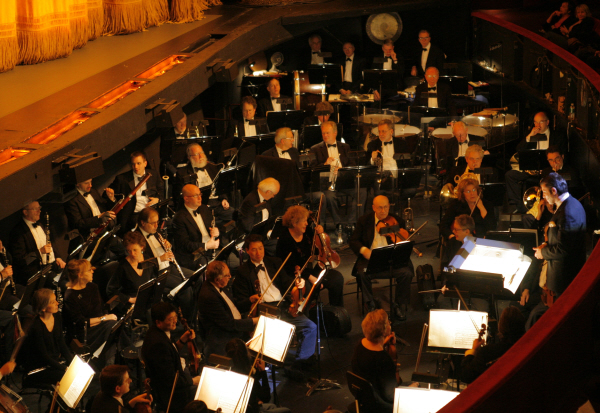 Photo by Paul Kolnik
"I'd like to thank the committee for the new contract. I think everyone knows how important it is to have better benefits at this time. You guys did a great job!" — Bin Lu, violinist with the NYC Ballet Orechestra.
Musicians in the New York City Ballet orchestra ratified a new two-year agreement in mid-January after long, difficult and complicated negotiations. The vote was an overwhelming 47 to 3.
The agreement contains a major new health provision, which was a hard-fought victory.
Effective Feb. 1, the company has made available to all regular and rotation orchestra members — and their eligible family members — the same comprehensive major medical health care insurance currently offered to the management and administrative staff.
Here's how it all began.
Informal discussions with management started a little more than a year ago, shortly after a reduction in benefits by the Local 802 health plan. The first item on the musicians' wish list was the possibility of being covered under the company's Blue Cross hospitalization plan.
In response, management suggested that they would like to discuss improved media rights for the purpose of increasing promotion and publicity of the ballet.
With these two items on the table, formal talks began last November.
The company was willing to consider our request to join their health plan, but had major concerns about the escalation of health benefit premiums and funding the increased costs over the long term.
The committee was willing to allow capture and use of performances and dress rehearsals to aid the promotion and increase visibility of the ballet. This would help guarantee the future of the company — and ultimately our own employment. But we also needed to protect against unlimited exploitation of our work and the existing AFM media contracts.
Despite the additional difficulties presented by the current economic downturn, we were able to reach an agreement that we could unanimously recommend to our members. It was ultimately a joint effort by the local, the committee and the AFM.
Reaction by orchestra members was overwhelmingly positive, despite having to accept a wage freeze and the elimination of three guaranteed additional work weeks or a supplemental payment.
Bassoonist Don MacCourt, a veteran of 45 years with the orchestra, told Allegro, "I feel that it was worth it to accept a contract with no raise to get the excellent health plan. If we don't have a repeat of 1929, we can negotiate for raises in the future."
Violinist Bin Lu, a relative newcomer with only 10 years on the job, said, "I'd like to thank the committee for the new contract. I think everyone knows how important it is to have better benefits at this time. You guys did a great job!"
The 26-week basic salary of $60,225 now includes a $6,500 electronic media salary, giving management broad rights to capture performances and dress rehearsals for promotional use.
Captured material may also be for commercial purposes — such as movie theatres, pay-per-view TV and DVD's — but all musicians, including extra and substitute musicians, will share in any revenue stream. In this way, the agreement is similar to the Met orchestra's.
The media agreement, a separate document, was negotiated with and agreed to by the AFM, the ballet and Local 802.
Other gains include a seniority pay increase in the second year of the agreement, with one additional five-year increment for those with more than 30 years' service. A new round of retirement buyouts of $25,000 — in addition to already existing retirement benefits — will be offered to up to 10 players with at least 35 years' service.
Also included is a bonus provision. If the company's financial statements for the fiscal year ending June 30, 2010 show an operating deficit of less than $1 million (excluding one-time bequests), then the ballet will pay a one-time bonus of one week's pay at basic scale to all regular and rotation players.
The company has made a six-year commitment of new dollars to fund the health coverage. Monthly premiums will be required for family coverage beginning at $50 per month and increasing each year by $15 per month for the next six years. Eligible orchestra members who submit proof of other credible insurance coverage may waive their right to the ballet's health coverage and instead receive a lump sum payment of $3,000 annually.
Catastrophic medical insurance coverage is eliminated, saving each member almost $2,000 per year. The entire dental insurance premium will be paid by the company, retroactive to Jan. 1, 2008.
A contribution of $25 per service to the 802 health plan will be made on behalf of each extra and substitute musician. This eliminates the previous limit of two performances per week.
All other work rules and attendance requirements from the old contract remain unchanged.
The committee — Sara Cutler, Steve Hartman, Eugene Moye, Ethan Silverman and myself — would like to acknowledge the many hours of work on our behalf by so many people. A partial honor roll includes:
802 President Mary Landolfi
Union attorney Danny Engelstein
Recording Department Supervisor Jay Schaffner
Orchestra attorney Mel Schwarzwald
AFM President Tom Lee
AFM attorneys Jeff Freund and Patricia Polach
ICSOM Media Committee Chair Bill Foster.
We must also thank the ballet administrators — General Manager Ken Tabachnik, Controller Brooks Parsons and Attorney Bernie Plum — for their good will and ongoing efforts to reach an agreement that has many long-term positive implications for both the company and the musicians.
Bob Biddlecome, a bass trombonist and euphonium player, is the chair of the New York City Ballet musicians' committee. He has been an 802 member for over 50 years.