A Jazzy Tax Break
State Opens Door for Pension on Club Work
Volume CVI, No. 10
October, 2006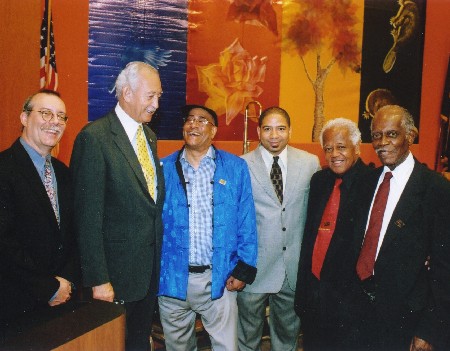 Jazz musicians deserve pension! A new state law will open the door for jazz venues to contribute to musicians' benefits.
Jazz musicians deserve what many other union musicians have achieved: the right to a secure retirement. That's why jazz players are excited about a new tax bill that offers the possibility of pension contributions for more of their work.
For the past two years Local 802 has been pushing legislation, finally signed into law this summer by Gov. Pataki, which eliminates the sales tax on admission to live performances in jazz clubs.
Admission to such performances will now be treated the same as admission to Broadway, theatre, opera, ballet and concert performances. All of those taxes were eliminated in the 1960's.
Saxophonist "Sweet" Sue Terry applauded the decision. "With this legislation, the state of New York not only recognizes the cultural contribution of individual jazz artists in a practical way, but also acknowledges the importance of this magnificent art form. Bravo!" Terry told Allegro.
The two-year effort by Local 802 and the Jazz Advisory Committee was also supported by major jazz clubs both in New York City and upstate.
"To me this is the foot in the door that jazz musicians have needed for a long time," said drummer Wally "Gator" Watson. "Let's move to the next step."
That next step is working with jazz clubs to allow this tax relief to be used for musicians' pension benefits, similar to the way in which tax relief funds are currently used by the Broadway theatres. Since the 1960's, a portion of the former tax money from admission to theatres has been paid into the AFM pension fund on behalf of those musicians employed on Broadway. In the coming months Local 802 will work with club owners and seek to accomplish the same thing for jazz artists.
There is no question that this would help jazz artists tremendously. For those who work in the clubs and who are already vested in the pension fund, it would mean a substantial increase in pension benefits. For those who are not vested, it would mean a start in the right direction – vesting. (Jazz musicians who want more information on vesting and the pension plan should call the Jazz Department.)
The success of this legislative effort represents the first time in recent memory that the state government has recognized jazz performances in our city's smaller venues as an important part of the cultural and economic life of our city and state. Jazz will now be properly afforded the same status as theatre, opera, ballet and concert performances.
"Now I may well retire with dignity. Thanks, 802, you hit it out of the park," said pianist Isaac ben Ayala.
"This legislation will be a tremendous help to jazz artists who work in New York," trumpeter Jimmy Owens told Allegro. "It will allow them to eventually have a pension in the later years of their life. We jazz artists must remember that it will take more than this one act to build a good pension – it takes becoming part of the AFM pension contribution system. All work should pay into the AFM pension fund whenever jazz artists work." Owens is a member of the Jazz Advisory Committee and also that committee's liaison to 802's Executive Board.
"This is a great moment for jazz musicians and I commend the work of Bill Dennison and our jazz representatives in achieving this important step," said bass trombonist Douglas Purviance, who is the orchestra manager of the Vanguard Jazz Orchestra. "This means that some of our most cherished musicians will have a chance of having a decent retirement."
Special Thanks From Local 802
We believe this tax relief legislation is a win for jazz musicians, for the clubs and for jazz fans. As we work towards an agreement that will allow the funds to be utilized for musicians' benefits we will need the continued support of the musicians working in the clubs.
We especially want to thank Democratic Assemblyman Herman "Denny" Farrell Jr. and Republican State Senator George Maziarz, who introduced the legislation respectively in the New York State Assembly and Senate, and who saw it through the legislative process. We also extend a special thanks to Hank Jones, Jimmy Owens, Slide Hampton, Skip Jackson and Tony Jefferson, who performed what may have been the first ever jazz concert in the halls of the state capitol in Albany to support the legislation, on June 8, 2005. If anything convinced our elected officials that live jazz deserved their support, it was that performance.