A Life of Music
From classical to contemporary club dates, Spencer Bruno continues to inspire and lead
Volume 114, No. 9
September, 2014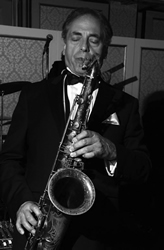 Woodwind doubler Spencer Bruno, a member of Local 802 since 1973, has paid his dues in more ways than one. He is the executive director and owner of the Lester Lanin Orchestra, the top society band. Spencer worked with Lester Lanin himself since 1990 and had the distinct honor of taking over the business after Lanin's passing in 2004.
Spencer's dream to be a musician was realized early on. He worked with Richard Tucker, Roberta Peters, Robert Merrill, Ruggiero Ricci, Loren Hollander, Shirley Jones, Connie Francis and Dionne Warwick. Early on, he was advised to pursue a music education degree to assure financial security. He did, in fact, find work as a professional educator, but was laid off, "a blessing in disguise," he says, because it forced him to devote full time efforts to music performance.
Later on he worked with Buddy Greco, Jerry Orbach, Lou Rawls, Ray Charles, Chita Rivera, Rosemary Clooney, Vic Damone, Johnny Mathis, Tony Bennett, Natalie Cole and Paul Anka. Brushing elbows with top musicians and entertainers continues to invigorate him as it has with so many musicians who remain forever young.
Presently, he continues to bring quality contemporary and classic pop music to the public. He is grateful to have the support of the extremely talented Local 802 musicians he engages, who work hard to maintain a high standard. Local 802 recording rep Bob Pawlo recently caught up with Spencer Bruno and got some interesting insight into Spencer's life in music.
Bob Pawlo: When did you first start playing music?
Spencer Bruno: It was in fourth grade at the Mt. Vernon Public Schools, in Westchester County, studying clarinet in group classes. I came from a musical family; my parents were not professional musicians, just true lovers of music. My grandparents and aunt lived downstairs where I would spend lots of time listening to records of the most popular swing bands and some classical music as well. It was the Count Basie, Duke Ellington and Glenn Miller bands that caught my ear and led me to want to play clarinet and saxophone. In sixth grade, the music teacher, also a skilled pianist, wrote out a clarinet solo for me on "Begin the Beguine," and I played that in a school assembly. Then, in my junior high school years, I couldn't wait to get my hands on a saxophone. For $10, students could borrow a saxophone from the school's inventory and continue playing it in the Mt. Vernon Summer Band Program. There were lots of good teachers there who were professional musicians.
My two great band and orchestra teachers in high school led me to be sure I wanted to be a professional musician. Practicing a lot and taking private lessons led to winning an audition to the New York All-State Band and kept me out of trouble. By this time I knew I was going to major in music in college. My band director conducted a civic opera orchestra, a municipal concert band, and various Off Broadway shows. He would invite his best students to play in these adult, semi-professional ensembles.
Bob Pawlo: What was your actual first paid job playing music?
Spencer Bruno: As a senior in high school. In fact, my band director got me to join AFM Local 38 (Westchester), where I did numerous MPTF jobs. What a great experience; older musicians took me under their wing and helped me! But my very first paid job was in tenth grade when the local VFW hired our three-piece band (sax, accordion and drums) to play a dance. We read the tunes from fake books.
Bob Pawlo: How did the job go?
Spencer Bruno: People loved it; I guess they couldn't believe seeing these little kids practically in diapers playing all those standard tunes. Although this job went very well and we made money, which I desperately needed to pay for lessons, I did make a big mistake. I chose not to show up for my year-end band concert at high school in order to play this paid job. After finding out I wasn't sick, the band director blasted me to tears and taught me a lesson early on about being responsible as a professional musician!
Bob Pawlo: So were you the leader on that job?
Spencer Bruno: Yes, it was my younger brother playing the accordion, a drummer who was a senior in the high school band, and me. The drummer was not scolded. I'm grateful for the lesson I learned.
Bob Pawlo: So you're in high school in a wonderful environment. You start to play gigs, you study privately and you continue to play jobs after that?
Spencer Bruno: Yes. In high school we'd play lots of difficult music like the Tchaikovsky finale from his fourth symphony, all kinds of show music, really good stuff that I wound up playing in the municipal bands as a union musician around that time to. Since Mt. Vernon was the first big city north of NYC, I got to meet some great studio musicians who lived nearby, like Bernie Previn and George Dessinger.
Bob Pawlo: A lot of prominent musicians lived in that area.
Spencer Bruno: I played some single engagements with Bernie Previn, who was still playing lead trumpet at CBS at that time, when we were both hired by a local band leader.
Bob Pawlo: So at this point you are exposed to all this music.
Spencer Bruno: Early on there was lots of inspiration through playing with top professionals. Later, I attended the New York College of Music, which is now part of NYU. I earned bachelor's and master's degrees in music and music education. I studied clarinet with David Glazer for three years, then spent a year with Joe Allard at Juilliard.
Bob Pawlo: What was your first lesson with Joe like?
Spencer Bruno: It was a tremendous eye-opener. We covered the overtone series on clarinet, but in subsequent lessons we applied it to flute and saxophone as well! Later on I took a lesson with Joe on bass clarinet while playing with the Bridgeport and New Haven symphony orchestras. The guys in the clarinet section complemented my sound and asked me if I had a new mouthpiece. My answer was, "No, I took one lesson with Joe!"
Bob Pawlo: So you are in school, you're practicing, you're doing gigs – sounds like an inspirational time for you.
Spencer Bruno: It certainly was. At first I was heavily into classical music, doing a lot of orchestral work on clarinet, bass clarinet and classical alto saxophone. I also had two opportunities to play at Carnegie Recital Hall with chamber music artists, playing the repertoire for soprano voice, clarinet and piano. I was given a solo spot, playing Debussy's "Première Rhapsodie," which led to a good review in the New York Times by Peter G. Davis, saying that I gave a "suave performance." I was only in my 20s at the time. Later after deciding that I didn't want to be exclusively a classical player, I studied with Adolph Sandole, whom I learned about while hanging out with guys who were doing Broadway shows, record dates and studio work. The Sandole brothers were great teachers too. Adolph and his older brother Dennis were teachers and mentors to John Coltrane and other great jazz musicians. Their method of teaching was centered upon musicianship training, not just jazz improvisation. Established full-time players were practicing five to 10 hours a day to prepare lessons where you played "licks" in all keys, in time, via the circle of fifths. A minimum of two and a half hours a day of practice was required just to get through the lessons. I did this for about two years, resulting in a tremendous improvement in musicianship and ear training.
Bob Pawlo: You were immersed in a very high level of classical playing, playing saxophone, playing club dates, immersed in jazz studies with Adolph Sandole. Sounds like a whirlwind of activity at such a young age.
Spencer Bruno: Yes, that period of growth continued for another 12 to 15 years after high school. I was just a guy who loved music and was willing to work and enjoy it. Only one in a million can get the top job like the extremely talented Stanley Drucker did when he joined the New York Philharmonic at age 19.
Bob Pawlo: What got you into the club date world? At that time you were playing orchestral music and jazz.
Spencer Bruno: All I knew was the difference between good quality and bad quality. I didn't even know what "club date" meant.
Bob Pawlo: What were you focusing on in your playing and in your career then?
Spencer Bruno: Being a really good doubler. In fact, I even took up oboe and English horn and worked some jobs like Joel Gray's show, which had an easy oboe part on the tenor chair. Other woodwind doublers could make reeds really well and get a good sound on the oboe and English horn. However, double-reed making was too much of a struggle for me, so I let the double reeds go. Nothing was lost in this process; I became much better at fixing and improving my clarinet and saxophone reeds.
Bob Pawlo: There are only so many hours in a day.
Spencer Bruno: Playing the flute came much more naturally to me. It used to bug me. I had a job at the Roseland Ballroom for a month playing lead alto taking over for Earl Warren (a Basie alumnus) when he went abroad in the late 70's. After playing flute solos on Spanish tunes, the guys in the trumpet section said, "Wow, flute must be your major instrument!" With my $75 flute, all I did was play in tune with vibrato and they thought it was great.
Bob Pawlo: When did you start playing high-end society work?
Spencer Bruno: I think it was the late 1980s or early 90s. I got a job at the Grand Hyatt hotel when it first opened, playing with the Curtis Sisters. Prudence, the pianist-leader, taught at Manhattan School of Music, and played a lot of classical and continental repertoire. There was a lot of reading, and a little playing without music. This was fun too. Later I took over as leader because they wanted a more contemporary group without violin. Ray Block Productions took over the account and kept me on leading a trio: piano, bass and woodwinds. It was a six-hour job, three nights a week. I experimented with varied material: show tunes, jazz standards, pop and even some classical. We did a good amount of jazz improvisation as well on all of the tunes, with good chord changes. This was the repertoire played by musicians on all of the high-end society work.
Bob Pawlo: So that job enabled you to use many of the skills you had acquired over the years.
Spencer Bruno: Yes. Not only using previously acquired skills, but learning and adding to our repertoire the best tunes, the Great American Songbook, and the best pop tunes of the day.
Bob Pawlo: How many years were you there at that venue?
Spencer Bruno: About four and a half years. At that time, I sat in on the Local 802 negotiations with the Hotel Association while earning the valuable pension and health benefits our union contract afforded. Around that time, I started getting calls for high-end society work after Peter Duchin's contractor heard me at the Hyatt Hotel. I was working with the best players who could read well and do a club date as well. Later, I was offered to go with both Peter Duchin and Lester Lanin; both had a series of dates including the official inaugural balls in Washington, D.C. I chose, correctly, to go with Lester Lanin.
Bob Pawlo: What was the typical schedule like with Lester in those days?
Spencer Bruno: It was quite busy, yeah. It was a time when Lester had many bands engaged on a Saturday night. But I was gonna go with Lester himself in the first band. I was added as the fourth sax where I would double the melodies. So I was able to do that very well and learn a little bit about harmony too from there. But that was easy for me because I had enough repertoire under my belt.
Bob Pawlo: You were doing dates in New York and then also traveling for high-end society jobs?
Spencer Bruno: Yes, doing legitimate work, and classical work too. I used to do name acts at Westbury Music Fair such as Johnny Mathis, Steve Lawrence, Eydie Gormé and Lou Rawls when they used larger orchestras. I also did some film dates, jingles and concert dates with Natalie Cole and Paul Anka at a time when the volume of recording work in NYC was diminishing. At the same time, I began leading some Lester Lanin jobs. In the society field, the leader did not need to be a vocalist, and the vocals were not quite as important as they are today. Although Lester had the best vocalists he could find, they did not sing a lot. The ensemble playing is what set the high-end bands apart in those days.
Bob Pawlo: What was it like doing that type of work? The whirlwind of playing, the royal weddings…
Spencer Bruno: We played inaugural balls every four years. Both Clinton inaugurals were very memorable because we shared the stage with Tony Bennett, Illinois Jacquet and Herbie Hancock. And right around that time I went to Europe twice: playing Aga Khan's wedding with 22 musicians outside of Paris, and to Rome playing for the designer Valentino.
Bob Pawlo: For our readers who are not familiar with that world, how is it that 22 musicians could play a job without music in so many different styles at such a high level?
Spencer Bruno: There are no phantom players. Every player knows the melody and harmony of each tune. The lead trumpet and lead sax must be compatible and be able to lay down similar phrasing so that the second, third and fourth harmony players can fill in their parts. The lead trumpet, second trumpet and trombone had to really be able to fill in those harmonies along with at least two sax players. After doing it enough times, it would get better and more predictable. Lester Lanin always had the best and most talented players such as the amazing Urbie Green and also Carl Waxman, who played solo alto saxophone in the Philadelphia Orchestra. Here's an example of the kind of talent New York players had: I led a debutante ball in Pennsylvania, and the brass section was Bob McCoy, Lew Gluckin and Urbie Green. Urbie hadn't played a club date in at least 15 years, and he totally amazed me when he played all the harmonies on every tune as perfectly as if they were written arrangements. No one in the entire country could fake and play without music like New York musicians! Today, I use a fair number of written arrangements to keep things up to top quality.
Bob Pawlo: So you became a leader in the Lester Lanin organization?
Spencer Bruno: Yes, when the very valuable Charles McCarty retired and as Lester got older in his 90s, I was leading a younger band, which became well known by all of our major clients.
Bob Pawlo: What was your responsibility as leader on a job like those?
Spencer Bruno: The skill was in servicing, playing, pacing the job, playing the right music at the right time given the clients' needs; every job is different. Having a large enough repertoire to be able to do so, having the band contracted properly so that we can cover the contemporary music as much as we need to, is most important. Betty Schulman and John Burcin ran the office efficiently while Lester Lanin was up in years, making sure that there would be a smooth transition when Lester stopped working. After Lester's passing in 2004, the executrixes of Lester's estate paved the way for John and me to take over the business. It was a natural progression that did not involve purchasing the business, especially since we were so well know by our high-end clientele.
Bob Pawlo: What do you think a few seconds before you start a job as a leader? Just before the first downbeat?
Spencer Bruno: On 99.9 percent of the jobs, a sound check with the whole band playing is not possible, so I'm thinking how to acquire a proper balance and EQ within the first few minutes of playing.
Bob Pawlo: Over the years, what were the advantages of being a member of Local 802?
Spencer Bruno: Simply put, the pay was better and you got valuable benefits. When first breaking in on the NYC scene, I noticed that the best players wouldn't usually take jobs unless they could receive pension and health benefits. Sadly, times have changed.
Bob Pawlo: What advice would you give to young musicians starting out in this day and age?
Spencer Bruno: Check out where your strengths are. Everybody has some kind of talent. Talent can be multifaceted, and some talents are stronger in some areas than others. When you find out what that is, work at it, enjoy it. Don't waste time with things that are a too much of a struggle. Put the time in where it will be most productive. Immerse yourself in good quality music, study hard, surround yourself with the best and dedicated musicians; and find your niche based upon your own talents.
Bob Pawlo: How has the music business changed in your experience?
Spencer Bruno: The business has changed along with technology. There is much less exposure to great classical music and the Great American Songbook on radio, TV, in our schools and in our culture. Today's contemporary music is alive and well, but it is dominated as much by DJs and recorded music as it is by live performance. Good live and recorded music will never die, and those of us who perform will continue on. Presently, I find the young people I play for to be extremely sophisticated and appreciative when they hear a mixture of all the good music we play. Today's jobs, by popular request, require a much larger contemporary repertoire than in the past.
Bob Pawlo: After so many years, what do you still look forward to in playing music?
Spencer Bruno: Seeing people of all ages respond to good quality music.