A Man With Options
Deryck Clarke talks about the Actors Fund Work Program
Volume CX, No. 9
September, 2010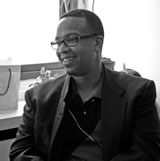 Photo: Jenny Ducaud
Deryck Clarke, born and bred in Brooklyn, started taking music lessons at seven. He was introduced to music at his local public school. Although his first instrument was the violin, he fell in love with the French horn at age 9, and never looked back. He is a graduate of the High School for Performing Arts, earned a B.Mus. from the North Carolina School of the Arts, and earned a postgraduate certificate from the Curtis Institute of Music. He joined Local 802 in 1998.
Deryck was recently assisted by the Actors Fund Work Program, which – despite its name – is not just for actors. The program helps actors, musicians and other artists find meaningful work to complement their industry career or find a new career altogether. Any Local 802 member is eligible to use the program. For more information, see www.ActorsFund.org or call (212) 354-5480.
The following is an interview with Deryck, conducted by Kathy Schrier, the director of the Actors Fund Work Program.
Kathy Schrier: What made you decide to become a professional musician?
Deryck Clarke: I always loved music, and I believed I could make a living doing it. Music was in my life since I was seven; I was always playing in a band and orchestra – I made all city band and all city orchestra in high school. I actually couldn't imagine being anything but a professional musician.
Kathy Schrier: Why did you join Local 802?
Deryck Clarke: My very first professional gig was while I was at Curtis and it was non-union. Everyone was treated terribly – got paid late, pay was not what was promised, rehearsals didn't start or end on time, we only had breaks when we demanded them. An AFM representative came to school and talked about the union. I realized being a musician didn't mean I had to be exploited, and if I was going to be a professional musician I was going to work union. Right after graduation I came to New York. One of the first things I did – even before getting a job – was join Local 802. I learned my lesson in Philly! I am very happy with my career: I have been in a number of Broadway pits – including "The Lion King" and "Beauty and the Beast" – and have performed single engagements at Carnegie Hall and other venues.
Kathy Schrier: What is rewarding about your work as a musician? What are the challenges?
Deryck Clarke: Music has always helped me to connect to my emotions, to understand other cultures, and been my way of expressing my feelings and thoughts. It has given me the opportunity to travel, see the world, and to make me a well-rounded human being. Music has allowed me to touch others. One of my most rewarding experiences was working for the New York State Music Camp – I will never forget the faces of campers who had never had heard classical live music before. I realized then I was destined to help broaden the music audience – I just did not know what it meant. As far as the challenges of being a musician, practicing is a huge issue – finding the time and the self-discipline. Competition is also fierce – there lots of talented musicians and not enough work. Finally, it is very hard to earn a living solely as a musician.
Kathy Schrier: When did you first come to the Actors Fund Work Program? Why did you come?
Deryck Clarke: I first came to the program in 2001. After 9/11, a lot of gigs disappeared. I knew I needed work; I was supporting my five-year old daughter. I went to Local 802 – they suggested I come to the program.
Kathy Schrier: How did the Actors Fund Work Program help you?
Deryck Clarke: When I first came to the program I had a lot in my "closet" – but it was disorganized. My self-confidence was also very low after years of struggling working solely as a musician. I knew I was an excellent musician – but what did it matter? My career counselor became my "closet organizer" – helping me take inventory – put things in their place so I knew my skills and my options. The Actors Fund Work Program also referred me to work – some gigs more rewarding than others. I got a Christmas gig at Toys "R" Us – it was an experience and it was fine for the short term. It was great for networking – it actually led to music gigs. It also gave me money to pay the rent and to buy Christmas gifts. The experience also made me realize that I had an ability to sell and I could use that skill in other ways besides selling toys. I was honored to get a job working for the AFSCME union, working in Philadelphia on John Kerry's presidential campaign. This experience made me a community organizer and made me committed to helping those less fortunate than me. This was my first exposure to political campaigning and had a direct relationship on what I am doing now. After this I realized I wanted to teach music in an urban setting. My career counselor worked with me on my resume and my interviewing skills which helped me land a job as the interim director of the music department of the Harlem School for the Arts. She also helped me find an alternative teaching certification in the Newark system. This gave me my teaching credential and I taught in Newark for three years.
Kathy Schrier: Are you still teaching? What are you doing now?
Deryck Clarke: I am finally finishing a master's degree at Rutgers in music performance. I am committed to exposing more children to live instrumental music. As a result, I am in the process of creating a nonprofit organization called The Harmony Effect, whose mission is to bring music concerts and instructions to areas of metropolitan New York that have had no exposure to music. I am excited about this initiative, and thanks to the Actors Fund Work Program, I have the confidence, skills, and commitment to make it successful. In program language, Harmony Effect is my "parallel career" because I still play the horn professionally. In fact, at Carnegie Hall I recently played with the Ray Chew Orchestra – of course under a Local 802 contract!
The Actors Fund Work Program is run by the Actors Fund, which is a national human service organization that helps all professionals in performing arts and entertainment, including musicians. The fund is a safety net, providing programs and services for those who are in need, crisis or transition. The Actors Fund sponsors Local 802's Musicians Assistance Program.
For more information on the Actors Fund Work Program, call (212) 354-5480 or visit www.ActorsFund.org. (Click on "Services and Programs" then "Sideline Work and New Careers.")