A new way to connect kids and music
Volume 111, No. 12
December, 2011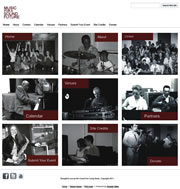 A screen shot of Music for A Sound Future, a new web site that lets kids know about live music opportunities in the city.
Nearly a year ago, Local 802 formed an Education Committee to address growing concerns over the lack of arts and music education in classrooms in the New York City metropolitan area.
After meeting with musicians, parents, teachers and elected officials who acknowledged a shift away from a well-rounded liberal arts education that fails to include music education, committee organizers felt compelled to develop an accessible music program for city students.
In a city where only $2 in art and music supplies is allocated for each student, committee members knew that a music education program would be a great need. The program, Music for a Sound Future, which was officially launched by the Council for Living Music in November, seeks to build a bridge between students and live music.
Local 802 officers are applauding the effort. "Local 802 is proud to collaborate with the Council for Living Music to create an effective education program that will help to bring live music closer to thousands of students," said President Tino Gagliardi.
The first component of the program is www.MusicForASoundFuture.org, a revolutionary Web site for students that highlights a diversified listing of free and affordable music around the city. The user-friendly online calendar provides a comprehensive description of each performance and includes a Google map function to allow easier access to venues.
With a large selection of musical genres to choose from in all five boroughs, students across the city will have greater access to live music performances, ultimately paving the way to cultivate a greater appreciation for live music in all of its magnificent forms.
The Web site will also provide a tool for musicians to submit information about their upcoming gigs (only if they are free to the public), which will be vetted for the live music calendar.
Beyond serving as a live music calendar, the site will also serve as a fundraising tool for future education projects. The hope is that www.MusicForASoundFuture.org will be the city's premier site for free and affordable live music performances in New York City. It will distinguish itself from other live music calendars by tracking affordable live concerts that would be appropriate for children of all ages. The site will evolve and grow as more information is added and partnerships are formed with other organizations to create a unique cultural experience.
The second component of Music for a Sound Future is the presentation of three educational concert seminars provided free of charge.
Performances will be conducted in the Local 802 club room and will serve elementary, middle and high school students. Each concert will present a variety of styles and genres performed by musicians with strong educational backgrounds.
One of the main objectives of these concerts is to bring students together with live musicians in a rich educational environment, where they will gain valuable exposure to great performances in an intimate setting.
The Council for Living Music and Local 802 would like these initial programs to be the start of a longstanding, viable initiative that will address multi-faceted educational issues and concerns.
With demand for music education at an all-time high in the city, supporters are confident that Music for a Sound Future will become a leading presence in the field.
"Music for a Sound Future is exactly the kind of educational experience that students need," said President Gagliardi. "It is my hope to see it grow into one of the most respected music education organizations in the area."
Individuals interested in making a safe and secure donation may go to www.MusicForASoundFuture.org/donate.