A Seat at the Table: Selecting the Retiree Representative
Member to Member
Volume 117, No. 10
October, 2017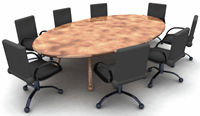 I have been a working member of Local 802 for 35 years. As with my roles on negotiating committees and my tenure as a long-time Broadway Theatre Committee representative, I have, unfailingly, been invested in the notion that we are stronger when we work together to foster security and protection for all of our members.
Many of us are still reeling from the December 2016 Letter from the Board of Trustees informing us that the AFM-EPF is spiraling towards insolvency within 15 years. Yes, we knew our Fund was in "critical" status for more than five years because we read the Fund's annual letters; but those letters and our national and local leadership "reassured" us that our Fund would be preserved until at least 2047. That date seemed so far off and, surely (we believed), with the robust stock market and record-breaking investment returns of recent years, we should be able to find our way back to a reasonable recovery and sustain the long-term payout of retiree benefits. We still wanted to believe in the "pension promise": if you work under union contracts, employers will pay the negotiated pension contributions on your behalf; and when you choose to retire, you will be rewarded with a lifetime retirement benefit payment to you and, upon your death, a reduced benefit to a designated beneficiary for their lifetime. This promise steered negotiation strategies, job choices, and countless personal financial decisions for many of us. Instead, this year's Annual Funding Notice revealed another precipitous decline in funded percentage. With the warnings about an impending change of status and the looming specter of an application for suspension of benefits  to the U.S. Department of Treasury under the Multiemployer Pension Reform Act of 2014 (MPRA), we cannot deny that our retiree benefits are in serious jeopardy.
It is no secret that our national community of participants is divided on many issues related to the Pension Fund crisis. Along with the frustration we feel about the state of the pension finances, there are fissures within our membership regarding what the best "next steps" should be. So, what can we do? I suggest that we adopt and engage in an approach that looks forward.
There are countless continuing discussions about the feasibility of this new law, MPRA – but I am not advocating for or against it here. I do know, however, that the co-chairs of the Board of Trustees lobbied for its adoption and the Board has made clear references in their road shows as well as in their written communications of the likelihood that they will submit an application to the Treasury to allow them to redesign and cut retiree benefits (present and future, with a few law-mandated exceptions) if the Fund's future status meets the criteria of "critical and declining." Though a designation of this status does not require the Board to take this action, it definitely triggers the option.
On a positive note, I have been encouraged by one specific section of the MPRA regulation – the required appointment of a Retiree Representative. Because our plan has more than 10,000 participants, the Trustees must select a plan participant in pay status to fulfill this role. This representative, who may or may not be a Trustee, would advocate for the interests of more than 29,000 of our retired and deferred vested participants and beneficiaries. That constituency is well over half of the 50,000 total AFM-EPF pension participants. The Retiree Representative may be chosen at any time prior to the application submission but no later than 60 days before. Other multiemployer fund trustees have chosen Retiree Representatives as early as eight months in advance of a proposed application, for good reason – there is a lot to learn and much to do. The AFM-EPF must pay for the reasonable expenses of the Retiree Representative, including those incurred communicating with the participants and beneficiaries as well as for "reasonable legal and actuarial support, commensurate with the plan's size and funding status." The Trustees may choose a fellow Trustee as the representative but they don't have to; and there is no requirement that the Trustees consult with the participants when making their selection.
And this is where I focus my plea to fellow Local 802 members and our larger national membership. Local 802 is the largest of the nine individual U.S. locals with more than 1,000 members. Our local membership totals 7,441. The next largest is Los Angeles, with 6,495, and the remaining seven range between 1,200 and 2,253 members each. There are also three regional conferences which claim at least 10,000 members each. I believe we have a valuable opportunity to leverage our considerable power in numbers and dare to think creatively. No previous multiemployer plan advisors or trustees have worked alongside their participants to choose a Retiree Representative. As is clear from the outcry of the Central States Pension Fund participants against the selection process of their Retiree Representative,  as well as the consternation of the Retiree Representative of the New York State Teamsters Fund, evident in his July 2017 letter to the Treasury, this is a tough but vitally important "job."
This is the time when the AFM-EPF Trustees should want to work with us. A committee of several pension participants could be involved in assisting the Trustees to design a vetting process that would serve as an even-handed, impartial evaluation of potential candidates. Special attention should be paid to prior or current associations with the Trustees that could be seen as a conflict of interest in serving as advocate on behalf of this specially defined group. Any appearance of impropriety should be avoided at all costs and the selection process should be centered around a set of qualifications that would be applied to all candidates equally.
Candidates, at minimum, should possess:
a varied and lengthy work experience in the music business, including a familiarity with the challenges for orchestral, theatrical and freelance musicians;
an ability to express ideas clearly to people with varying degrees of familiarity regarding the application and approval processes;
sufficient time to devote to the lengthy suspension application and Treasury approval process of 225 days and possibly beyond, including attending meetings in New York City, as required;
an ability to understand issues related to the past performance history of the Fund and, simultaneously, maintain focus on the future;
a willingness to take strong positions, when appropriate, even in the face of significant opposition, but also an awareness of when to compromise;
experience solving and analyzing complex problems;
an ability to work well within the Board of Trustees structure while also thinking creatively and independently;
facility with numbers and financial concepts including experience with investing, creating budgets or payrolls;
knowledge and skills to design efficient and effective means of communication with the representative group, the Trustees and additional supporting professionals; and
the ability to discern and identify the required duties of advisers and conduct timely and comprehensive interviews in order to select an independent law firm and actuary for support and advice throughout, and possibly beyond, the process.
It might be easy for the Trustees to choose someone who fits comfortably within their entrenched culture and reject the idea of taking the time and energy to choose from a larger participant pool in pay status. That's where we come in. We will have to convince them and we need to do this, now. The Trustees often speak of their demonstrated transparency, accountability and trustworthiness and tout the work done on our behalf. So, in that spirit, let's invite them to collaborate with the Fund participants and beneficiaries across the country and work toward extending the projected solvency of our Fund. We don't know for sure that the Trustees will submit an Application for Suspended Benefits in 2018, but we know it is a strong possibility.
For those outside of this retiree group, I urge you to stay engaged. The goal of addressing the concerns of one large, underrepresented group does not supersede the needs of the remaining 21,000 active participants nor diminish the responsibilities of the Trustees to create the most equitable solution for all of us. We need to be fearless, relentless and united in our pursuit of the most dynamic and effective representation.
Cecelia is a violinist, attorney and president of Guiding Arts LLC, an arts consulting practice. 
---
PRESIDENT TINO GAGLIARDI RESPONDS:
As your President and as a Pension Fund Trustee, and as a participant in the Fund myself, I can tell you how important the Fund's health is to me. If the Fund reaches critical and declining status, the Trustees would seek approval to reduce benefits under the Multiemployer Pension Reform Act (MPRA) only as a last resort to save the Fund from becoming insolvent. The Fund's running out of money to pay benefits is the worst case scenario, and we are all working hard to prevent that. But, if reducing benefits is the only viable way to prevent that worst case, then it beats the alternative.
I want to thank Cecelia for her thoughtful letter. We have the same interests – protecting the hard-earned benefits of our members, colleagues and friends.
Cecelia made a few statements in her letter that I want to respond to. For example, the Fund notified participants starting in the summer of 2015 that it was projected to remain solvent for at least 20 years (meaning 2035), not until 2047. As of this year, the Fund is still projected to be solvent for at least 20 years. Also, critical and declining status means that the Fund would be insolvent in 20 years, not 15 (the measurement period is 15 years for some pension plans, but 20 for the AFM-EPF). Because this is so personal to all of us, it's really important to have accurate information.
Now, as Cecelia says, if the Trustees decide that reducing benefits is necessary as a last resort to save the Fund, we are required, as part of the MPRA process, to appoint a retiree representative to advocate for the interests of retirees, beneficiaries, and people with a vested pension who have stopped working but not yet retired (terminated vested participants). I agree that the representative would play a vital role in any benefit reduction process. I obviously can't speak for the other Trustees as to when we'd appoint that representative, but I do know that all of the Trustees would want the representative to have as much information as he or she needed and to participate in conversations and deliberations about the MPRA process.
I thank Cecelia for her thorough and insightful list of qualifications that the Trustees should consider in selecting the retiree representative. The Trustees have received her recommendations, and I know we will have a thoughtful discussion about whom to select.
There's no question that selecting a retiree representative for a union like ours, with a national membership working for many different types of employers, would be a complex process. There is no way to satisfy everyone. But I do believe that the Trustees are in the best position to be able to select someone expeditiously who will do the job in the very best interests of all of the Fund's retirees, beneficiaries and terminated vesteds.
The Fund's Union Trustees, in particular, come from very diverse backgrounds. Ray Hair, the International President, represents the whole membership; I represent the largest Local in the country; and all of the other Union Trustees are working or retired musicians from around the country. Further, some of the Employer Trustees work for contributing employers; others are from employer associations, like the Broadway League; and some are retired. Speaking only for myself here, I'm not sure that creating yet another committee, as Cecelia suggests, will improve either the efficiency or effectiveness of the selection process. Selecting that committee would generate its own issues, and bigger groups don't always make better decisions.
Regardless, I appreciate many of Cecelia's thoughts concerning the retiree representative. I know the Trustees will consider them carefully, along with all of the many other aspects associated with the very difficult decisions facing us ahead.
Please know that protecting the hard-earned benefits of all our Fund participants has always been and remains the Trustees' number one priority and responsibility. As a Trustee of the Fund and as President of Local 802, I consider it one of my most important jobs.