A Way Out When Talks Collapse
Legal Corner
Volume 111, No. 4
April, 2011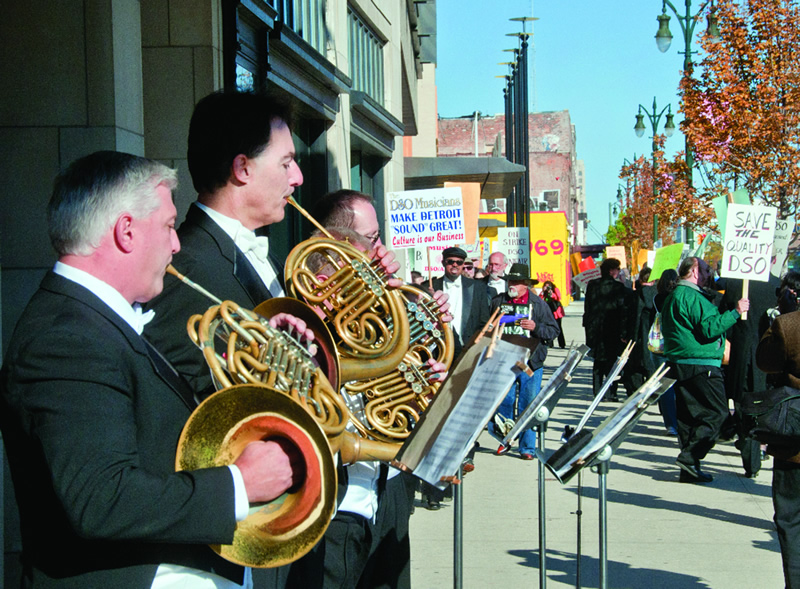 French hornists from the Detroit Symphony Orchestra perform on the picket line. Musicians have been on strike since Oct. 5, 2010.
Photo: Hart Hollman
Is there a way out of the current impasse with the Detroit Symphony Orchestra? Yes! Musicians have agreed to submit to arbitration; management has so far refused.
But what is arbitration, and what are the Detroit musicians asking for?
Contractual arbitration (otherwise known as rights arbitration) is the kind of arbitration that most Local 802 members may be familiar with. It can involve interpreting a contract or determining whether or not discipline has been properly imposed upon an employee. This kind of arbitration applies when there is an enforceable collective bargaining agreement between the parties.
There is, however, another variety of arbitration that is hardly discussed in private sector labor relations. This form of arbitration is known as interest arbitration.
Most often found in public sector labor relations, interest arbitration imposes arbitration on the collective bargaining process itself.
Interest arbitration is the process by which an arbitrator, rather than the negotiating parties, determines what the final contract will look like.
It takes collective bargaining out of the traditional power struggle of labor relations and places it in the hands of a neutral party.
Interest arbitration is a key component of the now-dormant Employee Free Choice Act. In that proposed legislation, if labor and management cannot reach an agreement within 120 days, both sides have to submit to interest arbitration.
Why would negotiating parties wish to engage in interest arbitration? After all, anyone who has arbitrated a labor matter knows the risks. Any decision rendered – good or bad – is not subject to legal challenge.
The stakes are high. An entire agreement may be forced down the parties' throats. The arbitrator may create a contract that does not have any relation to either side's bargaining objectives. Furthermore, interest arbitration is not strategic for the party with greater bargaining strength and leverage.
So why is there any desire for interest arbitration? One wonders why the Detroit Symphony Orchestra musicians requested it.
The answer is simple.
Sometimes the only way to resolve a labor dispute is to take it out of the hands of the feuding parties. Compared to the alternative, interest arbitration may be preferable. This does seem to be the case in Detroit, where interest arbitration is better than the death struggle that labor and management are currently engaged in. I believe that if management truly wants to make a deal and salvage the orchestra, interest arbitration is an easy choice.
Furthermore, there are different styles of interest arbitration.
One is when the arbitrator looks at the last offers of both parties and imposes one of them. This form of interest arbitration is known as "baseball arbitration" because this is the method by which Major League Baseball players resolve salary disputes.
Another form of interest arbitration is where the arbitrator can pick and choose between labor and management proposals and fashion a compromise from both.
Finally, in its purest form, interest arbitration permits the arbitrator to totally ignore the parties' proposals and fashion an entirely new agreement.
Interest arbitration can be used selectively. This is key. For instance, with regard to the Detroit Symphony, there must be areas where the parties have already come to an agreement. For those matters, interest arbitration is unnecessary. Interest arbitration can be used to resolve only the matters which are sticking points. That's what the Detroit musicians have proposed.
If both sides are at an impasse, isn't it a good idea to have a third party make the decision in a reasoned way? That way the symphony can get back to doing what it is renowned for: producing incomparably beautiful music.
Harvey Mars is counsel to Local 802. Legal questions from members are welcome. E-mail them to JurMars566@aol.com. Harvey Mars's previous articles in this series are archived at www.HarveyMarsAttorney.com. (Click on "Publications & Articles" from the top menu.) Nothing here or in previous articles should be construed as formal legal advice given in the context of an attorney-client relationship.