AFM Convention Has Full Agenda
Volume CVII, No. 6
June, 2007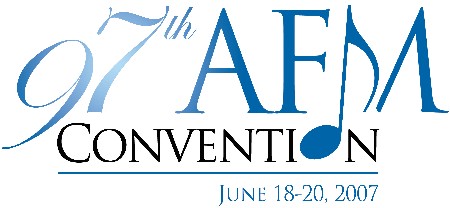 Substantial dues increases are being proposed. Local 802 opposes them.
Local 802 is committed to true organizing, not just "recruitment."
Local 802 is supporting resolutions that would make the AFM pension fund more user-friendly.
Local 802 is committed to unifying all of the working musicians of the AFM.
On June 18, 19 and 20 the AFM's biennial convention will take place in Las Vegas. Delegates from over 250 locals will debate and act on a host of issues — the two most important being money and leadership.
In this article, I'd like to touch on some of the more significant issues facing us at the conference.
DUES INCREASES?
Even though the AFM passed increases in "per capita dues" — the portion of your dues that locals pay to the AFM — and despite an increase in some work dues, the AFM says that it still faces fiscal problems. It's not clear to me that this is so.
It is true that recent increases in annual dues have been almost entirely offset by a decline in membership.
Right now, Local 802 has to pay $54 to the AFM for each member. (Four years ago, this amount was $46.) So every time a member is lost, the AFM is out $54.
It's easy to see that a relatively small loss of membership can eat up the increases. Between 2003 and 2006, membership dropped to 89,860 from 98,893, or about 3 percent each year.
On the other hand, the increase in work dues payments on electronic media contracts in 2005 added approximately $330,000 per year to AFM revenues — and this came on top of over $400,000 that was added in 2003.
AFM annual budgets are between $10 and $11 million. So this extra $730,000 per year should have kept the AFM ahead of inflation.
The electronic media work dues increases agreed to at the 2005 convention will expire this year. As a result, there will likely need to be a continuation of the previously imposed work dues.
Despite these previous increases and the difficulty convincing delegates they were needed, the AFM's International Executive Board is proposing an annual $5 per capita increase and a host of work dues increases, including — for the first time — a 0.5 percent work dues on all theatre work.
It's difficult to view these as serious proposals.
Another proposal is coming from the new Revenue Committee, which was created at the 2005 convention.
That committee's proposal is a $5 increase in annual per capita dues and a 0.1 percent increase in work dues on all national and local collective bargaining agreements as well as special payments funds.
Under this proposal, the bulk of the increased revenues would come from symphony orchestra musicians.
We all understand the need to sustain the national organization.
However, any increases beyond current funding levels should be predicated upon new initiatives that have been thoughtfully planned and can be successfully argued as important to the membership and the union's future.
I am unaware of any such plans or initiatives.
Absent such plans and absent a detailed outline of AFM expenditures, I believe the Local 802 delegation will strongly oppose dues increases.
ORGANIZING NEW MEMBERS
This brings us back to the question of the decline in membership.
Some of the decline may be temporarily unavoidable because of changes in the music and entertainment industries and because of the competition we face in today's global marketplace.
But how we respond to these realities will determine whether or not the declines are reversed.
There are probably several hundred thousand professional musicians making a living in our business. We represent less than half.
Who are these folks?
Some are musicians working in new or unorganized areas of the recording industry, from cable television and indie recordings to game music.
Some are employed by casinos or religious institutions across the country.
Many are younger musicians engaged in the electronic and digital creation of music for jingles, films and recordings.
I believe the future of our union depends upon organizing these and other areas of our business.
Having attended some regional conferences over the last several weeks, I know there is an effort on the part of AFM leadership to focus on "recruitment."
But that makes little sense unless we have contracts covering employment — with benefits and protections that give membership real value.
While it is certain that locals should welcome new members, "recruitment" is in no way a substitute for true organizing, which has yet to become a priority.
And we cannot seriously discuss the decline in membership without addressing the developments in Los Angeles.
Our union faces very serious divisions, which threaten to drive out our members working in the film industry.
These are musicians who pay substantial work dues to the AFM. Nothing could be more short-sighted than failing to listen to their concerns.
Financial support of our international union without these musicians will put an enormous additional burden on members and locals. This matter must be resolved in a way that bridges the differences that exist.
President Landolfi writes about this challenge in her president's report on page 6.
PRESIDENTIAL HOPEFULS
There are two candidates for AFM president: the current president, Tom Lee; and the president of Local 47 (Los Angeles), Hal Espinosa. The Local 802 delegation will have to carefully weigh which one will best represent the interests of working musicians and which one can best end the divisions in our ranks.
RESOLUTIONS
There are other resolutions that deal with important issues.
One would increase the number of convention delegates from mid-size locals, which are under-represented compared to small locals.
Two other resolutions would provide for "one member, one vote" when electing AFM officers. Currently a local's voting strength in the election of officers is capped at 5,000 members. As a result, some 4,000 of Local 802's more than 9,000 members are disenfranchised. This is also the case with several other large locals.
There are several resolutions that would seek to make the AFM pension fund more user-friendly and make the fund trustees more accessible to the membership. Local 802 is supporting these efforts.
There are resolutions on a number of national political and legislative issues, including extending full performance rights for sound recordings, halting the consolidation of media ownership, ending the war in Iraq, and supporting national health legislation.
WHO REPRESENTS YOU
The delegates to the AFM convention are President Landolfi; myself; Executive Board members Ethan Fein and Jay Schaffner; Trial Board member Erwin Price; and Jimmy Owens, the Jazz Advisory Committee liaison to the Executive Board.
If you have any concerns you would like to share with any of us, please feel free to contact us.
When we get back from the convention, we will give a report to Local 802 members on Wednesday, June 27, at 5 p.m. in the Club Room, which is the next scheduled membership meeting. We hope to see you there.