Allegro Wins Major Writing Prize
Saul Miller Award has a surprising connection with Local 802
Volume CX, No. 10
October, 2010
Allegro recently picked up a prestigious writing award in the annual journalism contest of the International Labor Communications Association.
We won the Saul Miller Award for best organizing story for the piece in last year's October issue about the annual Led Zeppelin tribute concert at the Brookhaven Amphitheatre in Long Island, and how the union was able to get the gig under contract.
Karen Fisher wrote the first draft of this story; it was later expanded and edited by Paul Molloy and others.
This is the third time we've won the Saul Miller Award, and curious minds want to know: who was Saul Miller?
It turns out that Saul's son David is a member of Local 802. In the following essay, David shares some memories of his father with us.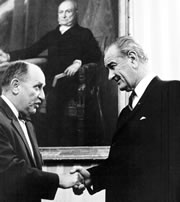 Saul Miller (left) with President Lyndon Johnson.
My father's two passions were journalism and the labor movement; he felt very fortunate to be able to combine them in his professional life.
Coming of age in a working-class family in the 1930's, with his mother deceased and his father occasionally unemployed, he became a New Deal socialist.
He graduated with a journalism degree from NYU in 1942, and immediately enlisted in the Army, spending the next three years in North Africa, Sicily, the Normandy invasion and the final push into Germany.
Although a college graduate, he chose not to become an officer; he remained a sergeant to keep in close contact with the soldiers, working first as a medic and later as company clerk.
Returning after the war, he first worked on daily papers in Pennsylvania, Virginia and New York before coming to Washington, D.C. to head a labor news service in the early 1950's.
A few years later, he moved to the AFL News Reporter and then was named managing editor of the AFL-CIO News when the federation was formed in 1955.
Three years after that, he became director of publications for the AFL-CIO, publishing a monthly magazine, the American Federationist, as well as the weekly AFL-CIO News.
After 22 years in that position, the Department of Publications and the Department of Public Relations were merged into the present Department of Information. My father headed the new department for two years before retiring in 1982.
For virtually all of his labor journalism career, he proudly served on the Executive Council of the International Labor Press Association and was also a member of the National Press Club.
The AFL-CIO building is almost literally across the street from the White House. My father was invited to the White House to greet every president from Truman through Carter.
He was proud to be a representative of the labor movement and proud to publish labor news and write editorials for millions of union members.
In his own "Parting Word from the Editor," published in his last issue:
"The [AFL-CIO] News has set a standard for the labor press It has helped develop the crisp professionalism, attractiveness, credibility and commitment in trade union publications today."
Typically for him, what he didn't include in this public statement was his intense personal commitment to the cause of trade unions – a tool for improving the lives of all working people and making the world a place where people had a better chance to improve their lives.
A little-known side of him was his work to help women gain jobs in the labor movement and labor journalism in particular, at a time when there was much discrimination.
My dad believed that the meaning of holidays should not be forgotten.
Every Fourth of July, usually on the back patio, the youngest child who could read fluently recited the "Declaration of Independence" to the family, with guidance from Dad about pronunciation and meaning of difficult words.
Then we discussed why the document was written and what is meant, both to Americans and others.
Similarly, at the Passover Seder, there was always a lecture and discussion from my father about slavery and freedom.
My dad was a pretty secular person. For him, the real meaning of Passover was greater than the story of the Jewish people – it was about humanity's fight for freedom everywhere.
We were always made aware that there were (and unfortunately, still are) people in the world who live in slavery.
All four of us children learned to write well. As the oldest, it was especially traumatizing in the beginning to have my diligent efforts thoroughly blue-penciled by Dad, the editor; but it certainly helped me in the long run!
My father didn't expect me to become a labor journalist, but he wasn't thrilled at the idea of my becoming a professional musician.
I chose to go to Oberlin College as a liberal arts major because the conservatory was right across the street, and I could combine my music and social-science interests.
We agreed that music was to be a "serious avocation" for me. Later, though, I changed my mind and earned a graduate degree from Juilliard.
My father had said that becoming a professional musician was no way to earn a living, and of course, he was right in many ways! But when he saw that I could actually support myself, he came around. Of course, that would have been a much tougher proposition without Local 802, and he certainly wasn't disappointed when I joined the union!
I remember when my mother told me that the International Labor Communications Association had named a labor journalism award after my father.
Of course I was proud, especially as I witnessed the awards one year at the AFL-CIO and read about them elsewhere.
It seemed an especially appropriate gesture for him, since he was interested in training and helping the next generation.
Clearly, the labor movement is not what it used to be in many areas of work. Workers' rights and well-being have diminished as greedy, powerful forces have exploited a growing global economy in a neo-Gilded Age.
Unions must modernize and keep changing with the times to continue to be effective.
I think Local 802 is doing a very good job, and has been since the birth of the Members Party in the early 80's.
I know my dad would enjoy Allegro today – it's very lively, well-written and informative!
David Miller is a violist who joined Local 802 in 1974. He is a freelancer who specializes in historical performance. His wife, violinist Nancy Wilson, is also a Local 802 member.