Announcing the New York Jazzharmonic
Bassist Ron Wasserman forms a new ensemble and does the right thing by making sure his band members are covered by a Local 802 union contract
Volume 116, No. 1
January, 2016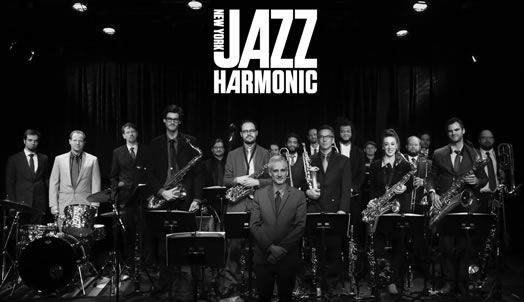 After 33 years of being an active member of Local 802, I now find myself in the position of being both a member of the union and a signatory employer. I recently signed an agreement with Local 802 so that members of my band, the New York Jazzharmonic, will enjoy guaranteed wages and union benefits. I want to inspire other bandleaders to do the same thing and sign with the union, so I was invited to tell my story to fellow Local 802 members.
The idea for this orchestra came to me around 11 p.m., on Thanksgiving 2014. After five years, I had just completed my magnum opus, a 90-minute composition for standard 17-piece big band, entitled "The Four Seasons of New York Jazz," and was thinking that if I was going to go through the trouble and expense of getting the players together and organizing a performance, it would be great if the orchestra I created could have a life beyond the premiere. The way to do that, I surmised, was to involve other composers who also may have big compositions in the works who needed an outlet for well-attended, well-publicized performances by an orchestra of top players.
I named the band the New York Jazzharmonic because I wanted this to be bigger than just me in order to increase the likelihood it would have staying power. We can conceivably put on a concert under any circumstances, with any kind of music you could imagine. This increases our performance opportunities. We will always strive to present music that has liberal amounts of swinging improvisation, but we will also commission music from people in other fields – such as classical music and world music – and we will try to blend genres.
We premiered my suite in November, and we sold out the house. I had originally engaged the great Lew Soloff to be our first guest soloist, but he passed away right after agreeing to the gig. Cristina Pato, a wonderful jazz musician, who plays an unusual instrument – the Galician bagpipes – became our featured soloist, and wowed the audience. Next up, on Sunday, Jan. 10, we are presenting some American premieres by one of the deans of jazz composers, Jim McNeely. It may come as a surprise to you, but much of the stuff Jim writes only gets performed on a professional level in Europe. One of our important goals is to support American high culture. Also on that concert, Miho Hazama, my associate music director, will premiere some compositions. She's an amazing composer who won the BMI Charlie Parker Prize in 2015. And as a super-wonderful surprise, extraordinary oboist Randall Wolfgang will perform with our jazz big band. As great as he is, he rarely appears as a soloist, even in front of classical orchestras, and I'm pretty sure this will be his first excursion in front of a jazz group.
In March we have a Tango Nuevo evening with amazing world-class violinist Lara St. John and bandoneonist JP Jofre as soloists, and in May we are premiering an Oscar Peterson tribute with the wonderful conductor/pianist Andrew Litton as our guest.
What I am most excited about in our season is our big commissioning project. We asked four composers from disparate fields each to write a piece inspired by the 50th anniversary of John Coltrane's "A Love Supreme": Jeremy Howard Beck (from the world of opera), Rufus Reid (from jazz), Courtney Bryan (from gospel, jazz, experimental and everything else) and Local 802 "old hand" Bernie Hoffer (from the commercial world, who has been writing wonderful concert music since he retired from the studio scene).
So why did I sign a Local 802 union contract to cover my bandmembers? If my dear late father Herbie Wasserman ever found out I had my own orchestra and didn't file a contract, he'd have disowned me. He was a great union man from way back. Also, I have been very fortunate to be a member of the New York City Ballet Orchestra for 27 years, and Local 802 has been a large part of that fortune. Insofar as I am able, I want to bring some of those high union standards (including pension) to the world of jazz musicians, where standards of any sort are sorely lacking. And, speaking of that, I am hoping to inspire other bandleaders to do something similar. I hope it has a ripple effect around the jazz world. If players demand it, it will come.
When I got back into jazz after so many years, I was surprised to see that the average gig paid little more than I was making when I was in college in the 1980s. Sometimes even less. These days, a trio, quintet, or even a whole big band will work for a split of the cover charge or the door take. And for this split, the venue helps only a little with bringing in the audience. This is sad, and the high level of professional musicianship in New York deserves better.
How am I paying for my band? I incorporated our organization as a nonprofit entity. That enables us to apply for grants and also to hold fundraisers. All donations are tax-deductible to the fullest extent of the law. Remember, I'm looking at a long-term existence for this band. Having this corporation has also allowed us to act as fiscal sponsor for some friends who have had artistic projects that needed foundation support. Foundations don't like to give their grant funds to individuals. Fiscal sponsorship is an important tool to help young artists, and we would like to expand that offering.
Becoming "management" has taken over my life, but I now have a newfound appreciation for arts presenters. Not only must they concern themselves about 50 percent of the time with artistic excellence, but they must spend at least 50 percent (or more) of their time developing an audience. This is something that musicians often overlook. As a prophet once said, without an audience, it's only a rehearsal. On top of that, you almost have to split yourself into two people, and have the other person spend 100 percent of their time just on fundraising.
Our main subscription concerts are at the Leonard Nimoy Thalia at the Peter Norton Symphony Space. I'm really glad I booked our band there. They have special rates for nonprofit organizations, and we have started an additional small group series every other Sunday evening in their Bar Thalia. They don't ask us to play just for the door there. They actually have a small budget for live music, which is so rare, as I described above. Please support the Bar Thalia every night they have live music. For our 2016-2017 season I'd like to add a dance element (I have many dancer friends from my years at the NYC Ballet), and I'd like to start a jazz music educational program.
The last thing I want to say to fellow musicians is to go to a performance of live music – or dance or theatre or any live art. We all rely on audiences, so lets all support each other. I might suggest you come to one of our concerts, as most of them are scheduled for Sunday evenings by design, but whatever performance you go to, remember, we're all in this together. Lastly, check out our web site at www.nyjazzharmonic.org and like us at www.facebook.com/newyorkjazzharmonic.
Ron Wasserman is the principal bassist of the New York City Ballet. If you have created your own ensemble and want to sign a contract with Local 802, contact the Organizing Department at (212) 245-4802. If you lead a union ensemble and want to write about it here, contact Allegro@Local802afm.org.