As the Crow flies
Volume 112, No. 4
April, 2012
Bill Crow looks back on a life of surprises, serendipity and plenty of laughter…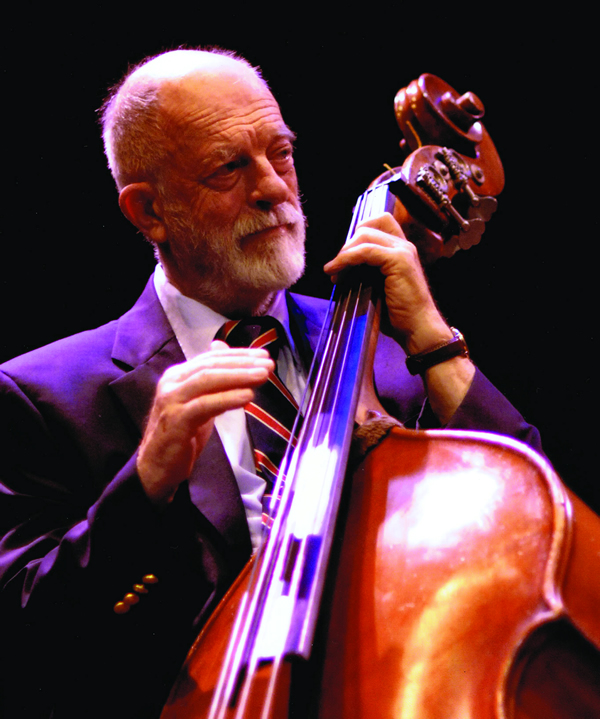 Photo: Ed Berger
Bill Crow sits across the table, his eyes twinkling. He's got stories to tell, and as he probes his memory, he maintains the cool demeanor of a jazzman, reaching back through his 84 years with uncanny accuracy. A master bassist, he's hip, and smart, and funny, too. If tragedy is for those who feel, and comedy for those who think, Crow is definitely a thinker, as underscored by his long-running column, "The Band Room," a staple in Allegro since the early 1980's.
Whether it's an anecdote about one of the hundreds of musicians Crow has worked with over the years, or a contemporary story contributed by a reader, Crow has heard them all, and has recorded hundreds of them.
As we get to talking, a stream of names and places pours from his lips.
He remembers, not long after arriving in New York, watching, mesmerized, as Charlie Parker, Miles Davis, Max Roach, Tommy Potter and Duke Jordan awed crowds, playing a still young music called bebop.
There's the story about hitchhiking 400 miles from Manhattan to Tupper Lake, New York, while wearing a Hawaiian shirt and carrying a trombone case, with $2 in his pocket.
Once, Crow remembers, he saw Art Tatum upstage Bud Powell by playing an entire set with just his right hand. There was the jam session with Gene Ammons on a houseboat. He eavesdropped on Lester Young and Jo Jones speaking in their secret hipster language while seated at the next table at Birdland. He slept on the floor of Dave Lambert's apartment on the Lower East Side. And don't forget babysitting for Lord Buckley…
William Orval Crow was born on Dec. 27, 1927 and grew up the child of farmers in Washington State. He studied piano briefly, moved to the trumpet and then settled on baritone horn as his instrument of choice.
"When they transcribed orchestral music for concert band," he recalls, "the baritone horn got all the cello parts. If I was playing a part where I heard that the arrangement was simply having the baritone double the trombone, I would think of a part that was more like the baritone counter line. The baritone player next to me would say, 'Mr. Bennest, Bill's not playing what's written.' And Mr. Bennest would say, 'For him, it's O.K."
Crow adds, "My teacher turned me onto Louis Armstrong when I was still in the sixth grade. That was in 1939, and we'd buy the records as they came out."
He learned the printing and meat cutting trades, but music became increasingly important in high school. By 1946, he had added trombone to his bag of tricks, and when he was drafted into the Army, he hoped he could ease his time in the service by getting into a band.
Not so easy, as it turned out.
Instead, he got stuck in the personnel office pushing paper.
"I made friends with this sergeant," Crow recalls, "and I was complaining about how hard it was to get in the band. So he says, 'You want to be in a band? I'll put you in a band.' I said, 'How can you do that?' He says, 'I'll just put your name on the orders. They won't know where they came from." It worked.
By 1949, Crow was discharged, and was eager to complete his studies on the G.I. Bill. He had wanted to go into radio work, perhaps as an announcer. After a quarter at the University of Washington, he learned academia was not for him.
"I got the feeling that I was in some kind of a machine that I didn't really like. I had hoped that college was going to be more stimulating than that." he recalls.
What followed were a series of gigs in the Seattle area, where he met up with a young Quincy Jones, among others.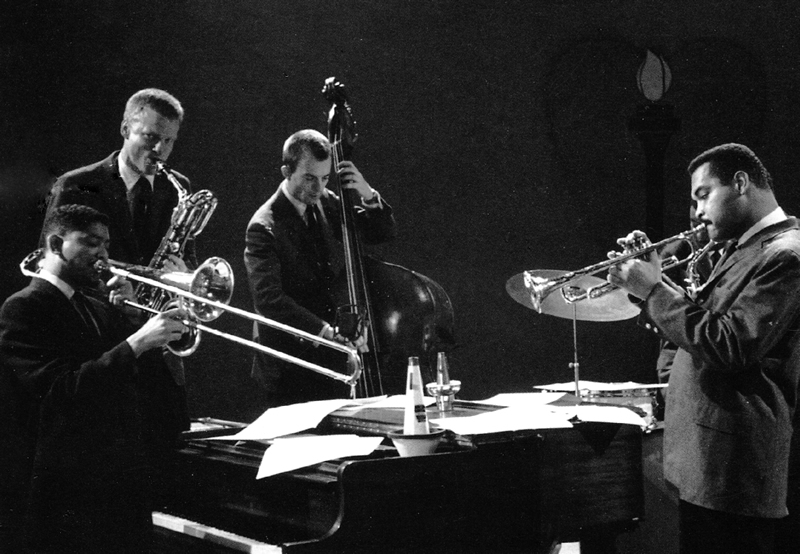 Jimmy Cleveland, Gerry Mulligan, Bill Crow, Art Farmer and Dave Bailey (standing behind Farmer), circa 1956.
Photo: Milt Hinton
"At that time, Quincy was about 17 years old," Crow remembers. "He told me, 'Oh, you play trombone? Great. Come to our rehearsal.' I remember he wrote a new chart and gave me a solo."
While in Seattle, Crow was playing tailgate trombone and sitting in with bebop combos.
Soon, he moved in with four other musicians on a houseboat on Lake Union. Woody Herman came through. A young Gene Ammons was one of its stars.
Crow remembers, "Our clarinet player says, 'Man, Gene Ammons probably would like to come and blow. Why don't we get him out here?'"
So they found out what hotel Ammons was staying at and knocked on his door. "You want to come and play?" they asked. "Yeah, sure," Ammons replied.
"He didn't have anything to do during the day," recalls Crow. "So he came out to our houseboat and jammed with us."
It was during this period that Crow moved over to the drum chair and got lessons in swing from a local hipster, one "Buzzy" Bridgeford, a running buddy and early mentor.
"So we're sitting up in Buzzy's apartment one night and he said, 'What do you think about when you're playing the drums?' And I said, 'I try not to speed up or slow down. I'm trying to find sounds that other musicians like to hear.' He said, 'Well, what about swing?' I said, 'I keep hearing about that, but I'm not really sure what that is.'
"And then he said, 'Did you ever roll a tire down the road? Well, you know once you get it going, all you have to do is give it a pat here and there to keep it going in the direction you want. You don't have to keep pushing it. It's the same way with music. You gotta find that groove.'"
Eventually, Crow sold his 1937 Chevy for $50 and he and Buzzy grabbed a Greyhound for New York City. The journey was an eye opener.
The two fledgling musicians passed the time talking nonstop about jazz history. Then, at a stop in Cleveland, the trumpeter Al Porcino got on the bus, also headed for New York.
"I thought Porcino was really hip," remembers Crow. "He had dark, backcombed hair and this Burberry overcoat, with a Raglan sleeve, with the collar turned up. He was the first New York musician I met. We rode into the city together. There was a little hotel called the Bristol on 46th street right near the music stores. Buzzy and I checked in there. It was $8 a night."
New York in 1950 was experiencing a post-war boom, and music was everywhere. Crow eventually found a furnished room on Eighth Avenue and 53rd Street, and began to explore the big town. He took in jazz at night clubs like Birdland and the Royal Roost, and caught some of the music's greatest stars. He eventually moved to a rooming house on the Upper West Side.
But he was new in town, money was tight, and his impoverished lifestyle began to feel demoralizing. He had begun improvisation lessons out in Flushing with the highly influential Lennie Tristano, who often conducted his students from the bathtub, but Crow's co-workers in the Bronx printing plant where he now worked objected to Crow's practicing Tristano's interval-singing exercises on the job. One morning, he decided he'd had enough.
"It was a lovely, sweet spring day," Crow recalls, "and I walked out the front door and looked down toward Riverside Drive, where the buds were just coming out on the trees. I thought, 'I can't go to that job today, I'll go tomorrow.'"
So Crow walked down the Hudson all the way to the Lower East Side. He ended up not far from where the famous jazz singer Dave Lambert lived. He ended up crashing for a week on Lambert's floor, making new friends and connections.
All of this was prelude to what happened next. Up until now, Crow had studied piano, trumpet, baritone horn, alto saxophone, drums and trombone. But although he didn't know it yet, he was about to be drafted on bass, and his musical life would never be the same.
Crow's old friend Buzzy called once again. He had a summer gig at a hunting lodge on Tupper Lake, about 50 miles from the Canadian border, and he encouraged Crow to make the trip.
It sounded like an adventure. So Crow and a friend took the subway to the George Washington Bridge, walked across, and started hitchhiking north. It was the fourth of July.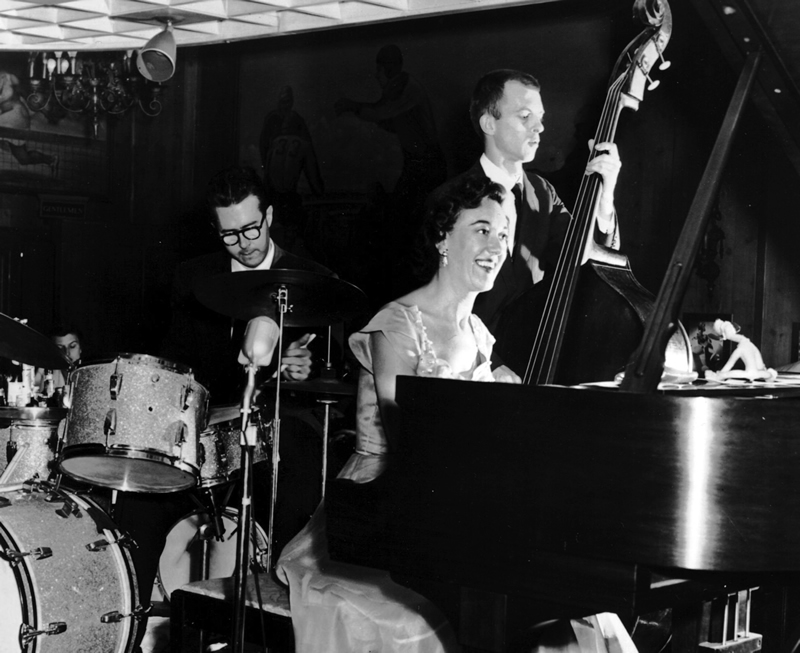 Joe Morello, Marian McPartland and Bill Crow, circa 1956.
Crow was carrying a trombone case. He and his friend were dressed in summer pants and Hawaiian shirts. Nobody was giving them a lift. It took them 21 hours to hitchhike 400 miles. Their last ride was a milkman, who picked them up, cold and shivering, at 6 a.m.
Soon after Crow arrived, he sat in with the band. Buzzy went over to the boss.
"The band sounds pretty good with the three horns, don't you think?" said Buzzy.
The boss said, "Yeah, it sounds nice."
Buzzy: "Well, you know this trombonist Crow is very much in demand in New York, but his doctor found a spot on his lung and advised him to stay in the mountains for a while. I think you could get him if you make an offer."
The boss looked at Crow. He was scruffy. He hadn't had a shave or a haircut in several days.
"How about 15 bucks a week and room and board?" he said.
Crow said yes. "That was like manna from heaven," he remembers.
The third day on the gig, Crow found a string bass sitting on the bandstand. Buzzy had run into a local kid who was willing to rent it for $20 for the entire summer, and he wanted Crow to play it. "I can't stand playing without a bass player," Buzzy said.
None of the other musicians knew how to play the bass, but they could all tell Crow what they wanted to hear.
"Of course I wasn't reading," remembers Crow. "It was all faking. And I had good ears, I could hear what notes should be played. We had a very good piano player, so I kept an eye on his left hand and I would try to find bass notes that fit that."
Buzzy had an early tape recorder. Later, he would call Crow into his room and say, "Listen to these eight bars. You really sound like a bass player there."
"Of course, I had no idea that there was any fingering system," recalls Crow. "I made up my own."
One thing led to another, and suddenly, almost without warning, Crow found himself playing bass in the big time, accompanying the great Stan Getz, with a drum chair held down alternately by Roy Haynes and Kenny Clarke. Getz was a colorful character to say the least. Crow remembers that first engagement in a Boston hotel.
"The first week that I went up there and checked into the hotel, Stan came right up to me and said, 'I'm going to sign in as though I'm staying in your room, but really I'm staying with this chick upstairs. But in case anybody calls and wants to know where I am, I'm living with you, but you got the room to yourself.'"
According to Crow, by the end of that week Stan Getz was romancing two different women in the hotel who didn't know that the other one was there. Then on the weekend, Getz's wife showed up.
"Come Saturday night," says Crow, "Getz has got all three of them at a table in front of the bandstand. Each of them thinks that they're with him and that the other two are just friends. That was Stan."
There was the engagement with pianist Marian McPartland at 52nd Street's famed Hickory House between 1954 and 1955 ("Marian taught me to play in every key," remembers Crow) and notable jobs, with Teddy Charles and Terry Gibbs, among others.
There was a six-month tour with the seminal Claude Thornhill Orchestra (where he pulled down $65 a week) and then, later, a long, fruitful association, through 1965, with Gerry Mulligan in a band that included, over the years, such great talents as Zoot Sims, John Eardley, Dave Bailey, Art Farmer and Bob Brookmeyer, with arrangements by Mulligan and Brookmeyer.
"When I joined Gerry Mulligan's sextet," says Crow, "I realized that I needed help with my fingering system. I could play in the upper register if I worked my way up there, but had no idea how to be accurate otherwise. I got a hold of Fred Zimmerman, the principal bassist with the New York Philharmonic. I studied with Fred off and on for several years, whenever I was home in NYC."
There were myriad engagements, and a partial list of Crow's employers would have to include Dizzy Gillespie, Kai Winding and J.J. Johnson, Jimmy McPartland, Max Kaminsky, Eddie Condon, Tommy Flanagan, Bud Freeman, Benny Goodman, Ruby Braff, Pee Wee Russell, George Wein, Jim Hall, Lee Konitz, Thad Jones, Jimmy Rowles, Duke Ellington, Jackie and Roy, Kenny Davern, Chris Griffin, Chris Connor, Mel Torme, Marty Napoleon, Red Rodney, Jay McShann, Al Grey, Tom Malone, Vince Giordano, the Harlem Blues and Jazz Band, Hiroshi Yamazaki, Chris "Calloway" Brooks and Joe Morello.
Throughout the 1960's and 1970's, Crow continued to play jazz but branched out to Broadway where he played bass and tuba on several shows including "King and I" with Yul Brynner and Constance Towers, "On the 20th Century," and "42nd Street," starring Jerry Orbach.
Crow had met Aileen Armstrong, from Chicago, soon after his arrival in New York, and he became more interested in her as he got to know her better. They were married in July 1965. They have one son, Daniel, 46 years old, an occupational therapist living in Providence.
He was close with John Glasel, the lauded former president of Local 802, and Crow was a key player in Glasel's reform movement of the early 1980s.
"John called me up one day and said, 'What do you think about what's going on at the union?'" remembers Crow. "Glasel told me he wanted to get that old administration out of there. He asked me if I would consider running for president."
Crow asked if he would have to give up performing if he became president. Glasel said yes. Eventually, Crow won a spot on the Local 802 Executive Board, a position that let him continue his professional career at the same time. He held the post for 20 years.
And what about the Band Room?
Crow liked to write in high school, and even got an article published in Down Beat early in his life. But it was John Glasel who asked him to write a column in Allegro.
Crow didn't hesitate. "I knew exactly what I wanted to write," he remembers. "People are always sitting around telling these wonderful stories on the bandstand. And someone always says, 'Somebody ought to write these down.' So I said, 'Why don't you let me be the guy to do that?'"
Crow wrote things from memory for the first two months. Soon, however, his readers and fellow musicians got in the spirit and started sending him stories or stopping him on the street with fresh anecdotes.
The column has been published since 1980, and Crow says he's never had to strain to find material. These days, much of it comes in via e-mail.
As he nears his 85th birthday, and after publishing two books of jazz anecdotes with Oxford University Press, Crow continues to work part time in the Local 802 Electronic Media Department and to write the Band Room.
And, of course, he continues to be a masterful bassist, appearing on Wednesday evenings at Red Hat on the River in Irvington, New York, and on Thursdays at Bacchus, in Norwalk, Conn. Both gigs are with pianist Hiroshi Yamazaki; the Red Hat show also includes singer Glenda Davenport or guitarist Takeshi Ogura
Is it possible to sum up such a world of experience in a few words?
"For the first 15 years of my bass-playing career," a characteristically humble Crow reflects, "I was always the one in the band with the most to learn. So I learned fast to avoid humiliation."
---
Have you heard this one…?
Trumpeter Johnny Best saw a sign at the bar of a Holiday Inn where the Bob Crosby band was staying: HAPPY HOUR—ALL YOU CAN DRINK FOR A DOLLAR. Johnny told the bartender, "Give me two dollars worth."
One night as Gene Quill was leaving the bandstand at Birdland, a young self-appointed critic accosted him: "All you're doing is playing just like Charlie Parker," he accused. Gene held out his saxophone. "Here," he said, "you play just like Charlie Parker!"
A fan once asked Zoot Sims how he could play so well when he was loaded, he replied, "I practice when I'm loaded!"
A little old lady watched Red Mitchell as he wrestled his bass through a mass of pedestrians at a New York intersection. "My goodness, young man," she said, "I hope that when you get that thing to wherever you're going, that they ask you to play it!"
Al Cohn, on the morning after a jazz festival in Italy, came downstairs from his hotel room with a monumental hangover. Asked by a friend how he was feeling, Al said, "Like a million lire."
Back in New York, Al Cohn was approached by a disheveled looking man who said, "Buddy, will you give me a dollar so I can get a drink?" Al reached into his pocket for a bill, but then hesitated. "Wait a minute," he said, "How do I know you won't spend this on food?"
– Bill Crow