At Last, Some Justice
Local 802 helps Latin musicians prevail in fight against club
Volume CXI, No. 1
January, 2011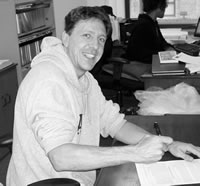 Latin musician Michele Bazzani signs his membership form and joins Local 802 after the union helped him settle a case against Sofrito, a midtown restaurant that was treating him and his band unfairly.
It has been a long time coming, but a group of wronged musicians is finally seeing some justice.
Bandleader Michele (pronounced Mi-ke-le) Bazzani was last profiled in Allegro back in May ("Nightmare on 57th Street" by Todd Weeks), in an article that chronicled the band's mistreatment at the hands of the owners of Sofrito, a Midtown restaurant. There, the musicians experienced repeated verbal abuse, no scheduled breaks, and demands to start their sets early without extra pay.
The group was then fired without notice at the end of 2009, and Bazzani and company turned to Local 802 for help.
"After Sofrito fired us, we didn't think there was anything we could do," says Bazzani.
After consulting with union reps, Michele decided to file for unemployment benefits and after a protracted back and forth process with the Department of Labor, he was retroactively awarded compensation for the months he had been without work since losing his regular gig.
(Musicians are definitely eligible for unemployment benefits; see Harvey Mars's seminal article on this issue.)
Having achieved that victory, Bazzani took his former employers to Small Claims Court, to reclaim money he had paid band members out of pocket when management had refused to pay them, in addition to compensation for missed gigs resulting from termination without notice.
Bazzani, with the help of Local 802, won a default judgment in October when the employer failed to appear in court.
The arbitrator's judgment was based on the fact that the management had agreed to give the band two weeks' notice when in the end they were summarily fired.
Despite management's attempt to vacate the earlier judgment, Bazzani and Local 802 counsel Harvey Mars were able to reach a settlement in the musicians' favor.
All in all, Bazzani and his fellow performers have seen thousands of dollars in reparations for what by all accounts was often a highly unpleasant experience working at Sofrito.
These awards are small recompense for their experience working a gig with no job security, no benefits, and an employer who routinely verbally abused them on and off the bandstand.
"The Latin field is just like any other area of the music industry," says Bazzani, "where venue owners take advantage of musicians, and musicians are exploited and have a hard time finding decent paying gigs."
Bazzani says that his band's experience has showed him that "the union has real power to fight for musicians" and he hopes that more Latin musicians will come to the union for help. Joining Local 802, he says, has made him feel "empowered, and part of a group of professionals working together."
Although he says work is sometimes tough to come by, Bazzani is still performing regularly with his band, which plays a wide variety of styles including salsa, merengue, Cuban music, and bachata. They have a regular engagement every Thursday at Don Coqui in New Rochelle, and they recently performed at Havana Central in Times Square.
This has been a long battle for Bazzani and company, but it ended in victory and shows how musicians can fight back against bad employers.
Recording Vice President John O'Connor says that Local 802 is here to help, and that, "we hope to use this case as an example of what musicians can accomplish by being union members."