Backing Up Billy Joel
Volume CVIII, No. 9
September, 2008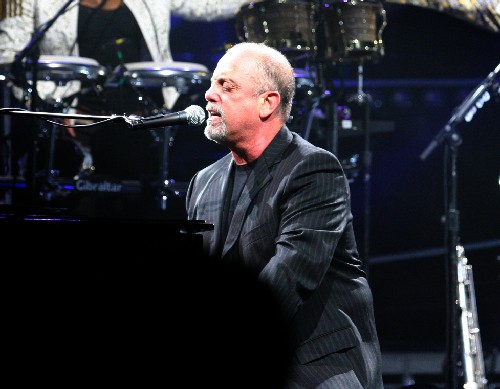 Photo by "Minds-Eye" via Flickr.
Billy Joel's shows at Shea Stadium promised to be the pop event of the summer and it came full circle when Paul McCartney, who appeared at the first concert at Shea in 1964 with three other guys, helped close what was the last concert at Shea.
Many of the 14 string players (12 of whom were Local 802 members) hired to back up Joel's band weren't even born when the Beatles performed in Flushing on that hot summer night 44 years ago.
And on the equally sweltering summer nights of July 16 and 18, 2008, Local 802 Principal Business Rep Peter Voccola was on hand to witness history and make sure Local 802 members were taken care of.
"It's what we do," said Voccola. "My job is to show up, count heads, talk to musicians and make sure everything is OK. I'm used to going to catering halls and synagogues on Long Island, so this was a little different! Communicating with musicians and having a business rep pay a visit assures that we get accurate information so musicians will get the proper wages and benefits."
A grueling schedule led up to the historic Shea show. Three rehearsals in New York City, three days of rehearsals and a warm-up show at Hershey Park, and two shows at the soon to be demolished Shea Stadium provided for a hectic schedule — and a pretty good paycheck — for the 14 string players.
"There were cameras and recording equipment everywhere," noted Voccola, "and we've been assured by the Electronic Media Services Division at the AFM that the appropriate contracts will be filed and musicians will see more money as soon as that's all worked out."
The engagements and all rehearsals were covered under the union's Single Engagement Club Date Agreement. Working with Detroit-based contractor Steve Trudell, the Contract Administration Department helped put together the budget that will pay each string player more than $3,700 in wages, a 10 percent pension contribution and $240 in health contributions for the live performance portion of the show.