An interview with Bernice Brooks
Volume 123, No. 3
March, 2023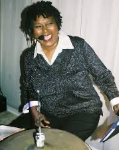 BERNICE BROOKS
I started drums when I was 18 years old. I grew up in Mississippi and then moved to Chicago. My parents played a lot of gospel music like Mahalia Jackson and my aunts and uncles played a lot of blues and jazz. My parents worried that if I became a drummer I would play in juke joints and hang out with the wrong types. I always loved to dance–still do and I was attracted to the drums because I was able to recognize tunes by hearing the rhythms tapped out on a table. When my parents came to see Mama, I Want to Sing, my first show, they were reassured that I was not involved in juke joints and influences of drugs.
My musical influences were Art Blakey, Max Roach, Tony Williams, Stevie Wonder, James Brown and 70s funk and soul music in general
The two standout experiences for me were performing with the Berlin Philharmonic with Taylor Mac (I never dreamed I'd play with a full orchestra like that) and getting a Cultural Community Leadership citation from my New York City Council member.
I found the attitude toward my being a drummer in many settings was about 50-50 among men. Half were helpful and the other half were not. In jam sessions there was always the unspoken and sometimes spoken question: "can she play?" I particularly want to shout out to Larry Ball, a bass player who mentored me, supported me and promoted me.
I also want to shout out to Kit McClure, whose big band I worked with for years and Vy Higginsen and Ken Wydro, who produced Mama I Want to Sing. I am also grateful that I was able to hone the skill set I have that has taken me around the world. I have expanded that skill set and now I produce my own TV show on the BRIC network in Brooklyn. When traveling to Germany and other European countries, I noticed they have a nice setup for their artists of all genres. I wish for all upcoming artists of all genres here in America that something similar would eventually happen here to support the arts. This support in Europe was particularly apparent during Covid.
---
BIOGRAPHY
Bernice Brooks is a drummer, television producer and teaching artist. She is without doubt one of the most versatile female drummers locally, nationally and internationally. After studying at the Conservatory of Music in Chicago with various teachers and instructors, she honed her skills at various venues with different musical directors, leaders, bands and groups from all over the planet. She has produced a television show for the last "20" twenty years on bricartsmedia.org "The Bernice Brooks Show" with commercials, theatre and many recordings on her resume. She has a long list of artists and performers that she has opened for or played as side musician with. Sheila E, The O'Jays, Ray Charles, Tito Puente, Bill Withers, Elvis Costello, Joanne Brackeen, Etta James, Gregory Hines, Savion Glover and so many great Gospel, Jazz, Blues and R&B. She has been touring with the MacArthur Fellows Genius Grant awardee "Taylor Mac" for the last four years.
---
This interview by Martha Hyde and Sara Cutler first appeared in the March 2023 issue of Allegro, the magazine of the NYC musicians' union Local 802 as part of a feature called "Women's Lives, Women's Stories"