Beyond Broadway
Volume CVI, No. 11
November, 2006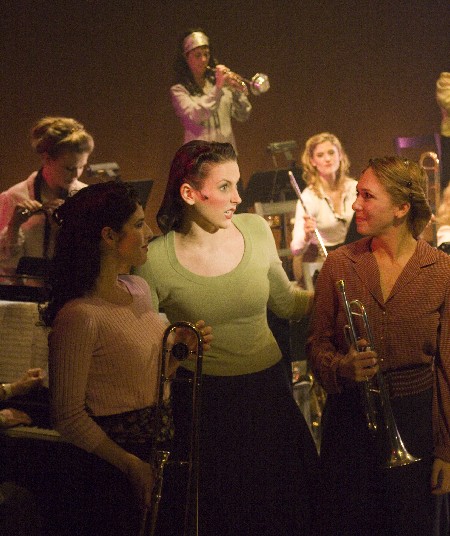 Musicians and actors in the show "Hot and Sweet" perform at the 2006 New York Musical Theatre Festival. Local 802 supports the festival as a way to welcome new members.
The Theatre Department is often asked the $1 million question: "How do I get a job on Broadway?" Getting that coveted Broadway job is not an easy task. It takes persistence as well as research, knowing the right person, and patience. But there are other avenues to working in the music business. There is a new, growing world out there beyond Broadway, even beyond Off Broadway. We're talking about music festivals.
There are a number of festivals throughout New York City that herald some of the newest and brightest up-and-coming talent around. These festivals present musicals or theatrical plays and often employ small live orchestras or bands.
Many times these shows will go on to Off Broadway and indeed, some have even made it to the Great White Way.
And, just as important, this arena is more willing to take chances, creating new and innovative opportunities for writers, directors, producers, musicians and actors.
Musicians who play in festivals are often able to collaborate and work closely with composers and artistic staff, something that Broadway or Off Broadway doesn't always offer.
A perfect example of this is the New York Musical Theatre Festival, one of the most exciting music festivals ever born in New York City, which ran again this year for its third season from Sept. 10 through Oct. 1.
The much-touted festival was unveiled in the fall of 2004. Local 802, recognizing the importance of the festival to our members and the future of both Off Broadway and Broadway, became an enthusiastic industry patron in the festival's second year, last fall.
The festival consists of three full weeks of performances, readings, workshops, showcases, concerts, parties, special events, seminars and master classes. The 34 festival productions took place both Midtown and Downtown, and covered the full gamut from hip hop and freestyle rap to dance musicals; from comedies to edgy satires to epic heroic tales on every imaginable topic and genre.
One such innovative production attended by members of the Theatre Department was "The Screams of Kitty Genovese." Produced in a small 99-seat theatre, this musical had an amazing six-piece orchestra conducted by Randall Eng. Good production value combined with wonderful performances and great staging brought this new musical to life.
Rena Isbin, a violinist, played on the show. She's worked on Broadway since the mid-1980's, around the same time as when she joined Local 802. "It was truly a meaningful experience being part of such a uniquely collaborative effort, which afforded direct contact with good colleagues, a great cast, first rate musical direction, hardworking producers, their team of creative and technical staff, and a wonderful composer and librettist," she told Allegro.
The orchestra, all Local 802 members, can be proud that it was one of two productions nominated for Outstanding New Musical.
As last year it was discovered that approximately 60 percent of the musicians participating in the festival are members of Local 802. The other 40 percent are musicians who will probably become members in the near future. They are literally the future of our theatrical community.
There is a new wide world out there beyond Broadway of innovative and creative works being produced. Local 802 and the Theatre Department see the importance and need for our union to be a part of the ever-changing music landscape. By participating in events such as the New York Musical Theatre Festival, we hope to make the producers of these kinds of productions as well as our present members – and future members – aware of the importance of live music and the growing possibilities out there for work. We will to continue to participate in this festival and continue to search out new opportunities in that world beyond Broadway.
For more information, contact 802's Theatre Department at (212) 245-4802.