Big Sound
George Wesner is the organ master
Volume 116, No. 1
January, 2016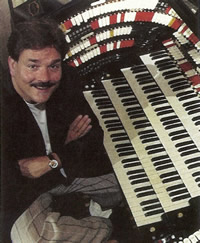 George Wesner is the principal organist at Radio City Music Hall and has played over 4,000 shows for more than 23 million people. A Local 802 member since 1981, he has appeared with the American Symphony Orchestra and the Grammy Awards and has performed world premiere events for Disney, Universal, Fox and many others. George appeared in the "Top of the Rock" documentary celebrating the diamond anniversary of Rockefeller Center and Radio City Music Hall and has appeared as a solo artist at the Stratford Summer Music Festival in Ontario. This season he returns at the prestigious Kirk Organ concert series in Dunedin, Florida. He earned an M.A. in conducting and administration from the College of New Jersey and a B.A. in music education at New Jersey City University, where he studied with Dr. Grady Wilson. George also studied piano with Jean Graham at Manhattan School of Music and attended Westminster Choir College and Westchester University. In addition to his work at Radio City, he serves as the organist and director of music at St. Mark's Episcopal Church in Teaneck. Local 802's Bob Pawlo caught up with George Wesner and asked him about his musical journey on this singular instrument.
Bob Pawlo: How did you get your start in music?
George Wesner: My grandmother was the one who discovered I could play. I would come home from Sunday school and play songs at the piano. I always enjoyed playing by ear. The woman who was our church organist was also a piano teacher, so we got a piano, and I started studying with her. I became active in the school musical programs. Then, when I was 15, I got my first church job at the Gospel Tabernacle in Haledon, New Jersey. I didn't have a driver's license, so my parents would have to drive me there. Later, I went to college at Jersey City State where I learned organ. My teacher was Grady Wilson. He was a very strict guy. He helped me with registration and understanding the color of the organ.
Bob Pawlo: So how did you wind up playing organ at Radio City Music Hall?
George Wesner: After I graduated, one my jobs was playing organ at Brookdale Baptist Church in Bloomfield, New Jersey. The man who serviced the organ there was Ron Bishop. And Ron also had the contract to service the organ at Radio City. One day he asked me if I'd be interested in going over to Radio City with him. Of course I said yes, and when we got there, he actually let me sit down and play. I played for about 45 minutes, enjoying myself, and when I was finished Ron was standing on stage with Bob Swan, who was the contractor at the time, and Don Pippin, who was the musical director. The two of them told me that they had been looking for an organist and asked if I'd like the job in the current show – which was called "America."
Bob Pawlo: What was it like?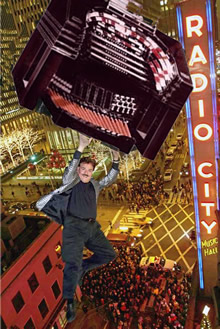 George Wesner: It was great, but it was so overwhelming. The person who really helped me was Ray Bohr, who had been the chief staff organist at the music hall from 1947 to 1979. I liked him right away. I gave him a keyboard scarf that he loved and after he got the scarf he thought I was the best guy. He would tell me to remember the lyrics in whatever song I was playing. The words are more important than any fancy notes. Why? Because, Ray told me, "There are going to be singers sitting behind you at the Music Hall who are going to be singing along with you, so when you go off on some great tangent and play a lot of notes, they get lost and they think, 'That's not the way the song goes,' even though you're trying to be creative."
On a related note, Bob Ralston told me he once auditioned for the Lawrence Welk show. Bob played an intricate thing on the organ and Mr. Welk said to him, "That's very nice, Bob. You have a lot of talent, but the Iowa farmer will never work that hard to find the melody." So I learned that less is more. The organ at Radio City is a giant instrument – I learned to let it do some of the work. Speed is not the issue because it takes time in that building for the instrument to actually speak.
Bob Pawlo: What are the most difficult types of music to play on the organ?
George Wesner: The organ at Radio City is a hybrid in the sense that it is largely a classical organ with some theatrical features like "tibia" pipes, which almost sound like a Hammond B-3. The Radio City organ has a signature sound, but the instrument is basically a classical organ. So what's difficult and also wonderful is there are so many different uses of the organ at the hall. You have to adapt. You can make it sound like a circus organ or an old-fashioned silent movie organ or even a church organ. When the New York City Council of Churches did a sunrise service there, boy, did it sound like church! It was marvelous with the Boston Youth Symphony and the United Nations choir and a stage filled with flowers and a backdrop of a sunrise and 6,000 people singing "Hallelujah." I mean that was just a euphoric moment.
Bob Pawlo: What are the first technical things you look for when you're playing a new organ in a new venue?
George Wesner: It's like being in a new supermarket; you know what you want but you don't know what aisle it's in. When faced with an organ for the first time, you have to go through the registration. You have to decide which sounds are going to work with what passages. Usually the repertoire is under your fingers by the time you get to a new instrument, so it's just a matter of adapting the sounds and the registration – and that can take a long time. And usually you need another set of ears. Hopefully the resident organist or someone else could help you judge whether or not you're getting the best out of the organ.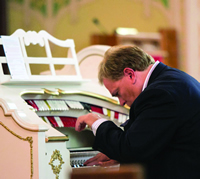 Bob Pawlo: In your experience, how has organ playing changed in the decades you've been at this?
George Wesner: Organ repertoire is certainly much more harmonically rich now and more rhymically challenging. The biggest change is adapting current music to the organ – which, by the way, goes a long way in getting people to be interested in the instrument. If you're playing something people have heard in some other context, you win them over very quickly to what the organ can do. People will say, "I never thought that piece would sound good on the organ!"
I don't know that people hear the organ as much today because I don't think there are as many people going into churches where there are organs as they did in the past. Years ago, every little town had a theatre with an organ. A lot of people would go from town to town and play. They could pretty much make a living. Church organists could travel around and play afternoon recitals in addition to their regular work. People even had organs in their homes. Of course, these days electronic keyboards and synthesizers can get some of the same colors and sounds as organs. But organs can still move people. We installed a theatre organ up at the Stratford Summer Music Festival last year, in Ontario. I went up there to play, and the governor's wife was at the concert and she made a speech. She said, "You've made us laugh and you've made us cry. You've made us think, you made us tap our feet and you made us sing." And the organ can do all of that. Not every organ – but if you've got the right instrument and it has enough power and enough life and you know what to do with it, you can engage people on many levels.
Bob Pawlo: Who were your favorite organists, either today or historically?
George Wesner: Well, historically my very favorite organist was Virgil Fox. I was 11 years old when I heard him play at Riverside Church. While I enjoyed the classical literature, it was Fox's improvisations on the hymns that made me come alive. I was lifted to the portals of heaven. George Manos, the conductor of the National Symphony, once asked Virgil Fox how he did it. Virgil told him, "I really don't know. It's God. Something happens and I just modulate. I improvise it." And so having heard that and having heard the organist at St. John the Divine, I think that sometimes it's the instrument itself. All you have to do is play a chord and you win.
Bob Pawlo: What's going on in your mind a minute before you begin playing?
George Wesner: I hope I know where everything is. I hope I've got all the registrations in order and that I can remember what to push when. I heard somebody say once, "I always have butterflies in my stomach when I play – but now they fly in the same direction." That's true. If you're not nervous and you're not a little worried, then I don't think you're worth much. But if you're too nervous and you're falling apart then that means you're not prepared. If you're prepared, you do the best you can and you also understand that you are working for excellence, not perfection. It's about the overall content.
Bob Pawlo: In closing, what would you like to say to your brothers and sisters at Local 802?
George Wesner: One of the greatest joys of my work in New York has been to work with a team of dedicated organists. I have met extraordinary musicians, many of them so much more gifted and talented than I, and they have taught me so many things. The opportunity to work in New York with first-rate colleagues and friends is a gift that any musician would cherish.