Big Sound
Volume 111, No. 9
September, 2011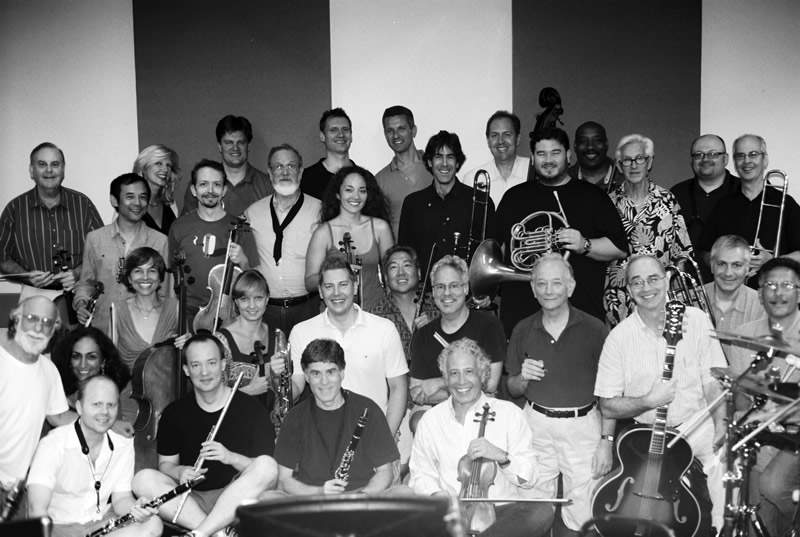 Members of the orchestra from the 2011 Broadway revival of "Follies" pose at a recent rehearsal. Local 802 applauds the producers for using such a big sound.

Photo: C. Croft
'Follies' revival on Broadway does it right, with a 28-piece orchestra
When it comes to live music on Broadway, it doesn't get much better than this. The Kennedy Center's $7.3 million revival of Stephen Sondheim's "Follies" is now in previews at the 1,595-seat Marquis Theatre and is set to open on Sept. 12.
"At the first instant of our first rehearsal, the sound of the orchestra took my breath away," cellist Laura Bontrager told Allegro. "I hadn't expected to feel such a difference from other show orchestras I've been in, but I was really knocked out."
The minimum number of musicians required at the Marquis is 19, but "Follies" will be coming in at 9 above that. Best of all, producers have stated that there will be no cuts list, meaning that the size of the orchestra is guaranteed to stay at 28.
(Under the Broadway contract, a cuts list means that producers who engage more than the minimum for that theatre can reduce the size of the orchestra after a certain number of performances.)
"Follies" will also not include any recorded music. The audience will be treated by the original orchestrations and original intent of the 1971 production.
"If you really want to claim the artistic high ground, when the show calls for a large orchestra, give the audience what they want," said cellist Peter Prosser, who played in "West Side Story," and "Gypsy," which both used larger orchestras.
The production opened at the Kennedy Center on May 21 and accomplished a successful two-month limited run.
There was much speculation whether or not the production could make the move to Broadway and retain its large cast of 41 members and its sizeable orchestra of 28 musicians.
"Follies" is a unique musical, wrapped in romance and a sense of theatrical mystery. Included in Sondheim's beautiful, finely crafted and probing score is a panorama of musical styles from America's Golden Era of popular music.
Its orchestra – full strength at 28 musicians and uncontaminated by electronic devices – provides not only accompaniment for singing and dancing, but color, atmosphere and subtext.
I can think of no musical that better shows what the orchestra can do for the theatre, if given the chance.
"Follies" orchestrator
Jonathan Tunick
I'm so pleased to hear that the revival of "Follies" will be using the original complement of 28 musicians. The music is the soul of a musical – it's important to feel that it's being made live and in the moment, supporting and reacting to what's happening on stage.
Ted Sperling
We considered these ingredients absolutely essential to a successful Broadway run.
Another consideration was the star-studded cast, which included Bernadette Peters, Jan Maxwell, Linda Lavin, and Danny Burstein. Could they be enticed to do the Broadway run?
Three of these top actors were quoted in a recent story in the L.A. Times about what "Follies" meant to them.
As a child, Linda Lavin attended the Broadway opening of "Follies" on May 4, 1971. She said, "I remember the overwhelming sight and feel of it. "It was just this huge, impactful, passionate piece of work…with moments I'll never forget." Lavin went on to suggest that what makes for a spectacular production, the large cast, orchestra and set may make it unattractive to Broadway backers. We're glad she was wrong about this!
In the same story, Jan Maxwell said that "Follies" is "a beautiful piece…I've never experienced this type of artistic expression in a musical."
Finally, Bernadette Peters warmed our heart when she said, "When I first heard the 28-piece orchestra start playing at a run-through, I just started to cry." We couldn't agree more.
"I think the producers of 'Follies' realize that this show has some of Stephen Sondheim's most heartfelt music," violinist Robert Shaw told Allegro. "To do justice to Jonathan Tunick's brilliant orchestrations, a full orchestra was of utmost importance."
The original Broadway production of "Follies" ran for 522 performances and 12 previews. It was nominated for 11 Tony Awards and won seven. It was actually not a commercial success, but ultimately became a Broadway classic as predicted by a young Harvard student named Frank Rich (now a theatre critic for the New York Times).
Critic Clive Barnes wrote that "'Follies' has some of the best lyrics I have ever encountered, and above all it is a serious attempt to deal with the musical form."
"Follies" last came to Broadway in 2001 at the Belasco Theatre. That version was significantly stripped down; producers hired only 14 musicians and it was not a critical success. Six years later, a concert version using the full orchestra was produced as part of City Center "Encores!"
Local 802 would like to say to the musicians, cast and crew of "Follies": Welcome to Broadway and welcome to New York City, the live music capital of the world.
And to the producers, a special thanks. They are:
The John F. Kennedy Center for the Performing Arts (David Rubenstein, chair; Michael M. Kaiser, president; Max A. Woodward, vice president)

Nederlander Presentations

Adrienne Arsht

The HRH Foundation
We applaud you for doing it right.
"I am so very happy that this choice has been made," Broadway conductor Kristen Blodgette told Allegro. "I'm thrilled for the orchestra members, the brilliant cast, the wonderful music director Jim Moore…and oh so glad for Mr. Sondheim. I can't wait to hear it."
This story originally appeared in the September 2011 issue of Allegro, the magazine of the New York City musicians' union (AFM Local 802). For reprint requests, send an e-mail to editor Mikael Elsila at Allegro@Local802afm.org.