Bill Potts, Bigger Than Life
Volume CV, No. 7/8
July, 2005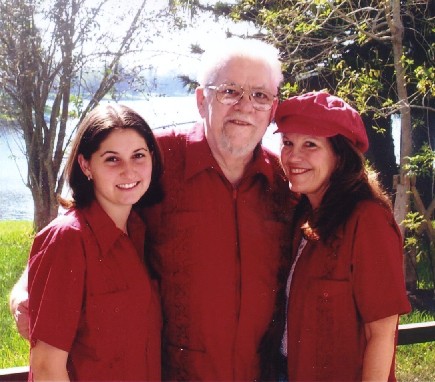 Bill Potts with granddaughter Meg (left) and daughter Christi. Potts, 75, passed away on Feb. 15.
My dear friend Bill Potts, 75, passed away on Feb. 15. Outrageous, bigger than life, self-destructive, but with an I.Q. through the roof, Bill was the most fascinating person I've ever known. His talents were extraordinary – pianist, arranger, composer, conductor, sound engineer, record producer, and all done intuitively with minimal study or training.
My respect for Bill began before our friendship. He was a staff sergeant in the Army band stationed in Washington, D.C., and acted as the band's librarian, copyist and assistant sound engineer. Willis Conover, beside handling the Voice of America broadcasts emanating from Washington, sponsored a rehearsal band called "The Orchestra," containing future musical stars the likes of Marky Markowitz, Earl and Rob Swope, Charlie Walp, Ed Leddy and Joe Timer. Willis decided to record the band, and knowing Bill's precociousness, asked him if he'd write some charts for the date. Bill put pen to paper for the first time as an arranger, and came up with four originals for the session: "Pillbox," "Light Green," "Willis" and "Playground." They immediately became big band classics, and established Bill as an important composer-arranger.
After being discharged, Bill arrived in New York, and quickly started receiving commissions to write arrangements for the best jazz bands of the day. Before long, the top singers were seeking him out. He had always been fascinated by the music of Gershwin, especially the opera "Porgy and Bess," and decided to adapt it to an instrumental jazz album. It climbed to near the top of the charts and cemented Bill's position as one of the most imaginative writers on the scene.
During this period, Bill and I became close friends. I was hired to play lead trumpet for Paul Anka and was soon able to persuade Paul to let Bill write some music for the act. His arrangements knocked Paul out, and before long Bill assumed the job of musical director. We traveled the world together for many years.
I've seen Bill go into my closet and pull out various pieces of discarded electrical components, figure out a schematic, and tie them together into a fine-sounding stereo system. I've also sat beside him on a Paul Anka bus trip, and with only a lead sheet of some tune Paul wanted to sing, pull out some score paper and complete a big band arrangement. When we arrived at our destination, he'd head for a piano just to test out some sticky spots, and generally find everything to be just as he envisioned it.
Bill and I were together during the "Camelot years," and were with Paul Anka in Warsaw when John Kennedy was assassinated. We shared that agony, and it helped bind us for the years to come. Bill moved to Washington at the beginning of the 70's, and accepted a teaching job at Montgomery College in Maryland. He retired in June of 1990 to Fort Lauderdale, where he resided until his passing.
He's survived by his brother Robert, sisters Virginia Stafford and Jane Potter, daughter Christi Desky and granddaughters Audrey Deskey and Meghan Grossman.