Bob Cranshaw's Heart and Soul
At 80, the master bassist still swings hard and gives back all he can
Volume 112, No. 12
December, 2012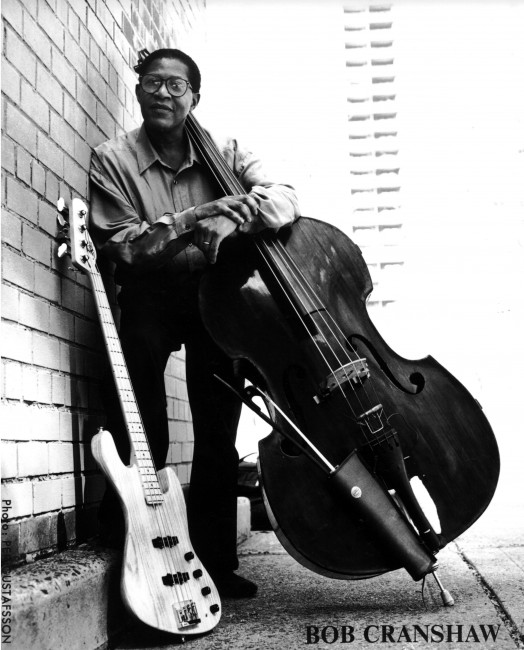 The phone rings in Local 802's Jazz Department. A mellow baritone comes on the line, thrumming with laughter and positive energy. "All right!" the voice calls out. It's the immediately recognizable signature greeting of Bob Cranshaw. The vibe is contagious, and he has you laughing before you can summon words. "Just checking in. What's happening? Anything I can do?" he asks. The widow of a prominent jazz pianist has been calling the office all morning, looking for help with her husband's pension. She's not easy to deal with, as her impaired memory tends to contravene any attempts by union staff to assist her. "I'm on it," says the bassist, "She's my people. I'll take care of her."Bob Cranshaw has been working with Local 802 for decades. He started as a volunteer, then became the union's jazz consultant. In 2012, he was elected to the Executive Board. Cranshaw has deep roots in the music. He toured with that grand old man of the saxophone, Sonny Rollins, for over 50 years. One of the preeminent electric jazz bassists who developed facility on that instrument early on, he's also appeared on Broadway and on television – for 25 years with "Sesame Street," and long tenures with the "Electric Company," the David Frost Show and "Saturday Night Live." Notably, Cranshaw has appeared on more Blue Note recordings than any other jazz bassist, with leaders such as Duke Pearson, Stanley Turrentine, Lee Morgan (he came up with the bass line on "The Sidewinder"), Grant Green, Dexter Gordon, Bobby Hutcherson, and Jackie McLean. He has a well-established, ongoing association with the dancer Maurice Hines. Additionally, Bob has recorded and toured with the cream of the crop of jazz vocalists including Carmen McCrae, Ella Fitzgerald, Sarah Vaughan and Lena Horne. And his pop credits are frankly too numerous to mention here. Up until last year, he toured internationally with Rollins (now retired), and keeps up a regular local schedule of recording, performing and teaching. Cranshaw's other focus has been and continues to be union advocacy.
"I've been fortunate. I've done very well by the union – I have a huge pension," he says, sitting across the table wearing a stylish flowing shirt and a pair of worn jeans, "And so I want to make sure others know how to get involved." Cranshaw has been active on various union committees for years, and – along with musicians Jimmy Owens, Rufus Reid, Bertha Hope, Keisha St. Joan and others – he was instrumental in working with union leadership to guide the Justice for Jazz Artists campaign, which has sought, among other things, to bring pension and other benefits to musicians working in local clubs. This is the group, aided by Benny Powell and Jamil Nassir (now both deceased), that unionized the New School for Jazz and Contemporary Music in 1997.
"We have to stand up for ourselves," says Cranshaw, "If we don't do it, who will?" Bob has made a life out of being a chameleon of sorts, musical and otherwise. He is at once a master instrumentalist comfortable in myriad musical settings, an advocate for jazz musicians, a teacher, and a statesman. A friend to all, he is not above delivering a bawdy joke from time to time, has been known to bring homeless musicians to the Jazz Foundation of America to get them some help, and regularly "adopts" younger players who are in need of professional and musical guidance. When one meets him in person, clad as he often is in one of his many "Sesame Street" sweatshirts (the kids love them), there comes the immediate recognition of his personal warmth, his generosity of spirit, and, of course his youthfulness. He turned 83 on Dec. 10, 2015, but appears 20 years younger.
"Well," he'll say, when queried about his youthful looks, "I'm still kickin', but not high." And then out comes that laugh again, and everybody in the room looks up and begins to laugh, too. Once, while attending a lobbying trip in Albany to advocate for tax breaks for jazz venues, he engaged dozens of passersby in small talk as he made his way through the state capitol building. "People kept coming up to me, wanting to shake my hand," he laughs. "I didn't know them from Adam. Guess they thought I was some sort of politician." The reason, as it turns out, was that Cranshaw was wearing his best blue suit that day. With his air of cool self confidence and his dignified but relaxed bearing, he had been taken for a member of the state legislature. "I'm not cut out to be a politician," he'll say, "though I do know how to hustle when I need to. Some of these guys are professional hustlers. And they know I see right through 'em. That's why they agree to meet with me. They know I know what they're up to."
Melbourne R. "Bob" Cranshaw was born Dec. 10, 1932 in Evanston, Illinois, to parents of Madagascan and Native American heritage. His father, Stanley Irvine Cranshaw, was a jazz drummer from the Kansas City, Missouri, area, who moved to the Chicago suburbs to build a life with one Evelyn Brown, who had been born in Evanston. Stanley eventually found work as an electrician, and the couple soon gave birth to Bob and his brother Stanley. Stanley went on to become an exceptional jazz pianist. They later adopted a third child, Emanuel, who grew up to be a highly talented vibraphonist. Bob says, "My father's people are American Indian, so that probably contributed to my looking young – along with my mother's Madagascan background. My paternal grandmother was this gorgeous, beautiful lady – she had really Indian features. I never met my father's father, but last year my cousin sent me a picture of him and it freaked me out. I looked at the picture and I'm saying 'Whoa! This guy is right off the reservation!'"
He came to a realization of his musical gifts early on. While studying piano as a young boy, he found he could play back anything the teacher demonstrated. She thought he was reading. "Once I heard it," he recalls, "it was over."
"When I was three or four years old," says Cranshaw, "my parents enrolled me in a program for special kids at Northwestern University. And I knew I could grab any instrument. I had a clarinet at home and within two weeks, I could play tunes on it. I had a bandilla-type guitar, same thing – 15, 20 minutes, I had it. Gone." Cranshaw wanted to play the drums like his father, but imagined a classical trajectory for himself and so learned all the orchestral percussion instruments before high school. But there was jazz in the home, and as his brothers began to excel on their individual instruments, Bob decided that rather than compete with his father on drums, he would switch to bass. He had other reasons. "If you played on the weekends, the girls were there." He winks. "I liked that idea also."
By the time he was in high school at Evanston Township, he was one of multiple bass players in the school's acclaimed orchestra, and was beginning to appear regularly at local dances and parties. He had been able to get by on sheer talent up to a point, but the demands of the instrument, and the music, were such that he soon found himself at a crossroads.
"There were eight double bass players in the orchestra," he remembers, "and I was the eighth. There were seven girls ahead of me. We had a passage that the director wanted everybody to play alone. So the first couple of people said, you know, 'I don't want to try it, I would rather work on it a while.' Others gave it a shot. So he went on down the line. By the time he got to me, I had heard it. He asked me, 'You want to play it?' I already knew it. I played it down. So, he moved me up to the third spot. Now the challenge is on me, 'cause I've gotta be worthy of being in that third chair. I gotta produce."
By his mid-20s, Cranshaw had finished college (Bradley University), served in the military (Korea), and was working for the Department of Sanitation in his native Evanston. But he was also poised to begin a musical relationship that would thrust him into the limelight in Chicago, and eventually the big time in New York City and beyond. In the early 1950s, Cranshaw had met drummer Walter Perkins while in basic training at Camp Roberts, about 200 miles north of Los Angeles. By 1957, now in Chicago, they had formed the group MJT + 3, a quintet which included trumpeter Willie Thomas, altoist/flutist Frank Strozier and the young pianist Muhal Richard Abrams from Chicago's famous Association for the Advancement of Creative Music. (Abrams was later replaced in the band by Harold Mabern).
"We did a couple of albums in the early 1960s that were incredible," Cranshaw remembers. "At that time, Ahmad Jamal was already on his way: he was the big group as far as name recognition. But Ramsey Lewis and our group were the younger groups coming up. I was working in the clubs seven nights a week."
Cranshaw's first New York sojourn was short lived. He got a call from saxophonist Cannonball Adderley to come to the Big Apple. But the bassist didn't like what he found. "New York was so dirty," he says, laughing at the memory. "In Chicago, we have alleys where we keep the garbage. So I came here and I saw all this garbage out on the street. And I said, 'Thank you, no.' See, I'm really a small-town guy. I stayed for three days, then went back home." Perkins and Cranshaw were eventually hired to accompany vocalist Carmen McCrae. The band toured out of New York, and Bob got acclimated to city life. Towards the end of his stint with McCrae, he was asked by Perkins to appear as part of a trio with Sonny Rollins at the 1959 Playboy Jazz Festival in Chicago. "I said 'Yeah, I'll do it,'" remembers Bob. "And then I thought about it and said, 'Oh man, am I stepping into something I'm not ready for?' No pianist, you know. But I'd already accepted the gig. "So we go to the festival in the afternoon. It was at the Chicago Stadium and, of course, as these things go, I'd never actually met Sonny. Sonny told us to be there a couple of hours ahead to set up, so we get to the stadium and the concert starts at 3 p.m. I still haven't met the man; we don't know what we're going to play. We were supposed to be the fourth group on. The first group went on, second group, third group. All of a sudden, it's time for us to go on. People are saying 'Where's Sonny?'" Unbeknownst to Cranshaw, Rollins had been hiding backstage, checking out his competition, which included Louis Armstrong, Count Basie, Miles Davis, Duke Ellington, Dizzy Gillespie, Coleman Hawkins, Oscar Peterson and Nina Simone. Cranshaw continues: "So the fifth group goes on, sixth group. By that time most of the people at the festival were waiting to hear Sonny. But see, he had picked his time. Suddenly he appears from the wings. We said hello. We went out there, no set list, nothing. 68,000 people. We tore it up."
After the festival, Rollins asked Cranshaw if he wanted to be a permanent member of the group. Cranshaw's answer was brief. "I said, 'I do.'"
The bassist's musical philosophy may be surprising to some. He just plays, and rarely asks for a set list, or, for that matter, a lead sheet. "When I'm playing a piece of music, I never ask the key," Bob says. "By the time you hit the first note, I know the key. When I'm playing things out, I don't really think about what key it's in. Guys get into this sharp and that flat; I don't even bother myself about it. I hear it, I play it." The enormously talented songwriter-musical director Joe Raposo, the man behind the music on "Sesame Street" and the "Electric Company," was originally taken aback by Cranshaw's unorthodox approach. "The first time Joe and I played together," says Cranshaw, "I knew he was thinking, 'What the hell is this?' I'd been accustomed to playing with musicians like McCoy Tyner, Cedar Walton – guys who play differently than Broadway people, especially as far as voicing chords is concerned. But Joe Raposo always covered the bass notes with his left hand. I thought, 'I can't change his playing.' My philosophy was, I'm going to make it feel so good to him that he's gonna put that left hand right in his pocket. And that's what happened. Once he started to hear me, he changed the way he was playing and we had a ball. Over the years at 'Sesame Street,' when Joe would write a lead sheet, he never wrote a bass part. He knew I could hear the bass parts on my own."
Cranshaw is adamant about musicians organizing to make their lives better, and that jazz artists in particular need to take advantage of the benefits programs that are already out there, like the AFM pension fund. In the end, it appears that Bob Cranshaw does what he does not just because he feels that he must, but because it must be done – it's simply the right thing to do. Which brings us back to story we started with. What about the widow of the famous pianist? Bob met with her at her Manhattan apartment several times, and then escorted her down to the pension fund offices himself. And true to form, while back on the road, he calls in to Local 802 to give word of the results of his efforts. The news is good. "All right!" he says, calling from an airport somewhere in Europe, "I walked her in there and held her hand, and she signed the papers. It's a done deal. She'll get the money – about $26,000. It's there for her now. She's cool." And so, not unlike a kind of jazz superhero, Bob Cranshaw rides off into the sunset, another good deed under his belt, another gig on the horizon. He makes no claims to sainthood. He's only human after all. And some of those dirty jokes are just too damn funny to leave out.
A special invitation: Bob Cranshaw encourages all musicians – especially young jazz musicians – to contact the Local 802 jazz department at (212) 245-4802 or JazzJustice@Local802afm.org to learn more about the benefits of union membership. As for music, his advice is, "Make jazz your dessert, but you don't have to make it the whole meal."
'HEARING THE BASS PART IS LIKE SINGING IN A CHOIR'
Hearing the bass part on any tune is like singing the bass in a church choir; it's the same. When I was a kid, I wanted to be in the choir. See, my father was also a choir director, and I wanted to sing bass because bass was masculine. You have your woofers and your tweeters. I was more of a tweeter; I was a tenor, but to be masculine you gotta sing bass. So bass was very attractive to me. I remember going to Northwestern to hear a male choir from Russia. The basses – the roar – it went all through me. As a young kid, I used to sit back and listen to the choir and I would be crying because I wanted to be a part of that situation so bad. The different singers I've worked with, whether it was Ella Fitzgerald, Sarah Vaughan, Carmen, Peggy Lee, Liza Minnelli; they all knew I could hear the bottom. I can hear the chord and give them what they need on the bottom. But I can do other things as well. I can play the fifth of the chord on some things. I can also play different things within the chord, because when I do it stimulates whoever I'm playing behind. Sometimes, when I play behind Sonny, because he's also building stuff off of what he's hearing me play, I can go into a whole different bag. This is something I stress with my bass students. Israel Crosby, who played with Ahmad Jamal, had a different way of voicing and I make my students listen to his playing. Ray Brown was a percussive bottom player and he and Milt Hinton were my mentors, but when I want to get my students to listen to different sounds, I go with an Israel Crosby or a Bill Lee, people like that who have an entirely different thing going.
— Bob Cranshaw 
PLAYING WITH DRUMMERS: KNOCKING IT DOWN
One of the important things about playing bass is to have a good time with the drummers – because we lock the bands down. And I've been most fortunate to play with four great drummers. All of these guys really helped me do what I do as a player The first one is "Baby Sweets" (Walter Perkins) – I came to New York with him. The next is Grady Tate. Grady and I have done a billion things together. Grady is an incredible drummer, and he just really helped my playing. Number three is Mickey Roker, out of Philly. Mickey and I became a pair working with Duke Pearson and others. Pearson was a lady's man, so rather than sit down and play with the band, he was often out in the audience trying to score; a lot of his arrangements were based on ladies that he'd been with. Much of the time we didn't have a piano player, and so we didn't have anything to lock into, but we locked into each other – and it was like a love affair with the two of us playing. And the fourth drummer is Bobby Thomas. I worked with him and Charles Aznavour and with Billy Taylor on the David Frost Show. Thomas is the kind of drummer that could lock down and he's also an incredible reader. He helped me learn how to read scores. It was really a big lesson for me. So I really attribute a lot of what I do and how I do it to those four drummers who kicked ass and took names. They were just incredible drummers – all four of them. There's a couple of drummers I haven't gotten to yet, by the way. Ray Marchica, for example – I'm looking forward to playing with him. The cat can play.
— Bob Cranshaw