'Borscht Belt' Memories
Road trip through the 'Jewish Alps' to check out 802's new territory
Volume 111, No. 6
June, 2011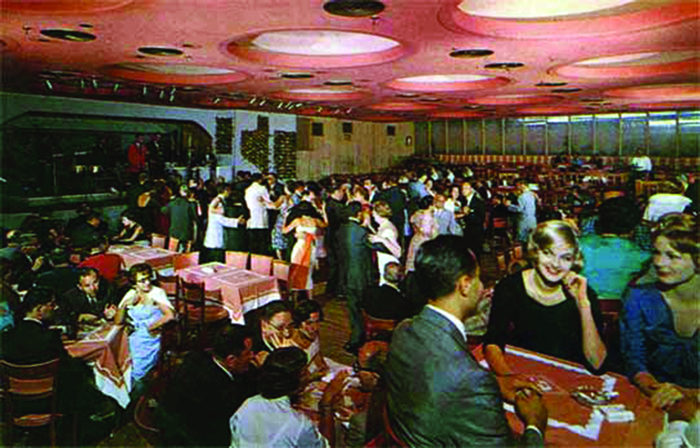 THEN AND NOW: Grossinger's, the famous Catskills hotel (above) in its heyday. Local 802 recently received jurisdiction over this area, which has a new crop of venues, such as the Bethel Woods amphitheater (below), near the site of the original Woodstock Festival.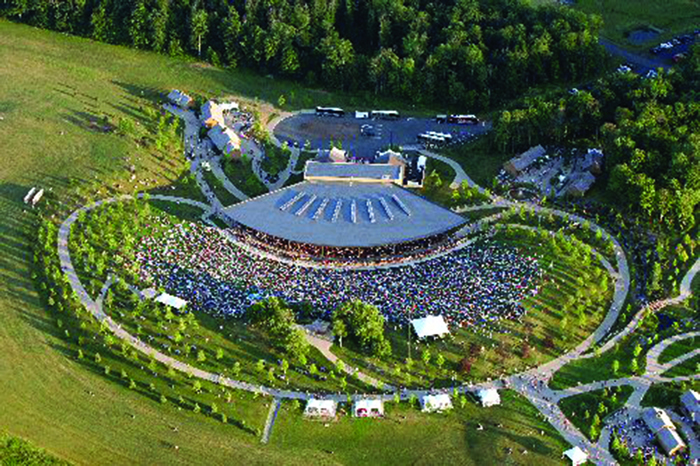 We recently took a road trip through time, back to when music rang throughout the Catskills in upstate New York. Formerly known as the "Borscht Belt" or the "Jewish Alps," this is the region where Jewish families from New York City summered to escape the city heat.
As readers may remember, earlier this year Local 802 was assigned this jurisdiction, which was formerly governed by AFM Local 809. The area generally follows state route 17 as it runs through Sullivan County.
Hotels such as the Concord, the Raleigh, Grossinger's and Kutshers' thrived here in the past, providing entertainment for the thousands of summer vacationers, and jobs for hundreds of musicians – including Local 802's recording rep Bob Pawlo, who generously provided a tour of the area and arranged for meetings at various venues.
In the 1950's, there were several dozen large resorts, and hundreds of bungalow colonies, each with at least one band.
The shows included performers such as George Burns, Jan Peerce, Jack Benny, Jerry Lewis, Woody Allen, Tony Bennett , Steve Lawrence and Eydie Gorme, Mel Brooks, Sammy Davis Jr., Rodney Dangerfield, Barbra Streisand, Richard Pryor, Jerry Seinfeld and others. It was a mark of pride to play "The Mountains."
Many Local 802 members would perform at one of the resorts in the summer, often with their families in tow. More than a few New York City musicians would come up for one day and play a headliner show. This was known as an "augment." For young musicians, it was a training ground for so many who went on to careers in recording, Broadway and other venues.
On our recent visit, we first met with Chris White, the aide to Rep. Maurice Hinchey, who represents this district in Congress. Chris welcomed us and assured us of Rep. Hinchey's support of labor related issues. We relayed greetings from the officers and members of Local 802 and told Mr. White to relay these wishes to Rep. Hinchey, who has been ill.
While in Middletown, we stopped at the Paramount Theatre, run by Nelson Page. Mr. Page gave us a tour of his theater, which opened in 1930. The theater functions today as a performing arts center as well as cinema for the Middletown area. The theater also has a fine Wurlitzer "Style H" organ dating from the early 1920's.
Later that day the 802 team met with managers of Bethel Woods, a performing arts center built near the site of the 1969 Woodstock Festival. Bethel Woods is a major venue that has outdoor seating for 15,000 people. We spoke with Matt McNeil, senior director of event marketing and the person in charge of major bookings; Eric Frances, Bethel Wood's chief financial officer; and James P. Reilly, the director of production. We told them, as we told all those we met with in Sullivan County, that we were there to introduce ourselves and that Local 802 had taken over the administrative area of Local 809.
This summer the center is presenting, among others, the New York Philharmonic, the Boston Pops, John Pizzarelli with the New York Pops, Neil Sedaka with the New Jersey Symphony, Tim McGraw and even the rock band Deep Purple accompanied by an orchestra. All of these shows will be under union contract!
Later we met with Norman Duttweiller, managing director of the Forestburgh Playhouse, which was founded in 1947. The 290-seat theater, converted from a barn, operates during the summers only, from mid-June through Labor Day.
The Delaware Valley Arts Alliance is located in the town of Narrowsburg on the Pennsylvania/New York border. Elaine Giguere, executive director of the Alliance, met with us and told us about the Tusten Theater, which the Delaware Valley Arts Alliance administers. The theatre is a town-owned former movie house, now playing host to live concerts, theatre, opera and film events.
Local 802 looks forward to hosting a meet-and-greet sometime this summer for former members of Local 809, and the many members of Local 802 who have moved to the Catskill region or who have summer places in this beautiful area.
For more info, contact Bob Pawlo at (212) 245-4802, ext. 191 or Rpawlo@Local802afm.org. We also plan on announcing the event on the local radio channel, WJFF 90.5 FM (Jeffersonville, NY).