An interview with Brandee Younger
Volume 123, No. 3
March, 2023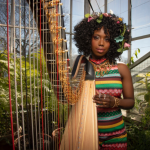 BRANDEE YOUNGER
I took up the harp at about age 11 after meeting a colleague of my father's who played harp. At some point in this meeting, she uttered the words "scholarship possibilities" and that was all my parents needed to hear! So I began harp lessons.
I had so many important influences in my life and career, beginning with our marching band director in high school. I actually played trombone in the band. He taught me how to memorize music quickly and the importance of discipline and of self-presentation. We would go to concert band competitions where we were the only Black band. He would say to always remember "they see you before they hear you". At the time, it was a pain to have to be better dressed than the other kids, but I do acknowledge the wisdom of it now.
My other influence during my high school years was my harp teacher, Karen Strauss. I was already leaning towards pop but no one out there that I knew was doing it. So, I'd bring a CD of some pop tune that I'd heard and loved to a lesson and Karen would arrange it for harp so I could learn it. She always supported my musical choices.
Through my family, I began hearing of a woman named Sarah Lawrence who was a harpist of color. That was, and still is, pretty rare. And she was trying to make a career as a harpist, while encountering many challenges. I met and have remained close with her and always rely on her support and encouragement in achieving what she could not.
Finally, along the way, I discovered the recordings of Alice Coltrane and Dorothy Ashby, two of the great 20th century jazz harpists. First, I dug the sounds these women created on their recordings – like nothing I'd heard before. And then they were both black women! My experience of harpists to this point was I was the outlier: everyone else (teachers, fellow students, recording artists) was white. These two jazz women were a revelation.
It's hard to narrow down the incredible things I've already experienced in my career, but here are a few:
In 2007, I performed at Alice Coltrane's memorial at the Cathedral of St. John in NY.  Then, in 2019, I played Toni Morrison's memorial, also at St John. Oprah Winfrey was one of the speakers. Was I really on stage with Oprah? It was a "pinch me" moment. That year, the grand opening of The Shed at Hudson Yards was a month-long "Soundtrack of America" series curated by Quincy Jones and Steve McQueen. Again I was star-struck. I appeared three times on that series and had several meaningful conversations with Jones. He was an inspiring presence and surprisingly knowledgeable about the harp!
Finally, in 2022, I became the first Black woman to be nominated for a Grammy for instrumental composition. While I was thrilled, I was also disappointed. It's 2022 and I'm the first? It felt like it should have happened sooner.
I never experienced any resistance or mistrust from colleagues. But on the business side of things, I have. Crews, tech people and producers can assume problems when I perform. I am conscious of needing to behave differently with them from the way I behave with friends or colleagues. I have to be really clear and informed about any non-musical needs I have and I have to limit my needs as much as I can. No playing diva! Is it because I'm a woman? Because I'm Black? Because I'm a harpist? All three may inspire a sub-conscious knee-jerk "here comes trouble" reaction. Producers worry I'm too expensive. Will I need a private dressing room? Will they need to rent me a harp? If I'm the only woman on the gig, will I need my own hotel room? I've learned that these are the areas in which I have to be "careful". More so than my male counterparts.
And one last thing: I'm very excited that my new album Brand New Life will be released next month (April). It features previously unrecorded compositions of Dorothy Ashby's. I'm paying tribute to one of my early life heroes. What a thrill!
---
BIOGRAPHY
A leading voice of the harp, Brandee Younger recently made history at the 2022 Grammy Awards as the first Black female solo artist nominated in the Best Instrumental Composition category for her song "Beautiful Is Black." The mesmerizing track is from her 2021 critically well-received major label debut album, Somewhere Different, that also received a 2022 NAACP Image Award nomination for Outstanding Jazz Album — Instrumental. Over her career Ms. Younger has performed and recorded across countless genres with artists including John Legend, The Roots, Lauryn Hill, Common, Pharoah Sanders, Ravi Coltrane, Ron Carter, and Charlie Haden. Additionally her original composition "Hortense" was featured in the Netflix Concert-Documentary, Beyoncé: Homecoming and in 2019 the tireless musician was selected to perform her original music as a featured performer for Quincy Jones and Steve McQueens' "Soundtrack of America."
Ms. Younger's ability to seamlessly inject the harp into arrangements and venues where it has historically been overlooked is a testament to her deep love for and exemplary command of the instrument. In addition to performing, she is on the teaching artist faculty at New York University and The New School College of Performing Arts in New York City. Follow: harpista
---
This interview by Martha Hyde and Sara Cutler first appeared in the March 2023 issue of Allegro, the magazine of the NYC musicians' union Local 802 as part of a feature called "Women's Lives, Women's Stories"