Bringing (ROCK) music to every classroom!
Member to member
Volume 120, No. 1
January, 2020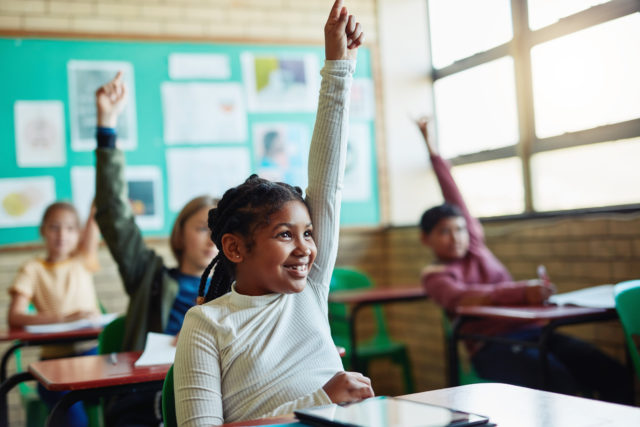 Lately I've been traveling around the country speaking to education professionals about TeachRock, an arts integration curriculum developed by the Rock and Roll Forever Foundation, a nonprofit established by legendary musician, producer, actor and activist Steven Van Zandt. As a curriculum designer for the foundation, I'm on the team that creates TeachRock's lesson collections. Our lessons connect popular music with subjects across the disciplines, all formatted into compelling multimedia educational materials available to any classroom at no cost from an open resource Web site.
I'm incredibly fortunate to do what I do. It's a unique opportunity I couldn't have imagined when I was first dreaming of becoming a musician years ago. And it joins together so many of my interests and abilities into a challenging and fulfilling profession.
The rigorous music research and writing required to create one of our lessons has me utilizing a specialized skill set that I developed in a somewhat haphazard way as a college student. At the time, my studies progressed in fits and starts through numerous programs and schools. It was a difficult path but it has ended up serving me well.
Recently, I designed a lesson that asked, "How did guitar distortion become a desired and defining effect in rock?" By presenting the story through the lens of a social studies lesson, students chronicle the artists and production crew who pioneered the fuzzy tone while recognizing the diverse communities that developed this now-expected sonic characteristic of the genre.
Tracing the sound's evolution from its serendipitous roots in the American South all the way through to its iconic role as the gnarly riff on the Rolling Stones' "(I Can't Get No) Satisfaction," students discover how the crunch we hear in rock guitar emerged as a byproduct of frazzled equipment, shining a light on both the regions and industry vital to its evolution. Bringing additional focus to the tech side, an embedded interactive guitar effect pedal invites students to explore the type of gadgetry Keith Richards used on the track, illustrating how the effect transitioned from a moment of tonal happenstance to an intentionally sought timbre.
My earliest experiences with music education started in private lessons. After buying a bass guitar at the local music store when I was 14, I immediately signed on with a teacher, Golder O'Neill. By taking lessons, my community of music peers expanded quickly. Soon I was playing in neighborhood garage bands and the jazz orchestra at my high school.
However, improved bass playing, more genres to play, and more people to perform with weren't the only things I picked up studying with Golder. I noticed he did a lot of different things outside of being a bass guitar instructor. Golder was a noted professor at a local conservatory as well as a sought-after live bassist. He had a thriving non-traditional career and seemed to love it. And Golder wasn't the only musician I was aware of who could be both a great musician and educator.
The music books and magazines I read and played through showed me that great players could also have a knack for writing and instruction. The accompanying text to a transcription of a popular bassline often included a background story. A music lesson with an included narrative provided a cultural context to what I was getting under my fingers. It wasn't just about the notes that James Jamerson played on his bass during those Motown Records recording sessions. It was also about the social connection between the players, the story behind how they'd all ended up in that particular studio on that particular day. It was about their journey and the community they fostered.
Frustrated as a freshman college music student at home in Virginia, I transferred to the University of North Texas in Denton to be a part of the acclaimed music program. While I didn't last long as a music student for a variety of reasons, a change to pursuing a history degree allowed me to focus my time outside of class on playing in bands and being a part of the thriving local music scene. Although I didn't appreciate it at the time, the academic pivot had me in courses and classrooms where I had to work on writing and research. At the same time, playing bass in that Texas college town brought me to the attention of the Austin band Spoon.
As the bass player for Spoon on many records and tours, I worked primarily as a performing musician for years. The band's popularity led to a lot of great opportunities and helped pave the way for a burgeoning freelance career. Independent recording and live work followed but at the same time bass players and other musicians began to seek me out for private lessons. Soon I was back in the lesson room, having a blast teaching, and really enjoying getting to know my students. It was a thrill to learn how they'd gotten into playing bass and the creative journeys they were on. I loved hearing about how they were connecting with music.
While I was living my dream playing on records and touring the world, teaching bass lessons brought me back into the music education community, a place where I could serve and share all that I had learned with other players. I felt a strong pull to the work and started making plans.
Several years into my time playing bass in Spoon, I began taking courses online to finish my bachelor's degree in music. Eventually, I left the group to focus on a career in music education and while I was concluding my undergraduate studies, I received an offer to teach as adjunct music faculty at Austin Community College. Within a few years I was teaching several courses and one of my favorites was a lecture course surveying the history of popular music in America.
I pursued a musicology degree in graduate school and the liberal arts changeup years earlier was really helpful. The writing skills and research practices that I had honed were fundamental to my success as a student. My master's thesis foreshadowed my work with TeachRock by connecting the Motown sound to the local Detroit jazz scene that spawned so many of the session musicians who recorded the label's music.
Soon I relocated to Nashville to pursue more opportunities in the classroom and on the live stage. While I was fortunate to teach music courses at Middle Tennessee State University and Nashville State Community College, I wasn't finding what I'd hoped for when I made the move. On an online search one morning, I came across a posting for a fascinating job in New York City for writing and designing lesson plans that connect popular music with subjects across the disciplines: TeachRock. After applying for the position, I discovered that I had a personal connection to the Rock and Roll Forever Foundation through musicians I'd been touring with in Nashville. Within a couple months I was living in New York City; I'd gotten the job!
Over all the years and through all the different vocations I pursued, I've taken to heart something that may seem quite obvious – music is informed by the environment that it's created in. The anecdotes behind the basslines I was learning way back, the songs and albums I was listening to at different times, the records that I've been making over the years; all have a distinct connection to time and place. With TeachRock, we recognize that even students who aren't budding musicians experience this connection. Music is often a significant part of their identity, as it is for all of us. That's why popular music can be such a potent tool for inspiring student engagement in the classroom.
More recently, there's been a rolling roadshow component of the Rock and Roll Forever Foundation. Starting in 2018, our staff began traveling along with Steven Van Zandt as he toured with his band, the Disciples of Soul. At select shows, the TeachRock curriculum serves as an opening act for his concerts by being presented in free professional development workshops for local educators. And attendees get free tickets to that evening's show! By reaching out to teachers and introducing them to new resources that can be used in any classroom, we've been developing a robust community that spans dozens of states and hundreds of towns and cities around the nation.
The work I do for TeachRock isn't just writing about music. It's also understanding the unique role discovering and discussing music can play in connecting directly with another person or groups of people – a community. Currently, I'm developing a lesson in which students will build a working speaker out of paper plates, wire, alligator clipped cables, and magnets. The lesson connects the history of American counterculture with the pioneering tech found in 1970s live music production. It joins together music with science, technology, art, social studies and history. It's fascinating work and every day I look forward to it.