President's Report
Broadway At Its Best
Volume 111, No. 4
April, 2011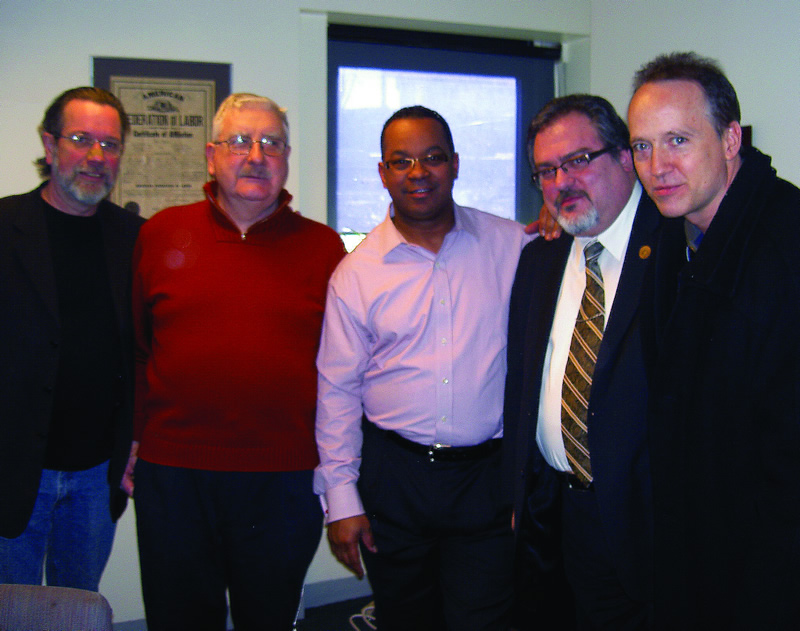 Local 802 leadership met recently with Jazz at Lincoln Center musicians and longtime union members Joe Temperley, Victor Goines and Ted Nash to discuss upcoming contract talks.
March was a very busy month. First of all, as you can see by our cover story, musicians have overwhelmingly ratified the new Broadway agreement. Thanks to the preparedness of the Broadway Theatre Committee and its negotiating team, we had a clear understanding of what our priorities were, going into these talks. The details of the agreement can be found in the story on page 11, but I just want to say how proud and happy I am that we were able to come to an agreement so quickly and with so little rancor. Congratulations to our Broadway musicians and congratulations to all of us.
Unfortunately, now I must turn to a situation that really is a battle. By the time you read this, unless there is a settlement, musicians in the Detroit Symphony Orchestra will have been on strike for almost six months, which is beyond belief and may unfortunately put the orchestra as an entity at a critical juncture. Musicians have offered to go back to work and submit to binding arbitration; management has refused. In the meantime, some members of the DSO have been forced to leave the orchestra and accept work with other orchestras.
I know I don't have to explain why members of Local 802 should care about what happens to the Detroit musicians. Firstly, they are our brother and sister members from AFM Local 5 and we are, after all, a union town.
Secondly, what happens in Detroit will have an effect throughout the country. We must remain in support and in solidarity with our Detroit colleagues.
To that end, I would like to encourage members to contribute to the Detroit musicians in two different ways.
First, visit www.DetroitSymphonyMusicians.org and click on the link on the left-hand sidebar that says "Support us." Then select "Donate," and please give whatever you can afford.
Secondly, the DSO is asking musicians to wear special blue wristbands to signify their solidarity. To get a wristband, go to www.SaveOurSymphony.info and click on the picture on the right-hand side of the fist raised with the blue wristband. A wristband costs $5.
FIGHTING UNION BUSTING IN WISCONSIN
In addition to Detroit, there is other distressing news coming from the Midwest. As many members know, Wisconsin governor Scott Walker signed into law a very contentious and wrong-headed bill that would deny public workers – including schoolteachers – the right to bargain collectively over many aspects of their job. It would also require their union to hold a vote every year to determine if teachers still wanted representation. I am dismayed that this kind of union busting is happening in 2011.
You'll see a few columns about this situation in this month's Allegro, which raises the question once again: when should Local 802 get involved in outside politics? The truth is that this is always a balancing act.
On the one hand, if we get too involved in outside issues, we get complaints that we are losing our focus. Our current position is that the union will endorse candidates and get involved in outside issues when they affect our members.
There is a lot of leeway in this stance and sometimes it's necessary to open up our scope a little bit wider when outside issues are pressing.
For instance, it's pretty clear to us that fighting the union busting in Wisconsin, Ohio and elsewhere is important not only in the name of labor solidarity but also because one day it might be us under attack and we'll need the support of others. That's why the Executive Board unanimously passed a motion in support of the union workers in these fights. For the latest in Wisconsin, one great source is the Facebook page of Jobs With Justice; search for it.
Other issues are a little closer to home. We are sending our Political and Public Relations Director Paul Molloy to Arts Advocacy Day in Washington, D.C. on April 3 and 4. This is when arts advocates – including the AFM – lobby for greater arts funding and awareness. This is clearly something we want to support. The current financial crisis in the U.S. – call it a recession, depression or even a recession-in-recovery – has caused some members of Congress to want to eliminate all funding for public broadcasting and the NEA. This rash act would hurt our members, plain and simple. Musicians are hired by PBS and NPR. Grants from the NEA trickle down to dozens of employment opportunities to our members.
Another piece of politics closer to home involves New York State Senate bill 1087, which would provide lower electricity rates to Broadway and Off Broadway theatres. Even though this would primarily benefit the theatre owners, we feel it would ultimately benefit musicians as well. Lowering the overhead for theatre owners gains us leverage at the bargaining table and it is a sign of good will from our union. The Local 802 Executive Board unanimously endorsed this bill.
STAMFORD SYMPHONY
In an effort to make public the onerous proposals from management, the musicians of the Stamford Symphony Orchestra leafleted recent performances at the Palace Theatre in Stamford. The SSO, unlike many other performing arts ensembles, remains in a strong position financially. Unfortunately, even after musicians have agreed to concessions, including a one-year pay freeze, management continues with unreasonable demands that have resulted in the orchestra working without a contract since September of 2010.
In addition to their unwillingness to compensate the orchestra fairly, management has also demanded that the musicians accept a two tiered rate of pay. Essentially they are demanding that any freelance musician that subs in the orchestra would now make 23 percent less than the regulars. This is unacceptable. One of Local 802's strongest tenets is the belief of equal pay for equal work. This is an unshakeable position and management needs to hear that message loud and clear. Local 802 hopes that these issues can be resolved before the SSO's season ends in this month.
SPECIAL SITUATIONS UPDATE
Local 802 was petitioned by the Broadway League for special situation status of the show "Baby it's You." The show centers around the discovery of the Shirelles by Florence Greenberg.
Local 802 granted this situation because, unlike "Priscilla, Queen of the Desert," it accurately represents a musical genre different from the more traditional musical. Additionally, there is no reinforcement, augmentation or emulation of acoustic instruments by electronic instruments. It was agreed that since the show maintains these artistic standards, it was deserving of special situation status.
Regarding "Priscilla, Queen of the Desert," we continue to fight the use of recorded tracks to accompany live musicians. The first step of determining special situation status did not go our way. The neutral panelist did not agree with the union's position that it wasn't artistically necessary for the show to go on with recordings of strings and additional horns, regardless of the fact that there are no strings in the pit. We are now going to a higher authority, final and binding arbitration, per the terms of the Broadway contract. Outside the contract, Local 802 will be fighting this blatant abuse of special situations. By the time this article is published, you will be aware of our campaign!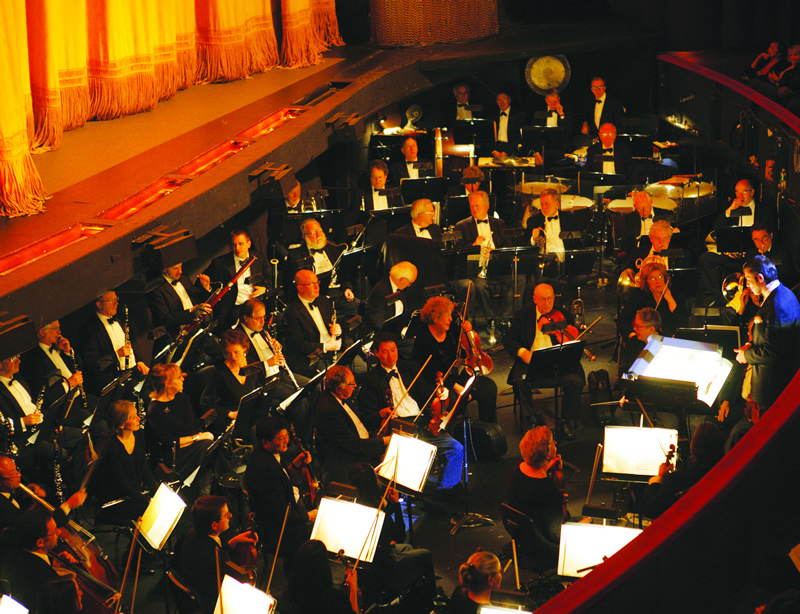 The musicians of the New York City Ballet (pictured above in a 2009 photo) are joining up with the ballet's dancers to demand better pay and working conditions.
Photo: Paul Kolnik
SOLIDARITY WITH DANCERS
AT THE NYC BALLET
In an exciting and unprecedented show of solidarity, dancers and musicians have come together at the New York City Ballet. The goal is to improve compensation and working conditions in a way that would improve what the ballet puts on stage.
The union that represents the dancers is the American Guild of Musical Artists. In a joint statement, the negotiating committees of both unions said:
"Our members create the beauty of City Ballet's productions, and they are no longer willing to be treated as an afterthought or to be disrespected in their role as employees. The ballet's management is said to be involved in discussions about how to improve and restructure itself. But the dancers and the instrumentalists, who have more expertise in presenting beautiful dance and music, who are in much closer touch with what the ticket-buying public wants to see, and who are most directly impacted by management decisions, are frozen out of those discussions. That's unacceptable.
"To help the ballet with its fiscal problems, both unions agreed to wage freezes in each of the last two years, despite the fact that NYCB's fiscal problems are caused by poor administrative planning, grossly excessive non-talent expenditures, a development department out of touch with youth, and a publicity department that still thinks that newspaper advertising is the whole ballgame. But not again.
"Wage increases for the talent who put on the shows are long-overdue and another wage freeze is unacceptable. In addition, the artists represented by both unions need, and have proposed reasonable and responsible changes in, working conditions that will not only improve their professional lives, but improve the quality of the productions. Stonewalling and obfuscation by this management must stop. AGMA and Local 802 pledge to work together to assure that New York City Ballet's ticket buyers continue to experience the best in dance and music, presented by performing artists who are given the professional and financial recognition to which the majesty of their work entitles them."
The two negotiating committees will meet again soon and are in the process of planning joint undertakings to compel the ballet to address their respective members' needs in a more positive manner. Ballet management has yet to return to the bargaining table.
UNION DISCIPLINE
We may be reinstating our "unfair list" in Allegro soon. This will be a list of bandleaders and employers for whom union members should not work. If you are an employer who is not returning our calls and is not complying with your responsibilities, you should talk to us now.
As long as I'm talking about union discipline, this is another reminder that members who are in default on their work dues need to pay up immediately to avoid collection efforts. This also applies to musicians who are legally required to join the union but haven't done so yet. In order to have a strong and effective union, we all have to do our part. Thank you.
WELCOME BOB AND JOE
Bob Pawlo recently passed his six-month probation period and joins the staff at Local 802 as a recording rep.
During a 35-year career as a woodwind player, Bob has played Broadway, performed in big bands and orchestras, worked on recordings, backed up headliners, and was a choir director and cantor with the Russian Orthodox Church. He also has extensive experience in political campaigns. Bob was chair of the West Milford (New Jersey) Democratic Party and its candidate for mayor in 2003. Bob tells us that his political hero is Senator Bernie Sanders of Vermont and that it is an honor to work at Local 802 and a privilege to serve his brother and sister union members, in whose ranks he was a member for so many years.
We also welcome Joe Rodriguez as the new director of Local 802's computer department. Joe has been at Local 802 since January 2000 as a programmer and data analyst. He holds a Bachelor of Science degree in information systems from Pace University. Joe has been an efficient and hardworking staff member for many years and we are pleased to promote him. Congratulations, Joe.
JAZZ APPRECIATION MONTH
Jazz is truly one of America's gifts to world music. Many Local 802 members are jazz musicians and jazz is a critical part of the history of both Local 802 and New York City. Congress has even declared jazz to be a national treasure. In 2002, the Smithsonian designated the month of April as Jazz Appreciation Month. This issue of Allegro features a photo spread of the Duke Ellington Legacy Band playing at Feinstein's cabaret room, which we recently got under contract.
SAVE THE DATE!
Local 802 turns 90 on Aug. 27! We'll be having a gala celebration, which will also be a fundraiser for the union's Emergency Relief Fund. Save the date!