Broadway Contract Saves Health Fund
Musicians Will See Major Improvements
Volume CVII, No. 7/8
July, 2007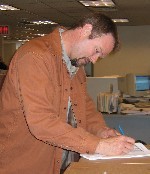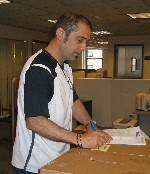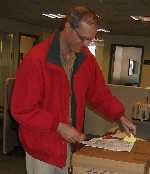 Broadway musicians overwhelmingly ratified their new three-year contract. Pictured from top to bottom are David Riekenberg, Ray Marchica and Don Rice. Photos by Joy Portugal.
Broadway musicians ratified a new three-year contract in May by an overwhelming margin. The new agreement provides for substantial increases in health benefit contributions and a modest wage increase while avoiding any pension givebacks.
"With Broadway experiencing record profits, we are heartened that the producers have acknowledged the invaluable contribution that musicians make to the success of their productions," said 802 President Mary Landolfi. "This settlement delivers what our members had asked for: a dramatic improvement in health benefits that will secure benefits for more members than ever. It is a positive agreement for both sides."
The three-year economic package adds up to gains of over 11 percent.
In the second year of the contract, musicians will earn a raise of 3.5 percent. But instead of raises in the first and third years of the contract, the employer will pay the equivalent of a 3 percent raise ($44 per week) into health benefits in each of those two years.
Other health benefits include an immediate $28 increase in weekly contributions (a 38 percent increase) and a guaranteed $4 per week increase every six months over the next two years.
By the end of the contract, employer contributions to the Local 802 health benefits fund will nearly triple, securing both the fund and improved benefits for the next three years.
All other terms of the previous Broadway contract remain in place.
"This is one of the largest economic packages we have ever won on Broadway," Recording Vice President Bill Dennison told Allegro. "Given that we have nearly 400 Broadway chairs, far more of our members will now have access to health benefits. This is a significant achievement."
Dennison, who had been involved in Broadway negotiations dating back to 1993, worked with the negotiators in developing the union's health plan proposals.
"The best aspect of the new contract is that in a national environment of poor, inadequate and expensive health coverage, we now can offer more and better coverage to our members," pianist Madelyn Rubinstein, a member of the Broadway negotiating committee, told Allegro.
Saxophonist Mark Thrasher, another member of the committee, agreed.
"Basically, this plan will seriously upgrade the health care plan by dumping a lot of money all at once into the plan," Thrasher told Allegro. "It's going to give health care to more people. It's a huge improvement. If you use the health plan, it's a great coverage."
The recent crisis in the Local 802 health fund was caused by a combination of sharply rising costs and stagnant employer contributions.
The last increase on Broadway came in 2003 when the rate went to $58 from $54 per week.
While an "escalator clause" existed in the prior agreement, it was only invoked last December when the prior Local 802 administration requested a $12 per week increase. That would have not been enough to maintain – let alone improve – benefits.
President Landolfi and new union counsel Danny Engelstein scrapped the $12 request and insisted that the full $28 – the total of the escalators in the prior agreement – be paid on day one of the new contract.
Engelstein put together a detailed presentation of how this increase – plus two decent sized wage diversions – could salvage the health fund. The numbers were presented to the Broadway negotiating committee, which then voted to pursue a negotiating strategy based on this approach.
A NEW MOOD AT THE TABLE
Musicians who sat on the negotiating committee noticed a new mood between the League and Local 802.
Trombonist Chris Olness told Allegro that he thinks "a new sense of cooperation at the table took people by surprise. Fostering that may be beneficial to both sides in the coming years as we try to assess Broadway's viability."
Olness added that the new mood might have also occurred because both sides were addressing a "humanistic" aspect of the contract: health care.
Trumpeter Roy Williams said that "We were able to not only insure the financing of the health plan for years to come, but take a big step towards shaping a more pragmatic team-oriented approach for future negotiations."
At the onset, a stumbling block was the question of the so-called "Turkus award" pension money. Management insisted that this be the source of any new health contributions.
Broadway musicians, actors and stagehands won the Turkus award – named after arbitrator Burton Turkus – as part of a city-mediated strike settlement in 1960. As a result of the award, Broadway musicians earn pension payments that sometimes equal 20 percent of their wages.
President Landolfi strongly rejected the employer's position, insisting that if musicians were willing to defer wage increases to health benefits rather than touch their pension, she would entertain no further discussion of the issue. Management dropped it and the Turkus award payments were left untouched in the contract.
SPECIAL SITUATIONS
In regard to Special Situations language, it was clear from the start that the League was unwilling to discuss any substantive changes. Management representatives told the negotiating committee of their inability to work with the prior Local 802 administration: unreturned phone calls; shows that opened before they got any response to Special Situation requests; and, in some cases, shows that opened and closed with no action from the union.
Ultimately, 802 and the League agreed to a procedure for Special Situation requests that seeks to ensure a prompt review and ruling on shows well before the orchestra size is locked in place.
The two parties also signed off on a sideletter that settles unresolved Special Situation requests for "The Drowsy Chaperone," "Hot Feet," and "The Woman in White." As part of that settlement, producers will make a payment of $15,000 to the Local 802 Emergency Relief Fund.
The Broadway negotiating committee was Tino Gagliardi (chair), Andy Schwartz (co-chair), Tony Gorruso, Jan Mullen, Chris Olness, Madelyn Rubinstein, Mark Thrasher and Roy Williams. Al Hunt was the 802 Executive Board representative to the committee. The committee voted unanimously to recommend the contract.
Local 802 was represented by counsel Danny Engelstein and Kevin Finnegan of the firm Levy, Ratner, LLC. The firm began representing 802 earlier this year.
A GOOD DEAL FOR HEALTH
The new Broadway agreement includes the following improvements in health benefits:
In addition to the union's current Plan A and Plan B, there will be a new "Plan A+", which will commence on Oct. 1. Plan A+ will come in two versions – one that includes hospitalization and one that does not. An HMO option will also be offered as a buy-in option.
Both versions of the new Plan A+ will restore the benefits that the union's health plan was forced to discontinue at the beginning of this year, including reimbursement for out-of-network at 70 percent and eliminating the cuts in prescription coverage. Perhaps most important, the annual cap on benefits will rise to $250,000 from $50,000.
All Broadway musicians – including subs – who perform an average of 5.7 performances per week during each contribution period will be eligible for Plan A+ with hospitalization. A lower number of shows will be required for Plan A+ without hospitalization and for the current Plans A and B. Because employer contributions are increasing significantly, far more subs will qualify for some level of coverage.
Individual co-payments will be reduced or eliminated, depending on what version of the plan musicians qualify for. Family co-pays will vary.
All members – not just Broadway musicians – may be eligible for these new benefits. Complete details will be contained in a letter that the Local 802 Health Plan will mail to all participants this summer.