Broadway Musicians Say Yes to New Contract
Volume 111, No. 4
April, 2011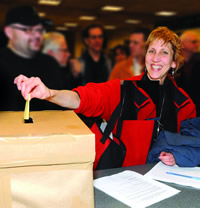 Local 802 member Kathy Sommer casts her ballot. Musicians overwhelmingly approved the new agreement.
Photo: Walter Karling
Broadway musicians have a new contract. In mid-March, members of Local 802's largest bargaining unit overwhelmingly ratified a new memorandum of agreement with the Broadway Theatre League. The previous agreement had expired on March 6.
"It sounds like a fair agreement at this time and I appreciate the efforts of our union leaders and our negotiating committee," said keyboardist Kathy Sommer, who was recently associate conductor at "Beauty and the Beast."
The road to a contract started last May at a summit with all of the theatre delegates. The single most important issue conveyed by the membership was wage increases. This hardly comes as a surprise if one considers that Broadway musicians received just a 3.5 percent raise in 2008, the only wage increase since 2006.
In January, the wage issue was unexpectedly addressed in a proposal from the League before formal negotiations had even begun. The proposal followed informal discussions between the League and Local 802 President Tino Gagliardi. Had the proposal been rejected by the negotiating committee, the two parties would have entered into traditional negotiations, with all elements of the current Broadway contract on the table.
On Jan. 25, the Broadway Theatre Negotiating Committee, in an unprecedented unanimous vote, accepted the terms of the agreement for ratification by the bargaining unit.
"While there were other issues that we were considering, we were unanimous in our decision to forego 'normal' negotiations and to recommend that the League proposal be brought to the membership for ratification," Theatre Committee Chair Walter Usiatynski told the Theatre Committee the following day.
When the Local 802 Executive Board likewise unanimously recommended ratification, the stage was set for Broadway musicians to vote on the agreement.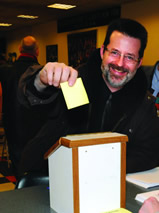 Mark Thrasher casts his ballot.
Photo: Walter Karling
The five-year contract includes reasonable wage increases in each year, but – perhaps more importantly – current minimums will be locked in place until the agreement's expiration on March 6, 2016. All previous working conditions remain the same. Rates that are fixed are not subject to the wage increase.
"Accepting the economic package was certainly a no-brainer," said Mark Thrasher, the low woodwind doubler at "How to Succeed in Business."
Thrasher added, "For the moment, it's a great contract, but it leaves us with certain challenges in 2016."
President Gagliardi summed up the process: "This was a result of a collaborative effort between the 802 administration, the Broadway Theatre Committee and the Broadway League."
Gagliardi added, "Through our efforts we were able to reach the mutually beneficial stability desired by the league and an economic package that was sorely needed by Broadway musicians."