Calling Of The Names
Musicians commemorate the 20th anniversary of 9/11
Volume 121, No. 8
September, 2021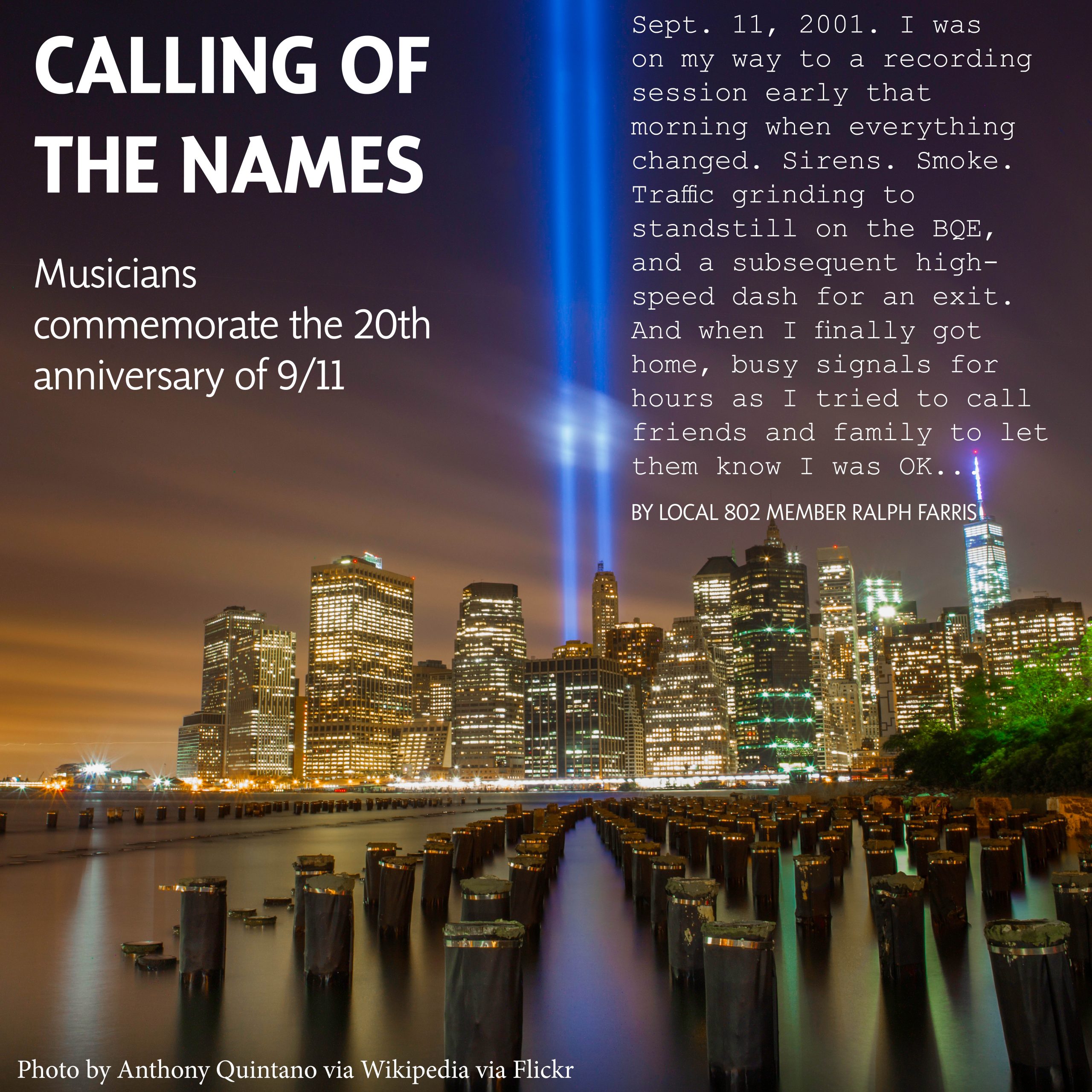 Sept. 11, 2001. I was on my way to a recording session early that morning when everything changed. Sirens. Smoke. Traffic grinding to standstill on the BQE, and a subsequent high-speed dash for an exit. And when I finally got home, busy signals for hours as I tried to call friends and family to let them know I was OK.
We all have a similar story. We all remember exactly where we were that morning. We all remember the madness of those days.
And what was the thing we most often find ourselves saying? "It felt just like a movie." …Because it did feel just like a movie, this slo-mo re-run that you just couldn't shake. And then you would get hit with the sadness, and then the rage, and then the feeling of hopelessness. And over, and over.
Until as a nation (indeed, as many nations, united), we rolled up our collective sleeves and went to work. All of us, in our own ways.
As musicians, we had to play. And for many of us here in New York City, St. Paul's Chapel became home. "The Miracle Church," standing strong just next door to the World Trade Center, opened its doors for nine months to offer respite and succor to responders who labored at their own peril on "the pile." Chiropractors, podiatrists, counselors, nurses, clergy and everyday folks offered what they could to the cause, in support of their sisters and brothers who risked everything to locate survivors, restore safety and security to the complex and find as many remains as possible for the families of those lost. And for seven days a week, three times a day, musicians from all over the world also offered themselves, and their art. It was an awesome undertaking, and it meant the world to be there.
This year is the 20th anniversary of that dark day, and St. Paul's once again welcomes us home, as we call the names of responders who are no longer with us — those who worked on that hallowed site, and those who gave of everything in support of family, of community, of country.
We remember their service and we honor their memories. We call the names.
Ralph Farris, a member of Local 802 since 1995, is the producer of Calling Of The Names.