CELEBRATING PRIDE IN QUARANTINE
Pride Month 2020
Volume 120, No. 6
June, 2020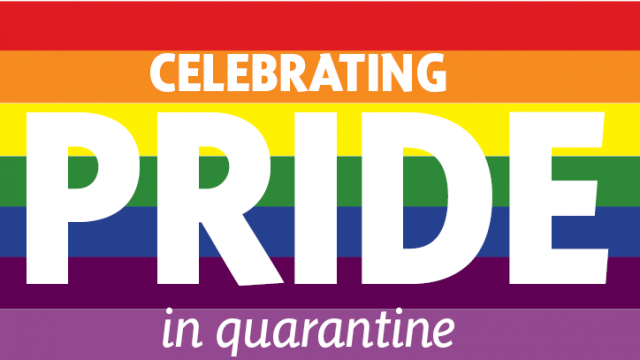 Pride month is typically when the LGBTQ community takes to the streets to be as visible as possible. Big cities and even small towns become awash with rainbows as we show our pride in parades and festivals. This year — on the 50th anniversary of the first Pride march — things will be very different due to the impact of the coronavirus pandemic. Already hundreds of Pride marches and festivals have been canceled or tentatively postponed until later in the year.
The pandemic has had a disproportionate impact on our community. LGBTQ folk are more likely to work in industries severely impacted by the virus, like entertainment, healthcare, travel, hospitality, education and more. That means that LGBTQ people are unemployed or at high risk of becoming infected on the job.
Our community also faced higher poverty rates than the national average before the pandemic. One in ten were unemployed before the pandemic and 22 percent were living at or below the poverty line. These impacts are compounded for queer people of color, women and bisexual folk.
Before the pandemic, access to healthcare was already an issue for queer workers as well, but the Trump Administration recently rolled back nondiscrimination protections for LGBTQ people that were passed in the Affordable Care Act, and seems hell bent on rolling back other protections for LGBTQ people too.
In addition, any day — possibly by the time this is published — the Supreme Court will issue a ruling on two cases that will determine if discrimination against LGBTQ people is legal under Title VII of the Civil Rights Act of 1964. This will be a landmark decision for the LGBTQ community regardless of which direction it goes.
With all of this and more happening, LGBTQ folks need Pride more than ever. Pride festivals give the LGBTQ community an opportunity to come together. They are also an opportunity to push for much needed social change. Crises like the pandemic tend to reshape our society and LGBTQ folks must make our voices heard in the conversation for change.
While we won't be able to gather together in person this year in most places, there is a growing list of virtual Pride festivals and other events already in the works. On June 27th Global Pride will host a 24 hour live-streamed event in which everyone can participate. This will be an international get-together, with a list of celebrity performers and hundreds of thousands of LGBTQ folk from all over the word logging on.
And for those who feel Pride has become too corporate, the Reclaim Pride Coalition is planning a Virtual Queer Liberation March as well — free from big dollar sponsorship and focused on fighting for political and social equality. We've also heard about a number of unions that will hold virtual Pride events as well. Pride at Work is looking to shift our annual Pride event — Celebrating Solidarity — to a virtual event as we don't want to let our annual celebration of LGBTQ union activism go by unmarked.
We don't need big splashy parades or festivals festooned with rainbows to keep the spirit of Pride alive. We just need to come together in whatever ways we can and be out, be proud and celebrate our diversity. And we won't let the Coronavirus stop us.
Jerame Davis is the executive director of Pride At Work, an AFL-CIO constituency group representing LGBTQ union members and their allies. Pride at Work organizes mutual support between the labor movement and the LGBTQ community to further social and economic justice. See www.PrideAtWork.org.