Charges and Counter-Charges
Recording Vice President's Report
Volume CVIII, No. 7/8
July, 2008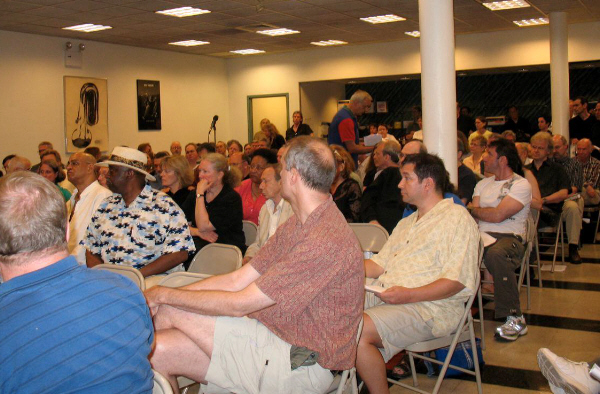 Members filled up the club room at the June 11 membership meeting. Photo by Jon Hammond.
For much of Local 802's early history, most musicians worked for bandleaders. There were few collective bargaining agreements as we know them today. The mechanism incorporated in the union's bylaws for filing "charges" against another member was used to enforce union discipline and ensure that if you got hired by another member, you would get paid — and paid properly. In those days, the Local 802 Trial Board was kept busy adjudicating disputes mainly over wages, hours and other working conditions.
This "charge mechanism" in our bylaws is not for settling political differences or policy disputes. For that we have union elections.
Nor is it for pursuing grievances against employers with whom we have a collective bargaining relationship. For this there is the grievance and arbitration process.
I believe the charges against officers that were on the agenda of the June 11 membership meeting fell into these categories. The members at the meeting wisely decided that they should not be pursued.
I think the hope of most members is that these kinds of charges and counter-charges will stop. They divert the union from the work it needs to accomplish. They take away the time of officers — time that could be spent providing member services.
Differences and disagreements that may exist among members should be sorted out through discussion and debate.
And if reasonable minds can't agree…again, that's why we have elections.
CLUB DATE AGREEMENT
On page 5, you will find a story about the recently concluded Single Engagement Club Date Agreement. This remains one of our union's more important contracts. Over the course of a year more than 1,000 members will work under the terms of this agreement, some only a handful of times and others several times a week, making this work their primary source of income.
On a per performance basis, a club date is one of our union's better paying jobs, now paying $310 for a four-hour Saturday night engagement. By contrast, a three-hour Broadway show pays just under $200 and a freelance concert performance of 2.5 hours pays $230.
While the biggest proportion of club date work takes place on a Saturday night, there is a significant amount of mid-week work. For that, the lowest scale is a three-hour mid-week job. In the old contract it paid $175. Now it pays $185 and will jump to $200 in the second year of the new contract. While this still falls short of the real value of the job, it is a respectable increase — 14 percent over two years — and represents significant progress.
The skill that our club date musicians bring to their work is formidable. A club date musician shows up at the gig and typically there's nothing on the music stand. You're expected to know hundreds of pop songs — from recent hits to Fats Domino — as well as every R&B hit of the 60's, 70's and 80's, the entire catalog of standards from the last century and a host of ethnic songs from dozens of cultures. You've got to be able to play with musicians you've never seen before, follow a leader whose greatest talent often involves schmoozing the party's hosts, and you've got to sound good!
Given the skill level of our club date musicians, you're often in good company on the bandstand. Years ago, while trying to clean up one of the basement storage rooms at the union, we found an old club date contract form that listed Charlie Parker as one of the side musicians on the date.
We've recently taken aim at the nonunion offices doing club dates. Some of these offices have long been cheating musicians while claiming they pay "overscale."
What's really scale on a union club date?
First there's the $310 scale wage.
Next, the employer must also contribute an additional 10 percent — over and above your wages — into the union pension fund, or $31. (By the way, every dollar in your account is worth about $3 when you retire, at current rates.)
Then the employer must make a $30 health benefit contribution. So pension and health is worth at least $123.
Next, don't forget cartage and parking. And meals and mileage, if they apply to your gig.
Finally, remember that employers and bandleaders should pay you on a W2, which means they're paying their share of your taxes. Otherwise, you're stuck paying these yourself around tax time. Taxes come to about $22 per gig.
Speaking of which, if you are being properly classified as an employee, your club date leader or office is liable for unemployment insurance and workers' comp. It's hard to put a dollar value on these benefits — unless you get hurt on the job. But there are always slow times, and unemployment payments can easily mean several weeks of benefits at a maximum of $405 per week. (Contact my office if you need help in applying for unemployment benefits.)
So what's the real value of a union club date? Well, if you're working for a nonunion office and you're not getting $500 on a Saturday night, you're being cheated!
LOCAL 802 HEALTH FUND
A little over a year ago, we ratified the new Broadway contract. It substantially increased health benefit contributions. Since then, we've also made health increases in nearly every other contract that Local 802 has negotiated, including the freelance classical contract and the club date agreement.
Also last year, the Local 802 Health Benefits Fund and the Theatre Sick Pay and Hospitalization Fund were merged to form the Local 802 Musicians Health Fund.
We've had a year and three months of the increased Broadway contributions and a shorter time for the other contract increases. And it's been a year since the funds' merger.
Even over this short span of time, we can say that a fund that was on the verge of insolvency is now on the road to what we hope is a stable and sustainable recovery.
One important figure in the 2006 and 2007 reports is the rather dry-sounding phrase "Excess of Net Assets Available for Benefits Over Benefit Obligations."
But this number is crucial. It is essentially how much money the fund has as a reserve over and above the payment of current and expected benefits.
As of Dec. 31, 2006, that number for the Local 802 Health Benefits Fund was a negative $860,873. This meant that the fund could not meet its current and projected benefit obligations. As a result, benefit cuts were made and participant premiums were imposed.
With the merger of the funds and a partial year of increased contributions, the Local 802 Musicians Health Fund as of Sept. 30, 2007 had a reserve of $3,570,906. This is a critically important turnaround.