Don't let congestion pricing hurt musicians
Volume 122, No. 8
September, 2022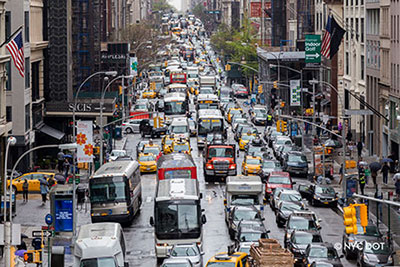 New York City is poised to charge a toll for drivers below 60th Street. The concept is called congestion pricing and the idea is to make it a disincentive to drive in high-traffic areas to help increase air quality and create a greener city. It would be the first congestion pricing experiment in the country. The problem is that congestion pricing unfairly penalizes those workers who must drive to their gigs, like many of our members.  Local 802 is asking the MTA for exceptions for musicians and sent the following testimony.
---
MEMORANDUM
TO: Metropolitan Transit Authority
FROM: NYC musicians' union (AFM Local 802)
DATE: August 31, 2022
RE: Congestion Pricing Plan
The NYC musicians' union (AFM Local 802), a union representing over 6,000 musicians in New York City, Long Island and the surrounding areas, requests the establishment of a professional exemption from the proposed congestion pricing fees applicable to musicians who are required to travel by car with large instruments to perform their work in venues below 60th Street such as Lincoln Center, the Broadway theaters, and Carnegie Hall.
The musicians of Local 802 provide live music throughout all 5 boroughs including our Broadway theaters, Radio City Music Hall, Carnegie Hall, Lincoln Center, and countless other locations. With the resurgence of tourism in the wake of the COVID-19 pandemic, visitors are returning to our stages to see the world-class live entertainment that our city has to offer. However, with audience sizes still rebounding to pre-pandemic levels, most performing musicians are still struggling to make ends meet.
Many of our members are required to transport large instruments such as the upright bass and other multiple and/or large instruments to get to work every day. Because these instruments cannot be brought onto public transportation due to their size, and because of the odd hours that live entertainment shows conclude, our members must instead rely on private vehicles, incurring parking and bridge/tunnel fees as well. The imposition of an additional toll for musicians to simply transport their instruments to their place of work will place an undue financial burden on wages that are already unpredictable by nature.
As the MTA receives public comment and considers how to best implement congestion pricing, Local 802 wishes to affirm its support of the broader policy goals and its implementation to limit traffic, protect the environment, and provide crucial financial resources to the public transit system upon which so many of our members rely daily. We look forward to working with relevant stakeholders to ensure that effective attention is given to alleviating the financial realities faced by the performers who make New York City the top tourism and live entertainment destination in the world.