How Covid drove innovation in music
Pandemic stories
Volume 122, No. 2
February, 2022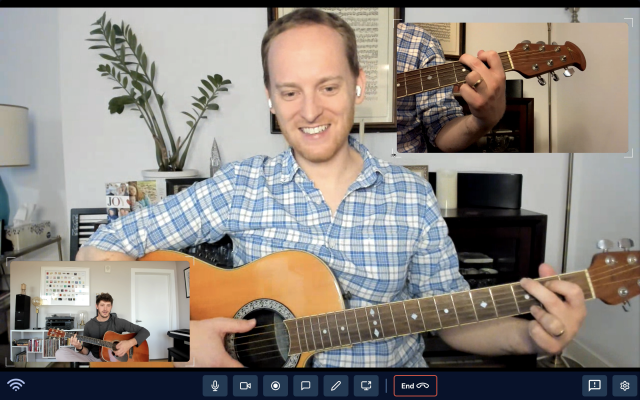 New Year's Eve has always been my favorite holiday. I enjoy reflecting on the past and envisioning a rich and fulfilling coming year with a glass of champagne. This year, with Radio City closing early, New York City Ballet's Nutcracker facing cancellations, and COVID numbers worse than ever before, it was tempting to feel like the music world was trapped in a time warp. But in spite of this vicious cycle of adversity, the musicians of Local 802 and around the world displayed incredible adaptability and have been making progress performing and teaching music.
Technology has helped musicians stay connected to faithful audiences while also helping us reach new ones. There has been great progress with collaboration at a distance. 45th Parallel Universe out of Portland, Oregon, composed of musicians from AFM Local 99, used a new software program called Collabro, written by Danny Rosenberg, to present a series of online concerts with players performing from anywhere but the same room. I used Collabro to perform with Local 802 and New York Philharmonic member Ethan Bensdorf, colleagues Ryan Little and Aaron McCalla from the Naples Philharmonic (Florida), and Marques Young from the Malaysian Philharmonic Orchestra who performed with us all the way from Kuala Lumpur, Malaysia. While I missed the energy from a live audience, pushing boundaries while performing is always exciting and we certainly tested the limits of what is possible in this performance.
Online performances and collaborations have their unique rewards, but for me, online performing has not been paying the bills like live concerts were before the pandemic. I am grateful to have my private teaching studio to help stabilize my income. Through teaching online, I have enjoyed connecting with students and teachers that I would not otherwise be able to work with because of physical distance. Last summer, for instance, I taught the trumpet students of the Aspen Music Festival's PALS program from my bedroom in Manhattan. While performing at the New Hampshire Music Festival, I supplemented my income by teaching lessons before and after rehearsals from my hotel room.
Although online teaching has definite advantages, the stress and frustration of fighting ill-suited technology often makes it feel like double the work. We have been trying our best while being forced to use tools that were not designed for making or learning music. My students and I are continually confused and frustrated with business-oriented video conferencing platforms where even the "music mode" or "original sound" settings are inadequate. We need to see, hear, speak, and play together, uninhibited by the tool we are using.
As I struggled with bad tech, I started to ask myself and my fellow musicians some questions. What if we could enjoy the benefits of online lessons without having to adapt our teaching to these business-oriented video conferencing tools? What if you could remind your students to subdivide without interrupting their run through of a piece? What if you could clearly demonstrate a delicate change in tone color? What if you didn't have to worry about downloads, internet connections, and tweaking settings one day just to have to redo them again the next? What if the tools we used to teach music online helped us reach a global network all while saving time and helping us make money? What would we need to achieve this? What would your private studio look like if that were possible?
Early in the pandemic, Mark Murtagh and Hunter McGranahan, two music education entrepreneurs, asked teachers from The Curtis Institute, Berklee College of Music, the Royal College of Music and my wife and me these very questions. The answers were unified:
Music teachers need a connection to their students with life-like sound quality.
The technology needs to be simple and intuitive so that it fades into the background and lets us focus on the nuances of human communication and musical expression.
Excited by this conversation and the potential, I began helping Mark and Hunter address these requests and develop a solution: the Forte platform and Forte Pure Audio. We believe that Forte Pure Audio offers the highest resolution sound possible in a video conferencing platform. To be clear, I've  invested my time and effort into Forte because I wanted to create a tool that my fellow musicians loved and desperately needed. I serve as the artistic and education director for Forte, but I do not benefit financially from bringing users to Forte and I have no ownership stake in the company, which is completely free to use and relies on musicians to help improve it. Your use supports our belief that teachers want and need a purpose-built platform for music lessons. More users help us to keep improving Forte. Also, I am always interested in hearing about other platforms that Local 802 members are using.
Additionally, there are other people and organizations doing great work helping musicians teach and perform online. Dan Tepfer and his company FarPlay have made incredible strides in solving for latency so that musicians can play together from more than one location. Fons does us all a great service by taking scheduling and business transactions off our hands. Even more innovations are surely on the way.
As we move past this pandemic, let's not look back and remember only the cancellations and the disappointments. Instead, let's celebrate the innovations that have made the world of music better. We've accomplished so much that will carry us through these difficult times and remain with us on the other side. That is reason enough to raise a glass of champagne and celebrate 2022!
William (Liam) Day has been a member of Local 802 since 2009 and is a trumpet player and eduactor. A graduate of Juilliard and the Cleveland Institute of Music, Liam played in the Malaysian Philharmonic Orchestra from 2009 to 2016 and is now based in NYC and performing with top ensembles including the New York Philharmonic and the Metropolitan Opera. After forging strong connections globally, Liam firmly believes in the power of online music education.
Allegro is interested in hearing from other members who are using online platforms for their teaching and performances. Write us at Allegro@Local802afm.org.