Cutting Edge
Katreese Barnes is always searching, always growing, and always staying on top
Volume 118, No. 2
February, 2018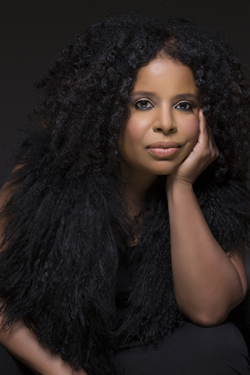 Not many musicians can say in one lifetime that they've sung background for Sting, played saxophone for D'Angelo, and served as the pianist and music director for "Saturday Night Live." If you don't know Katreese Barnes by name, you certainly know her music. A Local 802 member since 1989, Barnes is a two-time Emmy award winner and a Grammy-nominated pianist, producer and composer. She has also been a hidden hand at orchestrating some of our cherished cultural sounds. She started playing piano at the age of 10, and landed her first record deal in her teens. In her early 20s she wrote songs for Chaka Khan and Roberta Flack, and in 2000 she began at "Saturday Night Live," where she composed music for sketches and ultimately became music director. She also served as bandleader for Rosie O'Donnell's "The Rosie Show" and for the comedy game show "Oh Sit." She co-produced the Grammy-nominated "Roberta" by Roberta Flack and the Grammy-winning "Woman I Am" by Chaka Khan. As a background vocalist, keyboardist and saxophonist, she toured and recorded with Sting, Bette Midler, Billy Joel, Alicia Keys, Mariah Carey, Carly Simon and many others. She was the lead vocalist of the group Juicy, and she wrote and performed the band's hit song "Sugar Free." She is the creator of the livestream show "Welcome 2 My House" at Facebook.com/katreesebarnes, which has featured Tony Terry, Valerie Simpson and a host of up-and-coming singer-songwriters. Local 802's Bob Pawlo recently sat down with Katreese Barnes to learn about her life in music.
Bob Pawlo: Let me start by asking my usual opening question, because it always opens up great stories. How did your remarkable journey in music begin?
Katreese Barnes: It started with the piano. I taught myself to read and play when I was ten, and I begged my mother for lessons. It was just a bug that just popped up out of nowhere. And that bug hasn't died down yet! My father was in the Army, and he moonlighted at night with a top-40 band. He led the band and played organ. We'd hear them practice in the house.
Bob Pawlo: How was it being in a military family? Did you travel a lot?
Katreese Barnes: We moved every three years! Every time we moved, I had to get used to a new town and a new group of friends. But that's exactly like doing a new project as a musician: you have a new studio and you meet people for the first time. I was prepared for that thanks to my background, and I learned not to be afraid of that.
Bob Pawlo: What were some of your first experiences performing in public?
Katreese Barnes: Early on, I was playing classical piano, entering competitions and winning some of them. When I was 15, I won a competition to perform the Bach concerto in D minor as a featured soloist with the Wilmington Orchestra in North Carolina. I remember practicing for hours for that, and it was my first time playing with a string section. But after a while, I didn't feel like classical music was the life I wanted to lead in my heart and soul, so I ended up playing in some local R&B bands that my father managed. One of the bands got a big break when we landed a record deal with Arista. It was produced by the great arranger and producer Eumir Deodato. He was instrumental in shaping my career. Eumir showed me the road map of basic pop writing and how to arrange a tune so it fits in with what's going on right now…he called this "flipping" a tune. I was also learning by just listening. I learned what I wanted in an arrangement, which was to help pull the artist along for the ride. My favorite producer/arranger was Arif Mardin, especially the Chaka Khan records. I was listening to everything – soul and funk, but also Herbie Hancock. In fact, I also play the saxophone, and I spent a good amount of time transcribing Charlie Parker, John Coltrane, Cannonball Adderley and Sonny Stitt, who's still my favorite.
Bob Pawlo: What was it like being a very talented, gifted woman in the music world?
Katreese Barnes: My father was our manager and I was also working with my brother, and both of them are big guys, so I felt protected. Most of the work situations felt female-friendly. But there was one thing. When I was involved in projects where I was writing or arranging the music, sometimes the musicians would ask me, "Who wrote this chart?" They didn't assume that it was me and they didn't always believe that I wrote the music. This still happens today!
Bob Pawlo: How did you start playing with Roberta Flack?
Katreese Barnes: I had met Roberta Flack through Eumir Deodato, and I eventually got into Roberta's band. That was the credential that opened doors for me in New York. I started connecting with other musicians. I ended up getting more work as a backup singer and session singer, to the point where people started seeing me as a singer and they didn't even know of me in any other way. So, that was kind of frustrating for a while. I said to myself that I will do these gigs for money, but that's not why I came to New York.
Bob Pawlo: What eventually led you up to your incredible gig with "Saturday Night Live"?
Katreese Barnes: I think my love for all kinds of styles helped me get that job. That's the kind of show where you have to play a polka all the way to a hip hop song and everything in between. I had always loved playing anything from musicals to top-40. I even loved to play Scott Joplin, and I didn't know years later that I would be playing the Scott Joplin piano part for Maya Rudolph in an SNL sketch. It shows how a passion can turn into something useful later.
Bob Pawlo: What was it like to prepare music for the show every week? You had incredible deadlines, right?
Katreese Barnes: Yeah, I would write a lot of stuff overnight. But what helped me was the concept of "flipping" music that Eumir Deodato had taught me. I would write something and then I was able to flip it into the required style. The deadlines were intense. But I never thought of it as pressure. I always thought of it as just what I do, if that makes sense.
Bob Pawlo: How did you learn how to arrange, which you needed to do very quickly at SNL?
Katreese Barnes: Constant study. I never went to college for music, so I would learn from the masters, like Arif Mardin. He suggested that I study from the Samuel Adler orchestration book. I also studied arranging books by Henry Mancini and Nelson Riddle. To this day I will purchase an arrangement just to see what's going on.
Bob Pawlo: What happened in your career after SNL?
Katreese Barnes: I got hired to be the music director of the Rosie O'Donnell show. It was a nightly show and we did 94 episodes, but it was canceled after one season. A new show actually is probably the hardest work I've ever done. You have to create the base. You have to create the content. With SNL, I would write and arrange and play piano for sketches, and rehearse and that sort of thing, where on the Rosie show, it was actually creating the sound of the show. After that, I did another show after that called "Oh Sit." It was similar – we worked hard to create the content from scratch. I think we recorded 60 full-length songs in a week for that show!
Bob Pawlo: Tell us about your Facebook livestream show "Welcome 2 My House."
Katreese Barnes: Every one of our episodes has gotten over 300,000 views. We started filming out of my apartment on the Upper East Side, but the concept is to go across the country surprising people with their favorite artists doing their favorite song in their own living rooms. It's fun, and it's introducing people to new artists, and it's also an opportunity to arrange. I love digging into other people's music and also getting the opportunity to arrange cover songs of popular music today.
Bob Pawlo: Wow. And something like this 20 years ago was impossible.
Katreese Barnes: Yeah, but the difference is I may have been able to create a record 20 years ago that could have been a single that people heard on the radio, but since we don't have the radio as much now, you have to use other techniques.
Bob Pawlo: What are the important skills as musicians to have these days?
Katreese Barnes: You absolutely must know your digital world, but you also have to know your basics, like having a good ear and being able to read. It's important to learn a lot of styles, because when you're learning other people's music, you're learning to listen. And you never know when that opportunity will come where someone says, can you play Scott Joplin? Can you play Mozart or Bach? Can you play Bud Powell? Some more advice: when you walk into somebody's session, you must be prepared. I just had an up-and-coming bass player show up at a rehearsal. He had not learned the music and was not the world's greatest reader. I don't even know what that's like to show up and not even prepare the music. That's a word of caution to the young folks.
Bob Pawlo: What do you look forward to now in music?
Katreese Barnes: I'm looking forward to what I can control. The radio feels limiting now, and the club scenes are kind of dying, so I look forward to creating something that can create something, if that makes sense. I want to use today's music but incorporate enough of it with my experience and my sound.
Bob Pawlo: In closing, Katreese, what message would you give to musicians starting their careers in today's world?
Katreese Barnes: Learn it all. Learn all the music. Learn all the technology. Learn how to approach this new digital world, because the old world is no longer here.