How can Local 802 create more opportunities for its members?
Member to Member
Volume 122, No. 3
March, 2022
How poorly we perceive musicians to be treated in our society — a dead horse of a subject that's been beaten for far too long. Come to think of it, most people reading this have probably even heard myself tackle it in my JazzTimes article from last year.
Make no mistake: if the world were a meritocracy, we would consider it ludicrous to hire musicians for any less than what we pay doctors, lawyers or accountants. Our skills are equally as fined-tuned as theirs.
Unfortunately, though, we're in a time where conservatories are rolling out high-level musicians at record numbers, who graduate only to have nowhere to perform. Forget union benefits (pension, health insurance, etc.), forget even wages — skilled musicians are frequently setting up in street corners and parks just to have a place to invite people to hear their music. Every mediocre restaurant with background music in a cramped space has an extensive backlog of musicians begging for a spot.
This is unacceptable. We never hear about someone who passed the bar exam or earned their medical degree questioning whether or not to move to New York City due to uncertainty of finding work. When was the last time you heard of a doctor or lawyer taking a side job to pay the bills? If they don't have to deal with this nonsense, then there is absolutely no reason professional musicians should either — period.
The solution to this? If there were a simple or obvious one, somebody would have discovered it by now. Some countries, particularly the democratic-socialist European nations, are significantly further ahead in this regard. But if we believe that U.S. sets the highest standards in music, it is vital to compensate the workers accordingly. This is most likely going to take a combination of legislation, educating musicians on collective bargaining, and educating "civilians" on the value of art.
There are currently about 6,000 Local 802 members versus the roughly estimated 50,000 musicians in the New York area. This is understandable. If someone doesn't have a steady job on Broadway or Lincoln Center or one of the other union contracts, why spend $220 per year on union membership? It's also worth noting that Local 802's membership survey from last year revealed the median age to be 59.5. If the union can be a vehicle towards creating work, this will undoubtedly draw far more young musicians to sign up, creating a situation where they would feel ridiculous not being a member.
Ultimately, creating work is not the responsibility or even a traditional function of trade unions. Not only that, but taking it too far would create a conflict of interest. Unions are the entity that sets boundaries and negotiates conditions with employers; if they are the employer, who sets boundaries with them?
There are some loopholes and creative ideas, though. For example, plumbers have a union. If a pipe gets clogged in the plumbers' union headquarters, who do they call to fix it? A plumber. Presumably one in their own union.
The AFM, specifically our local, has a list of precedents for being of aid to musicians seeking opportunities. Let's review them.
---
Past referral services
Decades ago, there was a "hiring hall" where musicians could match with bands looking for a particular role, primarily club date bands for private events. The opening scene of the 1963 film "Love with the Proper Stranger" (pictured above) takes place at this hall. The union's hiring hall disappeared when Local 802 moved from the Roseland Ballroom to its present headquarters in 1992.
---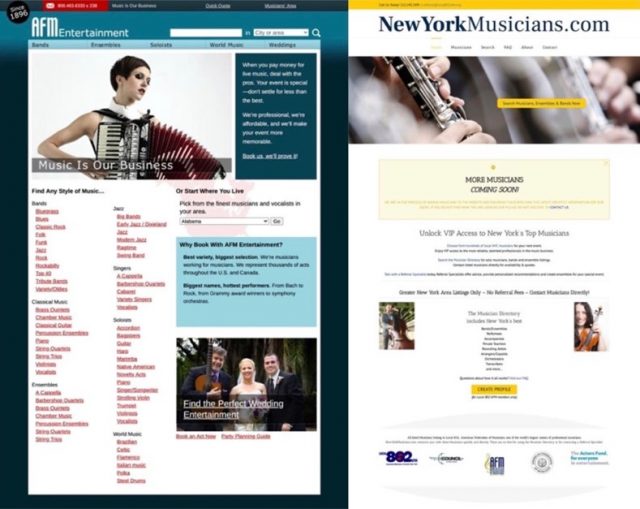 Current referral services
Several attempts at online referrals connected to Local 802 or the AFM have popped up over the years. Currently, on the national level, there is www.afmentertainment.org, and on the local level there is Local 802's www.newyorkmusicians.com. In both of these, event organizers seeking live music can select through a database of solo acts that are union members or bands led by union members. Do these websites receive the same degree of online traffic as The Bash, GigSalad, The Knot, WeddingWire, the Facebook group NYC Musicians Wanted, etc.? Of course not. Do we appreciate these efforts of the AFM and Local 802 to create work opportunities? Of course.
---

Music Performance Trust Fund
The Music Performance Trust Fund provides grants for performances (30 percent of public service scale rates by default, though some exceptions). In 1948, under James Petrillo's leadership, the AFM reached a deal that a portion of major record labels' profits would be allocated for the funding musical performances with no cover charges. These events require a co-sponsor, which leads to the next item.
---
Nonprofit organizations to promote live music
501(c)(3) organizations can receive contributions, both from direct donations to the organization and grants requested at their behalf. In the case of Local 802, the most successful precedent is the Council for Living Music. It's possible that the Council's presence may be returning this year after a three-year hiatus, which I applaud.
---

Direct grants to bands from the union
In 2017, Local 802 created a program called the Emerging Artists Project that offered the possibility of grants to Local 802 ensembles to create union work for its members. This was modeled after a similar program from the building trades. The program paid out one grant and is now currently on hiatus.
---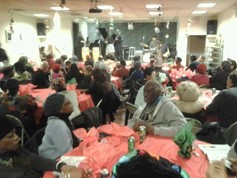 Jazz in the Afternoon and Local 802 holiday party
These two have been saved for last because they'd be the least optimal to expand upon. Jazz in the Afternoon was a monthly performance (pre-Covid) in the Local 802 club room where the musicians worked pro bono and the audience's voluntary donations went to the union's Emergency Relief Fund. A noble cause, but it didn't put money in musicians' pockets — and even if it had paid, it just makes the club room simply one more performance space with an overload of musicians groveling for a spot. Local 802's holiday party is the closest equivalent to the plumber analogy from earlier, where the union hires a musical group to perform at their event. Taking dues from some members then paying a different set of members ought to be done minimally.
---
At the time of this writing, Omicron numbers are declining, and if 2022 is anything like the previous two years, there will be more live music taking place in the summer. Simultaneously, there is new leadership at Local 802 thinking outside of the box as to what is possible to make the union flourish.
One place where this subject is being discussed frequently is Local 802's Jazz Advisory Committee. I attend those meetings regularly, and if anyone is interested in joining, please send an email to 802jac@gmail.com.
Guitarist David Stern has been a member of Local 802 since 2018. Allegro welcomes occasional opinion pieces from members. Not all pieces will be published. The views expressed here do not necessarily represent the views of the officers, staff or members of Local 802. Send your submissions to Allegro@Local802afm.org.