Pursuing diversity in our union
Management rights and diversity hiring
Volume 122, No. 8
September, 2022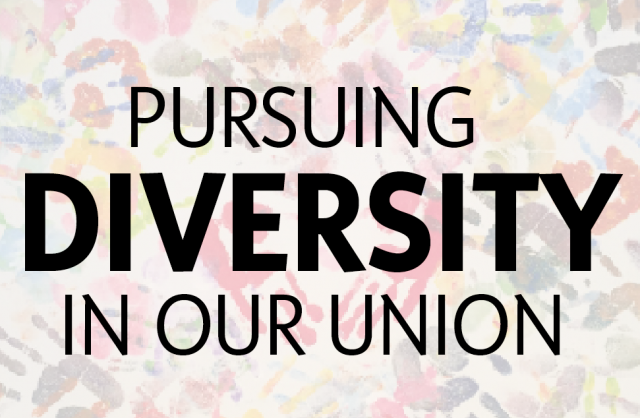 By the Local 802 Communications Subcommittee (Deborah Assael, Bud Burridge, Sara Cutler, Martha Hyde, and Wende Namkung)
Many are asking what role the union can play in creating more diverse bargaining units. Specifically, can the union take a stronger stance in determining hiring policies?
Several groups within Local 802's jurisdiction — and others in the national and international musical community — are promoting diversity in hiring practices. Maestra, Muse and the Black Orchestral Network are among those that have begun essential conversations with members, at bargaining tables, and in the press. Can the union help? How?
The answers lie largely in legalities that govern contracts and in philosophies of unionism, both of which maintain that a union must never involve itself directly in any hiring decisions (except where it does so on its own behalf, as in hiring musicians for a rally or union celebration). Where there is a contract and a bargaining unit in place, the employer has the authority to hire and fire within the parameters of the contractual language. This is an accepted premise, which the National Labor Relations Board usually upholds, called "the reserved rights theory, under which an employer retains all rights to manage its enterprise except for those specifically surrendered in the collective bargaining agreement." (For more, see this reference from Creighton's Law Review.)
In plain English, this means that, apart from specific language governing audition or other hiring and dismissal procedures, all other aspects of hiring and firing are reserved to the employer. Under these clauses, unions are barred from imposing non-contractual limitations or direction on the hiring practices of employers, who are entitled to make artistic judgments in the process of "managing their enterprise."
In addition, union officers are not authorized to act as arbiters of individual talent and merit. They are elected to represent all of us, not to serve as our judges or employers.
The NLRB says: "You have a right to be represented by your union fairly, in good faith, and without discrimination. Your union has the duty to represent all employees — whether members of the union or not — fairly, in good faith, and without discrimination." (Read more about this right here.)
This statement expresses what is known as a union's duty of fair representation. Essentially, it directs a union to advocate for all members equally. Singling one demographic out for special treatment, whether positive or negative, is illegal.
So what can a union do to promote diversity, equity and inclusion both among members and in the workplace?
This administration has identified five broad areas where we can make a difference.
Networking
This is one area in which the union can be of help in the short term. Creating initiatives that provide opportunities for new and younger members to meet and play with and for more established members could introduce more diversity into our workplaces. We are currently planning such initiatives and hope to launch them soon.
Other areas of union involvement in fostering more diverse workplaces can produce more long-term results.
Education
It is crucial that we commit ourselves to promoting access to music education. Certainly, this includes teaching about the union and unionism in conservatories within our jurisdiction, but it also demands we support early training for underserved communities, beginning in grade school. As music programs have fallen victim to budget cuts and political agendas focused on other needs, we face a possible future of a smaller and less diverse community of professional musicians.
We must change this.
We currently have board officers creating curricula for classes at the university and conservatory level, aimed at teaching future professionals what it means to be in the union and why it is important to their careers, their colleague's careers, and the future of the music business. Additionally, board officers are looking at partnering with conservatories in the tri-state area that provide free after-school music lessons to children for whom there is no other access to such education. We must help these programs survive and thrive if we truly wish to see a more diverse population working in our business in the coming decades.
Political advocacy
A union has resources that we do not possess as individuals and it can use them effectively for change. Political influence is something we can direct wherever we see a need. We may be hamstrung by law and philosophy regarding employers within our jurisdiction, but we do have access to policy makers, and local, state, and federal lawmakers. We also have the ability to call on coalitions of labor unions and associations of artist and workers to influence our leaders in ways we think will help diversify our workplaces in the long term.
Understanding the demographics of the membership
Tracking the ethnicity, gender identification, and related demographic data of our membership would be helpful. Determining the range of these characteristics spread among our members can be achieved by including questions on these topics in our membership applications. In 2021, Local 802 surveyed its current membership on these topics and so has already begun to assemble numbers. The local is also planning to resurrect our diversity subcommittee to oversee these kinds of efforts that will help us better represent all our members.
Contract language
Finally, the union can impact hiring practices when there is a collective bargaining agreement in place. Where the contract has provisions for audition and dismissal procedures, diversity hiring can become part of the discussion at the table. Blind auditions have already helped to level the playing field to a great extent for those entering into a bargaining unit protected by a collective bargaining agreement (such as a symphony, opera or ballet orchestra or any other non-theatrical freelance musical organization working under contract). Blind auditions, when conducted fairly, do protect applicants against bias discrimination. However, they are not a panacea. They can be and are sometimes manipulated by those in charge. And, they do not solve the conundrum of how to increase the diversity of the applicants themselves.
The audition process is not appropriate for all situations. When looking at some steady and single engagement work, whether commercial, theatrical, or concert, questions arise. Is it really fair to impose a long and complicated audition process onto both candidates and managements for short-term work? Will it butt up against a union's duty of fair representation? Is it, again, fair to divert monies that might go to wages and benefits for the already employed toward the cost of holding auditions? How much sacrifice must bargaining units be willing to make to implement this one mechanism for fostering diversity? Will it, in fact, increase the diversity of bargaining units? Are there ways other than the audition process by which the union can work with managements to diversify hiring for short-term work? Answering these questions will be difficult but necessary if we truly want to bring change to our workplaces.
These plans and proposals will require a stable, functioning union and necessitate the use of both money and staff. Local 802 is currently rebuilding after the devastating years of the pandemic. Restoring 802's financial health and infrastructure is a necessary prelude to promoting a more diverse membership. We are not there yet. We hope to be there soon. 
If you have questions for the Local 802 Communications Subcommittee, please send an e-mail to allegro@local802afm.org