Do Stand So Close: My improbable audition as Sting's guitarist
Member to Member
Volume 119, No. 2
February, 2019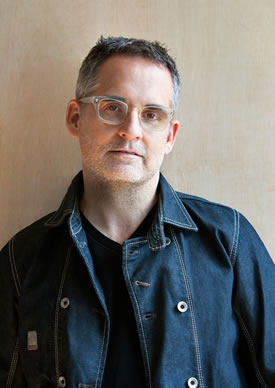 Originally from North Carolina, guitarist Jeffrey Lee Campbell has been a member of Local 802 since 1987. Jeffrey moved to New York in the late 80s…and hit the jackpot. Mere months into his NYC gambit, Jeffrey was catapulted from selling candy in Broadway theaters to touring the world with rock legend Sting. Jeffrey's new memoir, "Do Stand So Close: my improbable adventure as Sting's guitarist" (excerpted below) recounts his glamorous (and grueling) 25-country, six-continent trial by fire on Sting's "Nothing Like The Sun" World Tour. Filled with humorous anecdotes and poignant revelations, "Do Stand So Close" follows Jeffrey's amazing odyssey – from relocating to NYC and miraculously landing the high-profile gig, to life on the road with one of the planet's biggest rock stars, to his humbling crash-and-burn after the tour. In addition to touring the world with Sting, Jeffrey has performed with artists including Sammy Davis Jr., Aretha Franklin, Michael Bublé, and Jon Bon Jovi. A grateful journeyman, Jeffrey has played guitar on countless recordings, jingles, and Broadway shows (including a 14-year run at "Mamma Mia!" and a longstanding chair at "School of Rock.")
My answering machine blinked innocently as I dragged in from yet another soul-sucking shift at the candy stand. I hit the playback button without a second thought, and liberated the long-lost voice of Delmar Brown. Delmar dropped a nuclear bomb. "Yo Jeff, Sting is looking for a guitarist for his band…and he asked me about you. Give his manager Kim Turner a call." Delmar read off Kim's phone number before reiterating, quite unnecessarily, "Call him!"
I stood there frozen. I know it sounds cliché, but I felt like I was in a dream. After regaining consciousness, I replayed the message and scribbled down Kim's number. I dialed the magic digits, and got an immediate "Hello." When I asked to speak with Mr. Turner, the voice on the other end grunted, "Wrong number" and hung up. In my hysteria, I'd obviously misdialed. I composed myself, and re-dialed – carefully. This time the other end answered, "KRT."
KRT management was founded by Kim Robin Turner, an integral member of The Police family from the start. In the band's infancy, Kim filled whatever role was needed: roadie, driver, soundman, road manager, etc. Kim was there every step of the way as The Police built their massive empire, and ultimately rose through the ranks to a top management position. Miles Copeland was the big cheese, but Kim handled many of the day-to-day managerial duties for Sting Inc. – including things like dealing with freaked-out guitarists.
I spoke with Kim briefly and we scheduled a meeting at his office, conveniently located at 1776 Broadway. I knew the patriotic address well. A mere two blocks from my apartment, the building's shiny, brass "1776" plaque always caught my eye as I trotted up to Central Park for my daily jog. (Central Park had provided great comfort as I weaned myself from the flora and fauna of North Carolina to a steady diet of urban concrete.) I made the short hike over to Broadway and 57th the following afternoon – attempting to stay calm in the face of such a huge opportunity. I gave myself one last pep talk as I stepped onto the elevator and pressed 17. Reaching destiny's floor, I exhaled and walked into KRT Management. Kim offered a quick handshake and cut to the chase:
Kim: "Are you interested in the gig?"
Me: "Yes."
Kim: "Are you married?"
Me: "No."
Kim: "Good, the tour will be long."
Me: "OK."
Kim: "If you're hired, the gig pays $2,500 a week – firm."
Me (trying not to smile): "Uh, OK."
Kim's no-nonsense approach caught me a little off guard, but I eventually learned the motivation behind his blunt bedside manner: control. The backup band on Sting's previous tour ("The Dream of the Blue Turtles") was stocked exclusively with all-stars: a boon for Sting's fans, but apparently not so much for his management. Sting's killer sidemen (Branford Marsalis, Kenny Kirkland, Darryl Jones, Omar Hakim) were all seasoned, A-list veterans with numerous major credits…and a mutually shared manager. Word was, between their professional leverage and managerial solidarity, the Blue Turtles bloc had caused a few headaches for Sting's brass along the way. Well, God bless those beautiful headaches; they likely created an opening for an unknown rookie like myself to sneak into the big tent. After wrestling with a band full of self-assured somebodies, Sting & Co. probably welcomed the idea of dealing with a submissive nobody.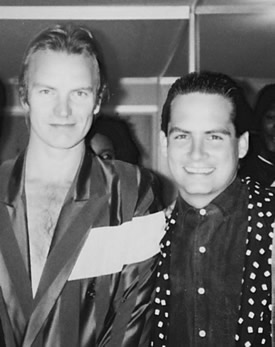 Wrapping up the world's shortest business meeting, Kim sent me downstairs to the affiliated offices of FBI (Frontier Booking International) to grab an advance copy of Sting's new album. The booking/talent agency was founded by Ian Copeland (brother of Police drummer, Stewart and manager, Miles). But unlike its crime-fighting namesake, this FBI featured a tropical aquarium, a pinball machine and lots of young, sexy employees.
I walked through the glass doors of FBI and was directed to the corner office of Theresa Greene. I introduced myself to the striking Ms. Greene and made a stab at some relaxed small talk. (I felt anything but relaxed.) After the chitchat ran its course, Theresa reached into her desk and handed me a generically labeled cassette tape of Sting's upcoming album. Cue angelic choir. Just being in possession of the exclusive, unreleased recording made me feel more important than I ever had in my life. My head was swimming…but I needed to focus. My audition was only a week away. I had a LOT of studying to do.
To prepare for the opportunity of a lifetime, I began working the only way I knew how: obsessively. Both a blessing and a curse, I'm totally driven when tackling any task (big or small). The concept of moderation eludes me – in work and, unfortunately, play. I've finally accepted I have two speeds: ON and OFF. Matter of fact, when I walked away from college, my GPA was a robust 3.98. I was one lone B short of academic perfection. Yep, I'm a dropout with essentially a straight A average. Paging Dr. Freud. I immersed myself in Sting during the one-week window before my audition. And I'm not just talking about the new album. I learned, or at least familiarized myself with, every single Sting/Police song I could get my hands on. I devoured all five Police albums, Sting's solo "Blue Turtles" record, and even "Bring on the Night" – the somewhat obscure live album from Sting's previous tour (which, at the time, was only available as a European import). I spent practically every waking minute cramming for my rock 'n' roll exam, but, as much as I wanted to, I couldn't afford to play hooky from work. Each afternoon around 5 p.m., I'd resentfully put down my guitar and rush off to the Gershwin Theatre. (The same place where I once saw Prince stroll in. Was it an omen?) Luckily, the mindless drudgery of concession "preset" was perfect for multitasking. Thanks to my Sony Walkman cassette player (the iPod's granddaddy), I was able to continue my Sting studies on the sly as I ran around the theatre replacing soda tanks, stocking candy, and filling ice buckets.
I'd decided against telling my co-workers about the upcoming audition, fearing it might somehow jinx things. I'd actually toyed with keeping the news a secret from everyone, but had quickly ruled that out. Being a prohibitive long shot, I recognized the buildup to my audition would probably be the most exciting part of the experience. Family and close friends deserved to be along for the fun part of the ride. Plus, I desperately needed their prayers.
Sunday, September 27, 1987
Audition day. I can't believe I'm going to play music with Sting this afternoon. Hell, I can't believe I'm even getting a chance to meet the guy. Earlier in the week, a well-meaning friend had tried to steady my nerves with, "Just remember Jeff, if things don't work out, there'll always be other gigs." I appreciated his attempt at preemptive consolation, but we both knew life doesn't offer an endless supply of opportunities of this caliber. Today feels like MY Super Bowl or Oscar Night. I worked damn hard to get here. Who knows when – or IF – I'll ever get another shot like this?
Ready for battle, I hailed a cab for my short but fateful journey down to SIR Studios on West 25th Street. My goal was to arrive fashionably early – aiming for that imaginary nanosecond that effortlessly bisects "over-eager" and "lackadaisical." The dude behind the front desk looked up from his heavy-metal magazine long enough to point me toward Stage Two. I nodded, took a deep breath, and pushed through the door to my future.
I scanned the room, and saw my patron saint Delmar holding court in the corner. I headed straight in his direction. Delmar greeted me with an affectionate bro hug before introducing me to bassist Tracy Wormworth, drummer Marvin "Smitty" Smith, and percussionist Steve Thornton. (There was no sign of heavy hitters Branford Marsalis or Kenny Kirkland – and it would stay that way.) We exchanged hellos, and then did what musicians do best: make noise. We noodled around, weaving in and out of a few funky grooves as we awaited the main event.
A little later, the studio door swung open and in bounced the man of the hour. I willed myself to stay calm, but my cool demeanor was a complete sham. Simply standing in the same room with Sting was blowing my Carrboro mind. After being officially introduced to Elvis, we got down to business. To my surprise, the scene was relaxed and unstructured. Instead of the usual two or three songs, followed by a perfunctory "don't call us, we'll call you," we ended up hanging for a couple of hours. Amazingly, the audition was not your typical cattle call. Matter of fact, no other musicians showed up at all.
Sting threw out random titles from his catalog as we searched for songs to play. And thanks to my painstaking preparation, I was ready for anything – and everything. Meanwhile, judging from some of the shrugs around the room, it was clear my colleagues didn't share my freakish compulsion to learn every Sting song under the sun. Nobody likes a know-it-all, so I considered pulling my punches. But the stakes were too high to cede an inch. Instead, I leaned in, answering the bell, song after song – even at the risk of alienating my peers. Each time Sting asked if we knew a certain tune, I'd chirp, "Sure!" Sting eventually looked over at me. "OK, Jeff, stop showing off." For better or worse, I'd made an impression.
I was still soaring the next day, but resolved not to wallow in any fantasy "what ifs." Conceding my flirtation with rock stardom had probably reached its conclusion, I tried to embrace the ever-popular (but ever-hollow) "it's an honor just to be nominated." Then the phone rang. I picked up to hear, "Hi, Jeff, this is Patty LaMagna at KRT. Sting wants to know if you can come back down to SIR tomorrow." I responded with an artificially restrained, "Yes" before hanging up in a daze. I was numb; I'd gotten a callback. Sitting down so I wouldn't fall down, I trashed my earlier resolution. Unleash the hounds of fantasy. What if?
The rest of the story can be found in Jeffrey Lee Campbell's memoir "Do Stand So Close: my improbable adventure as Sting's guitarist." Members of Local 802 are encouraged to submit personal essays to Allegro for possible publication to Allegro editor Mikael Elsila. The views expressed in these columns do not necessarily reflect the opinions of Local 802 or its officers, members or staff.