Do the right thing
Volume 112, No. 9
September, 2012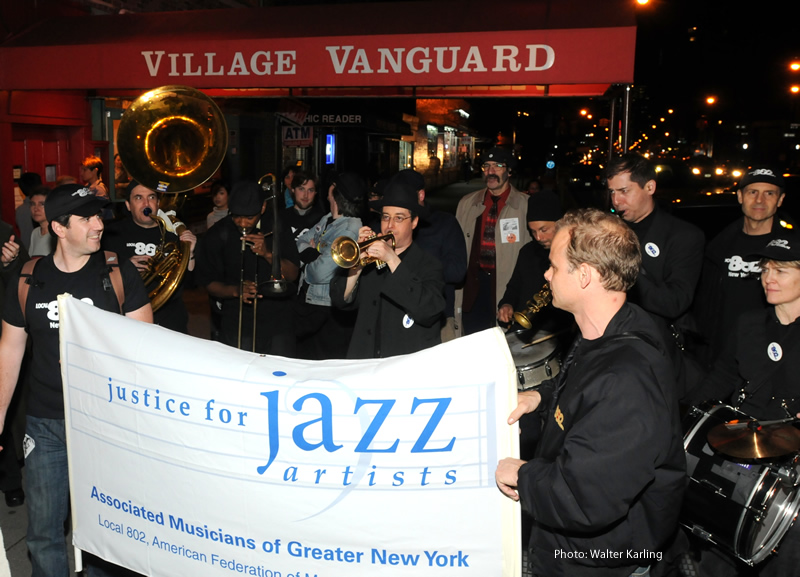 Musicians demonstrated in front of the Village Vanguard and other jazz clubs in several actions this spring and summer.
Photo: Walter Karling
Lorraine Gordon, owner of the Village Vanguard, deserves her recent accolades. But jazz musicians are still wondering why she won't return the union's calls…
The iconic owner of the Village Vanguard, Lorraine Gordon, has been awarded the National Endowment for the Arts' 2013 A.B. Spellman Jazz Masters Award for her stewardship of the longest operating jazz club in New York. There isn't a jazz club on the planet that has the imprimatur that the Vanguard has for presenting the best of the art. The most legendary jazz musicians have played there since Lorraine's late husband, Max, opened the club more than 60 years ago. Lorraine Gordon has put her own mark on the club since she took it over in 1989 and has kept it true to the spirit of "America's classical music."
In this regard, Lorraine Gordon has done much for jazz and is well deserving of the Spellman Award, which is bestowed on those who have contributed to the appreciation of jazz. Local 802 members will recall that Jimmy Owens, who among his other great achievements, is a stalwart of the cause of bringing pension benefits to jazz musicians, won the award last year.
This fact points to a great irony. While Jimmy Owens has worked tirelessly to advocate for jazz musicians receiving pensions, Lorraine Gordon, unfortunately, has stood in the way of this worthy effort.
Allegro readers are familiar with the tax abatement bill Local 802 worked to pass in 2007, which eliminated the sales tax on admission charges at clubs such as the Village Vanguard.
Local 802's efforts were meant to create a revenue stream for jazz clubs to contribute to the AFM pension fund for jazz musicians, helping to rectify an injustice that has stood for decades.
The Village Vanguard up until 2007 included the tax in the price of their admission. They received the benefit of this tax break, according to a Vanguard management source, thereby gaining financially from a campaign that was meant to help the musicians.
Not one penny of the money that the Village Vanguard has profited from as a result of this law has gone to pay for musicians' pensions.
What was Gordon's response to repeated requests by Local 802 to talk about how the Vanguard might contribute to jazz musicians' pensions with the savings realized from the tax relief bill?
Not one phone call or letter asking to talk about the subject has been answered by this year's recipient of a prize that is given for jazz advocacy.
Gordon, whose reputation includes supporting progressive political causes, has ignored the cause that is closest to her doorstep: treating jazz musicians with dignity by contributing to their well being in their later years.
There is no question that Lorraine Gordon's work has done much for jazz musicians and their music. We applaud and congratulate her.
But Ms. Gordon could leave a much bigger mark on the jazz community if she simply granted what her own musicians have been trying to achieve for years.
There could be nothing simpler than to set up a relationship with the union in order to continue her legacy by being the first jazz club in New York to contribute on behalf of her musicians to the pension fund.
It wouldn't get her an NEA Award, but it would give her the award of respect for doing the right thing.
For the latest in our campaign, see www.JusticeForJazzArtists.org.