MEMBER SPOTLIGHT: Donald Chan
Volume 120, No. 8
September, 2020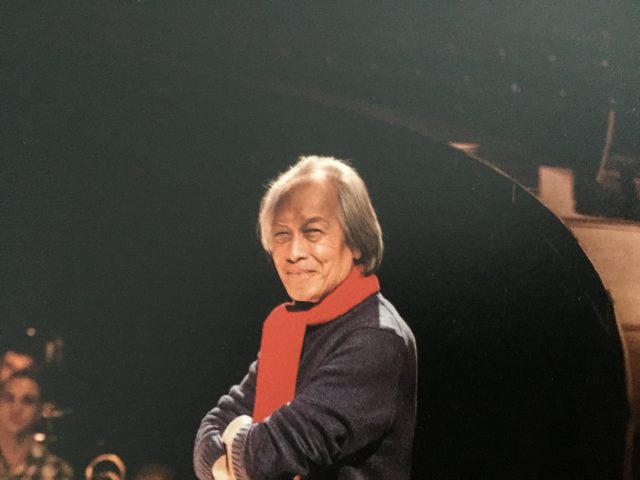 A musician of diverse and accomplished talents, Donald Chan has worked as conductor, music director, and composer with the most esteemed names in American Music. A member of Local 802 since the early 1960s, he earned his M. S. degree from Juilliard and completed his doctoral work at the University of Colorado. As music director, Dr. Chan's career has encompassed many of the most important, influential works of American Musical Theatre, including West Side Story, Cabaret, Kiss of the Spider Woman, The Pirates of Penzance, and Phantom of the Opera.
His work away from Broadway, at such prestigious organizations as the American Conservatory Theatre, Cleveland Opera, Seattle Opera, and Seattle Repertory Theatre has received only the highest praise. For twelve years, maestro Chan served as music director for the historic St. Louis Municipal Opera, the largest theatre in the United States. Over the span of his distinguished career, he has collaborated with such luminaries as Gene Kelly, Ethel Merman, Chita Rivera, Carol Lawrence, Joel Grey, Len Cariou, Lauren Bacall, Martha Graham, and a host of others. With the San Jose Symphony, maestro Chan was the featured piano soloist for the West Coast Premier of Leonard Bernstein's Symphony No. 2: The Age of Anxiety. As composer, he has written for a wide variety of ensembles, has provided incidental music to the plays of Ibsen and Brecht, and contributed the score to the award-winning PBS documentary March of the Living.
Of the more than the 100 musicals and operettas he has musically directed and conducted, West Side Story is the piece that he is most often called upon to direct. Maestro Chan has served as musical director for more performances of West Side Story than any other conductor, including special productions in 2000 and 2003 for the La Scala Opera Company in Milan, Italy.
Allegro recently caught up with Dr. Chan for a brief Q&A.
Allegro: Can you tell us why you are so attracted to "West Side Story"? How did you first hear it and why has it captured your attention for all these years?
Donald Chan: I have been doing WSS off and on since the 1970s…My first major production was with the Cleveland Opera Company in 1985..I was the Musical Director in CABARET on Broadway with Joel Grey…(this was a thrill for me as I was the first Asian American to be conducting a Broadway musical) I got a call from Cleveland Opera to do a major production using members of the Cleveland Symphony and Bebe Neuwirth as Anita…It got major attention as the Bernstein office was in attendance at the opening…From there I received a call from Harry Kraut from the Bernstein office to see if I was interested in Musical Directing a national tour of WSS…Of course I said…How could I not turn this down…Harry became my mentor and he guided me be the Musical Director for the 2000 production of WSS at La Scala in Milan…The second production came in 2003… You know that the La Scala orchestra doesn't like you, they will not play for you and will sort of thumb their nose at you… On the opening night before the second act, the orchestra members were stomping their feet…I turned to my attendant to ask what's happening…He said that if they stomp their feet it means that they respect you and that they like you…What a relief… After that a musical corporation (BB Productions with Michael Brenner as Producer) took out the rights to do WSS in many of the major opera houses all over the world…It has been an experience of a lifetime…From Tokyo, Germany, Paris, Istanbul, etc…I couldn't ask for a better life…
Allegro: How have you been experiencing quarantine and the Covid crisis? Have you been teaching or doing music electronically, like using Zoom? Have you been writing music or practicing? How have you used your downtime?
Donald Chan: It's been a very quiet time in my life and I have been enjoying it…I had just finished doing WSS at the Sydney Opera House last year and was schedule to return last month (July) but as you know it's been a disaster…I spend my time playing the piano, going to the gym and playing tennis at least 4 times a week…
Allegro: Why is your membership in Local 802 been important to you during your career?
Donald Chan: I joined 802 when I began my studies for my MS degree at Juilliard…I am now considered a senior member. In the 70's I was mentored by Anton Coppola who helped me to become the MD for the biggest outdoor summer theatre in the US – The St Louis Municipal Opera…At that time the sets were 3 dimensional and an orchestra of 45…But that's a story for another time….
Allegro: How do you think music can help sustain our souls during this coronavirus crisis?
Donald Chan: Music is the soul and heart of life…Without it we will cease to exist…We have to continue to find ways to bring the music to the people of the world…We are finding ways to do it, but it is a slow process…I think we will overcome this when we get a vaccine…But until that time we are going to keep fighting to maintain what we have gained…Have heart because we will get over this and survive…
Allegro: What hope do you have for the future as we imagine life after the crisis?
Donald Chan: Right now we (the entertainers of the world) are having a hard time, but I believe that we will come out of this stronger than ever…