EQUAL ACCESS
Women in jazz come together
Volume 120, No. 3
March, 2020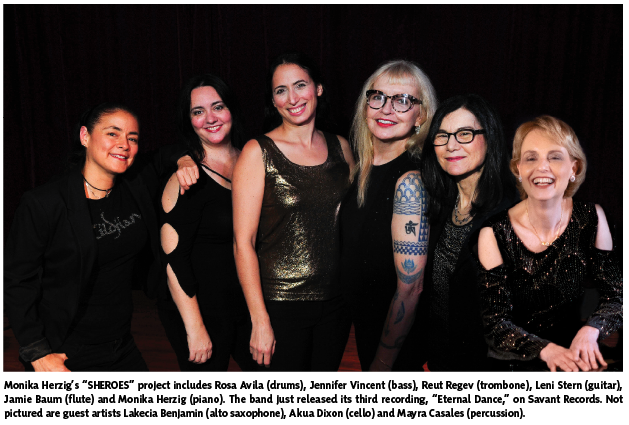 March is Women's History Month and this year we are also celebrating the 100th anniversary of the women's suffrage movement. While female jazz performers are not a novelty anymore, they still make up only one fifth of the field. As an advocate and researcher, I'd like to share some of the hidden history that I've uncovered.
Throughout the history of jazz, female musicians had cut their teeth in vaudeville acts, carnivals and theatres but World War II enabled a period of drastically new working conditions for women. A shortage of workers and entertainers opened the doors to performance and touring opportunities.
Musicians and observers at the time remember the public perception of these groups as freakish, with comments such as "they play like men," and a general "look first, listen second" attitude. The emphasis on looks was a tough pill to swallow for members of female touring bands, but they were willing to do so in exchange for the opportunity to hone their skills and work as professional musicians. "It was my only way to get out on the road and perform," said saxophonist Roz Cohn, a member of the International Sweethearts of Rhythm, the most prominent of the all-female bands. "There was virtually no integration into male bands," Cohn remembers. (Local 802 member Carline Ray also played bass in the same group, which traveled on many USO tours.)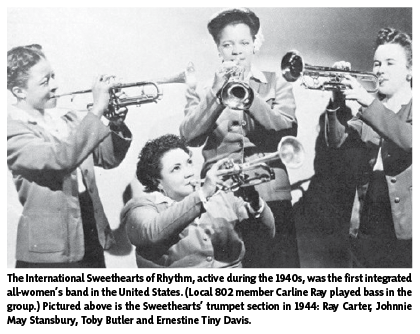 Other notable ensembles from that era were Ada Leonard's All American Girls, Ina Rae Hutton and Her Melodears, Helen Lewis and her All-Girls Syncopaters, The Parisian Red Heads, Ivy Benson and her All Girl Orchestra, Clara De Vries and Her Jazz Ladies, Gloria Gaye and Her Glamour Girls Band, and Gracie Cole and Her Orchestra, to name just a few.
When women and men did play in the same groups, women were paid less, as trumpeter Laverne Wollerman remembers: "When male sidemen were making $125 to $150 per week, we got $50."
Obviously there was no shortage of capable female musicians, but as soon as men returned from the war, the male musicians reclaimed their jobs in the entertainment business. It took decades after the war for women to demand their rightful place in jazz and bring the issue to the public's attention.
In 1977, pianist Marian McPartland formed an all-female quintet to prove a point to Newport Jazz Festival promoter George Wein, who had claimed that it wouldn't be possible to find a night's worth of female talent.
A few years later, two Kansas City women, Carol Comer and Dianne Gregg, challenged the lingering boys' club in jazz with the presentation of the Kansas City Women's Jazz Festival, which ran from 1978 to 1985.
Besides Marian McPartland, established jazz performers Mary Lou Williams, Mary Osborne, Dottie Dodgion, Betty Carter, Toshiko Akiyoshi, Melba Liston, Carol Kaye, Joanne Brackeen, Carmen McRae, Jane Ira Bloom, Carla Bley, Stacy Rowles, Dianne Reeves, Sheila Jordan and others began headlining next to emerging artists, competition winners and a new wave of all-female ensembles spearheaded by Bonnie Janovsky's and Ann Patterson's Maiden Voyage Big Band. Patterson remembers: "We wanted to change people's attitudes toward women musicians. Back then it was assumed a woman couldn't play as well as the guys. We knew that one good woman musician could change that kind of attitude. But if there were 17 of us, it would make more of a statement. We also wanted a place for women who wanted to be in a big band to play and get experience and exposure."
Even then, all-female groups were still viewed as a novelty, or an emerging field. But now, two decades into the 21st century, we're enjoying a new wave of all-female ensembles led by Renee Rosnes, Terri Lyne Carrington, Sherrie Maricle, Tia Fuller, Ellen Rowe, Jane Bunnett, Mayra Casales and even pop superstars Beyonce and Adele. Providing much-needed role models and opportunities for free expression are still top arguments for forming these bonds
Another example of cutting-edge jazz advocacy for women is the We Have Voice collective. Fourteen female and non-binary instrumentalists and vocalists released a Code of Conduct, articulating what a more equitable workplace might look like and setting expectations for change. A member of the collective, Grammy-nominated saxophonist Tia Fuller, said, "I think slowly but surely we're doing the work and there is some shift happening. I especially see it with my students and the younger generation. That's something that's near and dear to my heart. I'm seeing the pain, psychological, physical, emotional pain that it's caused with women and sometimes men, too."
Terri Lyne Carrington, another member of the collective, was inspired to found the Berklee Institute for Jazz and Gender Justice. Similarly, the Women in Jazz Organization, under the leadership of saxophonist and Local 802 member Roxy Coss, has emerged as another important advocacy organization.
Research has made it clear by now that it's not biological factors but social and psychological factors that influence female participation in jazz. Hence, the role of contemporary all-female ensembles is to mitigate some of these factors. All-female ensembles provide a support group and a safe space to create, experiment, and express. The need for such a space was confirmed in many interviews I've read and conducted as part of my research, especially the need to diminish the competitive nature in the usually male-dominated environments. Participation allows for musical growth and strengthening of self-esteem. This is also a mission of the increasingly frequent events like Jazz Girls Days, as well as all-female jazz camps.
The presentation of all-female groups helps change deeply rooted perceptions that associate femininity with weakness and less quality. Local 802 member Sherrie Maricle, leader of the DIVA Jazz Orchestra, shared the following story in a 2018 interview with documentary filmmaker Kay D. Ray: "When I was a kid, my fantasy was to play in the Woody Herman band. I loved that band so much and I still love it. I remember back in the day you would send a cassette tape. They sent the cassettes around blind. My friend who was playing bass in the band at the time said, 'Everybody thought your tape was great. But then they found out you were a woman and then they laughed and threw it away.'"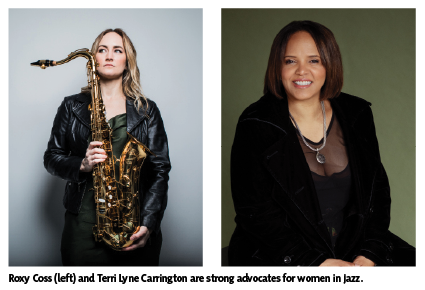 To combat this widespread sexism (and nepotism), activists demanded blind auditions in the classical world starting in the 1970s, with the result of a 30 percent increase of hiring female musicians in orchestras.
Stereotyping has also been shown to influence the actual performance of those who believe they are being stereotyped. From my personal experience as a touring jazz pianist, I can attest that others frequently assume that I'm a vocalist and in need of expert backup. This happens when I meet new audiences, new presenters and new colleagues alike. Thus the pressure of having to prove superior capacities and perform beyond expectations is especially strong when women enter new situations. This adds psychological and social pressures that can interfere with the quality of the performance.
In a recent panel discussion at the 2019 Jazz Education Network Conference in Reno, Berkley High School Band Director and founder of Jazz Girls Day, Sarah Kline said:
"There is a certain very small percentage of women who can deal with the stereotype threat — and everything else. A lot of those 2 percent of women are sitting on this panel and are sitting among you. But…we need everyone's voice in community. We don't need 2 percent of women to break through; we don't need the big schools to get better at recruiting those 2 percent of women. We need education that reaches all of our women and all of our students — and all of our men too."
Ideally the issue of gender will soon be a moot point and all musicians will be judged just by their chops alone. But in order to reach this goal, all-female groups pave the way as a training ground, where they provide safe spaces and role models and mentors for our future generations.
For a longer version of this article that also includes all of the sources cited, e-mail the author at mherzig@indiana.edu. Jazz pianist Monika Herzig, a member of AFM Local 3 (Indianapolis), is the head of the research committee for the Jazz Education Network. Her latest project "SHEROES" features the world's leading female jazz instrumentalists and was cited by DownBeat as one of the best releases of 2018. She is also the author of "David Baker: A Legacy in Music" and "Experiencing Chick Corea: A Listener's Companion." Upcoming tour info and videos can be found at www.monikaherzig.com.