Everything Comes Together: A Conversation with Carla Bley
Jazz Appreciation Month
Volume CVII, No. 4
April, 2007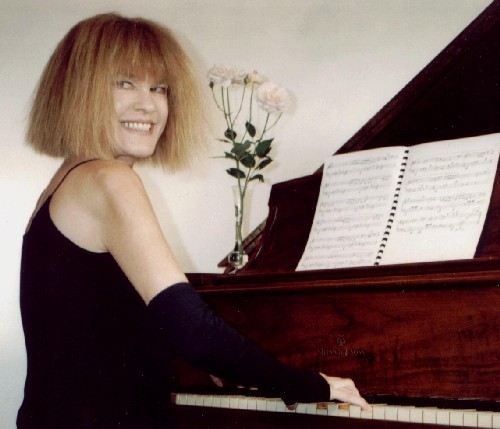 Photo by D.D. Rider
An important figure in the free jazz movement of the 1960's, composer, pianist, organist and bandleader Carla Bley is perhaps best known for her jazz opera "Escalator Over the Hill" (released as a triple LP set), as well as a book of compositions that have been performed by many other artists, including Gary Burton, Jimmy Giuffre, George Russell, Art Farmer and her ex-husband Paul Bley.
In 1964 she was involved in organizing the Jazz Composers Guild which brought together the most innovative musicians in New York at the time. With Michael Mantler, she started the JCOA record label which issued a number of historic recordings by Clifford Thornton, Don Cherry and Roswell Rudd, as well as her own "Escalator Over The Hill" and Mantler's "Jazz Composer's Orchestra" LP's.
Bley and Mantler followed with WATT records, which has issued their recordings exclusively from the early 1970's onward.
Bley and Mantler were pioneers in the development of independent artist-owned record labels and also started the now defunct New Music Distribution Service which specialized in small, independent labels that issued recordings of creative improvised music.
She has collaborated with a number of other artists, including Robert Wyatt and Pink Floyd drummer Nick Mason. She arranged and composed music for Charlie Haden's Liberation Music Orchestra, and wrote "A Genuine Tong Funeral" for Gary Burton. Her arrangement of the music for Federico Fellini's "8 1¼2" appeared on Hal Willner's Nino Rota tribute record, "Amarcord Nino Rota."
Carla Bley has continued to record frequently with her own big band and a number of smaller ensembles. Her partner, the bassist Steve Swallow, has been her closest and most consistent musical associate in recent years. In 1997, a live version of "Escalator Over The Hill" was performed for the first time in Cologne, Germany. In 1998, she toured "Escalator" in Europe. (Another live performance took place last year in Essen, Germany.)
In 2005 she arranged the music for and performed on Charlie Haden's latest Liberation Music Orchestra tour and recording, "Not In Our Name."
Carla Bley has been a member of Local 802 since 1965. Carla Bley was interviewed by Matt Weiers, who has conducted exclusive interviews in Allegro with Toshiko Akiyoshi, Fred Hersch, Kenny Garrett, Jane Ira Bloom, Geri Allen and Marian McPartland.
The information for Carla Bley's introduction came from her entry in Wikipedia.
Matt Weiers: What are the most important aspects of music for you? What does your music have to have in order for you to be satisfied with it?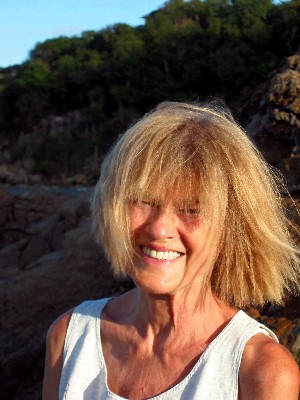 Photo by D.D. Rider
Carla Bley: All the aspects have to be good. Any one flaw could ruin it. Everything has to be perfect. Every note has to be in the right place with the right pitch. It has to have a great title, be the right length, it has to come at a time in your life when it isn't too difficult to write it. I'm running a tight ship here.
MW: How often do all those stars come into alignment for you?
CB: Before the piece can be called finished, they all have to come into alignment. Once it's played, that's something else again. Usually I can get it right without hearing it, but there might be some little things that need to be changed. I often think about people who have deadlines. Like in the old days, the arrangers who had three days or maybe even less to write an arrangement. I don't know how they did it.
MW: I was just listening to a radio program about Johnny Mercer, who said a composition teacher of his told him the most important thing was to know in depth how notes on paper would be translated into sound by the band.
CB: Yes, that's fundamental. Sometimes Steve Swallow gets a hold of the bass line and changes it. And that's something that I can't really figure out. How he would play a certain bass line. He probably doesn't even know. But before I give a piece to a group, sometimes Steve and I will play it together, and at that moment, often something will change. Also, if I write something for my favorite soloist, the way they play the melody will be different than expected. They will hear it slightly differently and put something in there. So not only does it have to be all perfect by the time it leaves your brain, but it has to be given to the right people.
MW: When you write horn or rhythm section parts, are you writing with certain performers in mind?
CB: Only the soloists. I have two saxophonists that I always use. Both of them are Europeans. I also have two brass players, both American. So I think of those four people when writing, but I don't always know who will play which part. It usually becomes clear as time goes on. I sound so confident, don't I? But that's so funny, because when you sit down in front of a blank page, the last thing you have is confidence. Where is it going to come from, and if it does come, will it ever come again? Stuff like that, I feel it constantly. But at this point, I'm at the end of a piece that I've been working on for a couple of months and I feel confident.
MW: I've read that the "Social Studies" album was the last one you did before you learned the music theory about chord changes. After that, did you feel more or less confident in your compositional process?
CB: Neither. It's just that I could identify the notes in the chords that I was writing. It isn't that I didn't know what the notes were, I just didn't know what they were called. But learning those things might have made me more conservative, perhaps. I think I've gotten more conservative as I've gotten older. I've lost a lot of my original ignorance and innocence.
MW: Do you wish you could unlearn some music theory?
CB: No, I wish I had learned it earlier.
MW: How has your music changed over the years?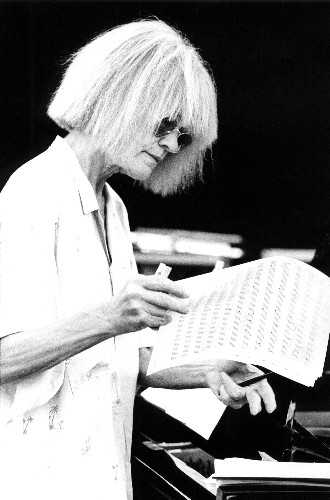 Photo by Elena Carminati.
CB: I may write slower now. I used to write about six pieces a year and now it's more like three. I think it's because I stopped smoking cigarettes and drinking coffee. Gin and tonic, whatever it was, I would sit there for hours and hours with no need to take a break. But now I'm more impatient and nervous. I have to get up, I get stuck. Instead of lighting a cigarette, I'll get up and walk around or go to the kitchen and cook something. That's been the case since I quit smoking, which sounds silly, but it's true. That was about 20 years ago. Also, I've listened to so much, which probably has affected me. Steve and I just finished listening to a 12-disc compilation of Count Basie's music. Both Steve and I were there at Birdland or the Jazz Gallery in the fifties and we wanted to revisit that music. We spent about a week listening to that and at the end of that experience, I had such renewed regard for the music. I noticed in "One O'Clock Jump" how Basie had a brass figure way up high and then there was a reed thing that was a little bit more laid back. It went back and forth and was so great and I went and changed something in a big band arrangement I was working on. I've also gotten away from waltzes and tangos and punk rock and quiet storm. As soon as I got infatuated with a kind of music, I would go there, probably because that fascinated me. But I've gotten away from all that and am trying to write more playable music — not stuff that musicians look at and scream. The first piece I ever wrote for a band, the guy who was playing vibes used the music. Although he knew it by memory, he put the music on the stand for fear that people would actually think he was making it up. I wouldn't want to do that anymore. In the beginning of a career, maybe you're sort of flailing around and trying to be original and change music totally and do something someone has never done before and break all the rules. I think that is a useful thing that maybe you have to do. I think that I write for the guys now almost like a service. I know what my guys sound like and what they need and I give it to them.
MW: What is your idea of the perfect venue and performance of your music?
CB: I don't like to perform at all so I don't have any favorite scenarios for something that I really dislike doing. I guess I like a performance if it goes quickly and nobody throws anything at me and I can leave right after the gig. I realize that's a strange answer, but you have to realize I'd prefer to be at home writing it — I'm not an entertainer.
MW: How do you find the audience reception to your work to be different in the U.S. versus overseas?
CB: It's not that different, just a matter of the size of the audience. There aren't as many people that enjoy this type of music in the United States. I don't think I can tell the difference between an audience in Monterey, California and Lausanne, Switzerland, except for the size. It's an international language. If people know that language and want to hear things spoken in that language, they'll come.
MW: Do you think of yourself as a jazz composer, or a composer who sometimes writes jazz?
CB: I would be happy to be thought of as a jazz composer. If I'm considered a curiosity I would be unhappy. I would rather be in the line of jazz composers. Earlier in my life, I went to many different corners of the music world but never stayed anywhere long. Jazz is my language — I speak a little Italian, I speak a little French. Do you know what I mean?
MW: How do you decide what to write next?
CB: I don't decide, it just usually comes. Right now I'm working on an album of big band arrangements inspired by the popular American song forms, Tin Pan Alley stuff. I thought I would do an arrangement of "Where or When." I sit at the piano and nothing happens. So I try to remember which other songs I used to like and I pick another one and nothing happens. It always just sneaks up behind me and hits me over the head. I can never do what I'm supposed to do. If you sit in jazz clubs long enough and your head is a musical garbage can like mine is, then all sorts of things sneak in there.
MW: How is it making a living in jazz and how has it changed over the years?
CB: Well, it's gotten a lot better. Everyone says that now you have to work harder to get less money and that's perhaps true, but I still like to work as hard as I can. I'm talking about composing and not traveling, although I do travel, too. I tour a lot and my favorite part of it is after the gig. I really just try to get through the public performance. But it's gotten better and better over the years because early on I was never accepted or offered gigs or commissions, so I had no place to fall from. Now I have more work than I want. This year in particular I have three major projects that I'm being paid to do, so it couldn't be any better. I'm very honored to get as much money as I do for that writing. I'm just doing what I would do anyway. But don't tell anybody that! So there's hope. Stick around long enough and keep doing what you do and if you're lucky, someday people will pay you to do it.