Fight to regain our digital rights
Local 802 Artist Rights Caucus
Volume 119, No. 8
September, 2019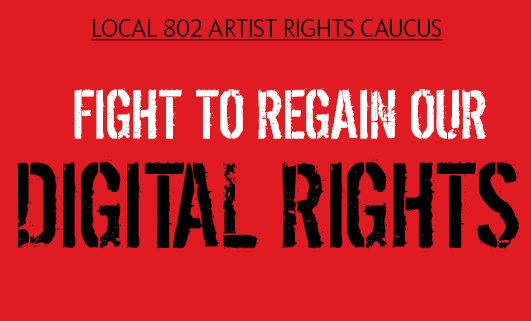 With all the hype about streaming, it's easy to forget that musicians' recording income is still massively reduced from what it was 20 years ago.
Easy, that is, unless you're a recording musician.
We know too well that only a tiny percentage of recording artists actually make enough from streaming to pay basic studio costs, let alone union scale.
Those of us with long experience remember record budgets that actually covered costs, plentiful session work, and even tour support. Younger musicians wonder why they still can't quit their day job even after creating music that streams on YouTube more than a million times.
This diminishment of our livelihoods isn't caused by digital technology itself, which most of us use, support and value. Instead, we're being exploited by an outdated law: Section 512 of the Digital Millennium Copyright Act, otherwise known as the "safe harbor" provision.
Even the best organizers can't squeeze union scale from a turnip – or from a record label that's already been bled dry through digital exploitation. Before the union can fight our exploitation economically, it must first fight politically to change this law, which has permitted online corporations to bleed our industry dry.
The law – written before Napster, YouTube or Facebook even existed – permits online corporations to profit from mass infringement of our copyrights with impunity, using our work as clickbait to generate ads, mine data and make profits without our consent or remuneration. It is effectively destroying the market for our work.
The safe harbor provision doesn't make copyright infringement legal. It just make it impossible to sue the huge corporations whose business model is based on it.
This is the cause of the ridiculously low rates paid by streaming services. No business can compete with "free." And copyright infringement, encouraged by the safe harbor provision, basically creates free content.
There is a way to fix this problem. The AFM and other allies are signatories to the music community response to the U.S. Copyright Office's inquiry on Section 512. We are calling for YouTube and similar platforms to take reasonable steps to prevent mass infringement on their sites – or risk losing their safe harbor special privilege. In other words, like any other business, they should be held responsible for the damage  they've caused.
Of course, the Silicon Valley corporations profiting from mass infringement have fought furiously against the reforms we need. Google (which owns YouTube) is chief among them. Until now, they were considered unbeatable.
But times are changing.
Politicians have caught on to the social media tricks: they now recognize that many so-called "grassroots organizations" are actually astroturf tech industry fronts that use bots, troll factories and fake news to generate the illusion of mass support, but can't put 20 people at a demonstration.
The European Congress passed Article 13/17, which calls for many of the common sense solutions that musicians have proposed. This proves that we can stand up to Big Tech, and win. The much vaunted big tech online "grassroots army" was exposed as a fraud.
The passage of FOSTA, the federal act targeting sex trafficking, proved that forcing online platforms to accept the same responsibility for preventing illegal acts on their premises as any other business didn't "end the internet" or bring about any of the other disasters that Silicon Valley fake news had claimed it would.
The public has grown weary of seeing democracy shredded, privacy destroyed, and a destructive black market in creative artists' work peddled in the name of so-called "internet freedom." People no longer see Google, YouTube, Facebook and Amazon as cute underdogs but as the rapacious robber barons of a new gilded era, ready to throw women, exploited children, and democracy itself under the bus in their drive for advertising dollars and data-mining profits.
Now is the time to act, and we are the ones to act.
The Artist Rights Caucus of Local 802 has called for the creation of a campaign to achieve the legislative goals that the AFM and its allies have already outlined.
Both the RMA and Local 802's new leadership are in support, and the leadership of AFM Local 47 (Los Angeles) has invited us to begin a dialogue to educate the membership on the issues. The Artist Rights Alliance (www.artistrightsalliance.org) is offering legal and legislative guidance and support.
Now it's up to us. We don't have to sit back and watch multi-billion dollar corporations take away our rights one by one.
WHAT YOU CAN DO
Join the Local 802 Artist Rights Caucus: send an e-mail to artistrightscaucus@gmail.com for more info.
Sign our Call for Economic Justice in the Digital Domain: https://arc802.wordpress.com/2018/10/04/afmsignon
Let your elected union officials know that you support action to reform the unfair "safe harbor" provision of Section 512 of the Digital Millennium Copyright Act.
There is power in our union, and we need it to protect our rights and livelihoods in the digital domain!
Marc Ribot has been a member of Local 802 since 1978. He and Ken Hatfield are co-chairs of the Local 802 Artist Rights Caucus. E-mail the caucus at artistrightscaucus@gmail.com.