Final Bow
Volume 112, No. 6
June, 2012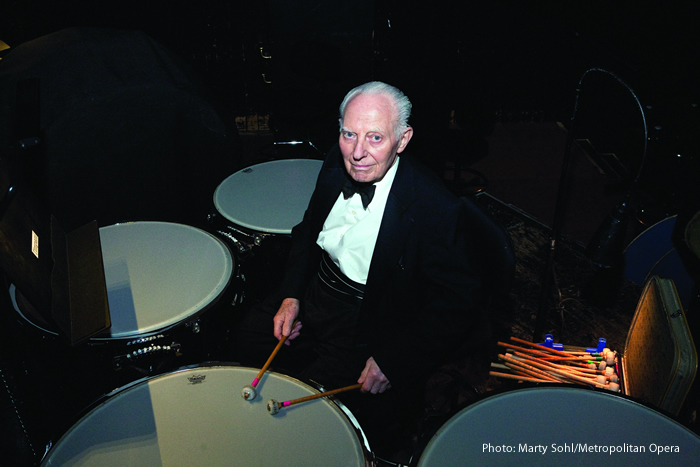 Richard Horowitz, who performed with the Met for 66 years, has been a member of Local 802 since 1942.
Photo: Marty Sohl/Metropolitan Opera
After 66 years at the Met, timpanist Richard Horowitz retires
Richard Horowitz, who performed with the Met for 66 years, has been a member of Local 802 since 1942. On opposite page, Horowitz photographed in the 1960's, on his lifelong musical journey.
Word is spreading through the opera community of an epochal change at the Metropolitan Opera. Richard Horowitz, principal timpanist of the company, just retired at the end of the 2011-2012 season. While other members of the chorus and orchestra, as well as ushers, box office workers and other employees have maintained long associations with Met, the story of Dick Horowitz, as he is widely known, is of a dimension that is unheard of and seemingly without parallel.
Horowitz has performed at the Met for 66 of his 88 years, having made his debut in November 1946, a quarter-century before music director James Levine's debut. Nine general managers have served the Met during Horowitz's tenure and thousands of employees, not to mention singers, have overlapped with his career. Were longevity the only measure of his impact, his retirement would still be significant. But he has been an innovative musician and a valuable resource, in expected and surprising ways, to many of the world's greatest conductors.
His first performance at the old Met (on Broadway and 39th Street) was in Delibes's "Lakmé" with Lily Pons in the title role and Louis Fourestier making his debut as conductor. There were performances on Nov. 11 and 23 but the Met archives don't indicate which one was Horowitz's debut. He must have played thousands of times since, but no one seems to be counting. For Horowitz, the next performance is the most important one.
When I attend performances at the Met, I usually sit in one of the upper tiers. Financial considerations are one reason, but another is that I love to watch the conductors and musicians in the orchestra. They are the anchor of every great performance. I am friendly with some musicians in the orchestra, including Horowitz, and it is my custom to use my binoculars to scan the pit and see that all the familiar faces are present and accounted for. Seeing him on the extreme right end of the pit is as normal and reassuring as seeing the Statue of Liberty still there in New York harbor.
His is a classic New York story and he is the embodiment of many of the best values of the city, and of musicianship. He can recount the changes he has seen but does it without any sense of living in the past. One of the many things I admire about Horowitz is the degree to which he lives and performs in the moment. Last month, he was still studying and refining his interpretation of the difficult percussion parts of Manon, which he considers more challenging than Wagner. The fact that the Met performed Manon 105 times during Horowitz's career before the current new production did not deter him from returning to the score to do an even better job this time.
An illustrious part of the Met's history, and Horowitz's, was the annual American tour the company undertook until 1986. These meant that each company member could be a musical ambassador in delighting audiences and, often, teaching local students in cities that were visited. The Met was more fully a national company and its loyal friends were legion across the nation. There is nothing like a live performance of opera, hearing orchestra and singers in full cry and seeing the magic of stagecraft.
In the old days, the Met often crossed the country by train. Horowitz's wife, Bernice, joined him on many tours and both remember the tiring but pleasurable journeys from one city to the next. In a recent conversation, both recalled journeying all the way across the continent to Los Angeles in April 1948, traversing deserts and mountains along the way. "Manon" was one of the productions presented there, with Wilfred Pelletier leading the orchestra and a golden-age cast including Bidù Sayao, Giuseppe di Stefano, Martial Singher and Ezio Pinza. And a 24 year old Dick Horowitz playing timpani (also known as kettle drums).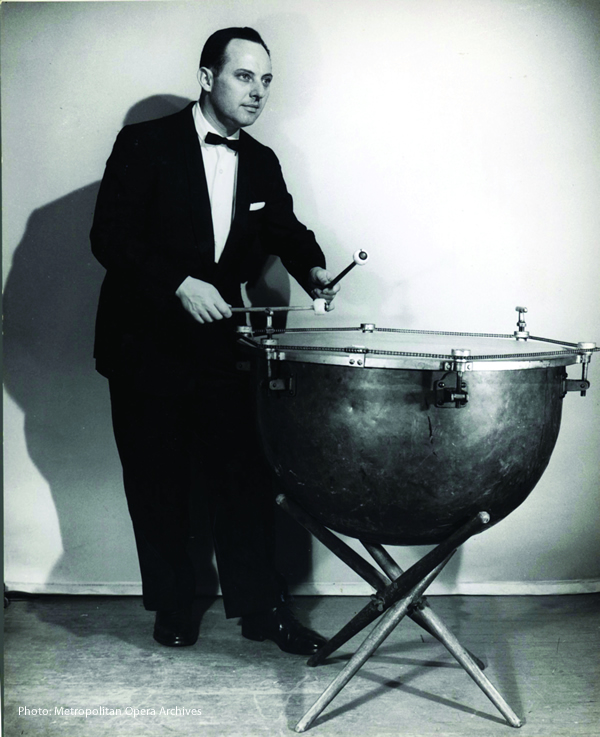 Horowitz photographed in the 1960's, on his lifelong musical journey.
Photo: Metropolitan Opera Archives
Only in New York
Horowitz grew up at a time when New York City had valuable resources for children interested in music. He studied piano and was in the first graduating class of the High School of Music and Art (now LaGuardia High School). He studied at Brooklyn College and Juilliard, where he met Bernice in a class about the acoustics of music. "He missed one session and borrowed my notes," said Bernice Horowitz, a busy and accomplished harpist. "On the exam he got an A and I got a B!" The couple have been married for 68 years and proudly announce that they raised two sons, graduates of MIT and Stanford.
In high school and again later on, Horowitz studied with Saul Goodman, the legendary timpanist of the New York Philharmonic. "It took me a while to decipher what Goodman was doing," he said. "As a teacher he was not so good; as a player he was phenomenal. I had to watch him to figure it out. His technique was absolutely right for the instrument." When James Levine arrived at the Met and listened to Horowitz play, he added, "This is the closest to Saul Goodman I have ever heard."
When Horowitz began his career, he did not have certain resources musicians do today (Horowitz being a major resource unto himself). "When I started to play timpani in opera, there were practically no recordings available," he noted. "If I wanted to learn anything, I had to go to the Met and look at the scores. Opera scores, in general, are very bad in terms of notation for timpani. We just did "Ernani" this winter. We had to read twelve-sheet pages fast, play, and turn pages all at once. As one person said, the publisher's employees were probably paid by the page."
One of Horowitz's significant contributions to opera is that he has refined and written out scores in more concise and accurate ways. He has perfect pitch, which has enabled him to discern when there might be something inaccurate in a score. Before Richard Strauss and other 20th century composers, the markings for timpani in scores were often erroneous or vague. Early on, he noted to Bruno Walter that the timpani parts in the score of the Verdi Requiem might have been wrong or, at least, inaccurate. "When parts were written in the 19th century, you did not hear pitch as much as sound. Some of the Verdi Requiem might have been written for the bass drum, which has no pitch at all." Through the decades, smart conductors have consulted Horowitz, who generously offers his opinion but noted, "I can only change these things if a conductor is amenable to doing it."
On February 12, 1948 Horowitz made his first appearance on the Met stage during the company premiere of Britten's "Peter Grimes." The conductor, Emil Cooper, did not feel confident that Philip Kinsman, the singer playing the role of Hobson, could play a drum. The line in the opera was to be, "Hobson, fetch the drum," but was changed to "Hobson, fetch the drummer" and Horowitz came onstage to play. As Horowitz told me, "the rhythms in 'Grimes' are unusual and difficult. In the round in the first act in which singers sing 'Old Joe has gone fishing' it is in 7/4 time!"
A master craftsman
As accomplished as Horowitz is as a musician, he is just as well known for what he makes with his hands. He has produced better-quality drums than what existed before. He used his perfect pitch, erudition and instinct to create anvils for "Das Rheingold." He makes notes in his datebook in a handwriting resembling that of a draughtsman, revealing a perfectionist's precision you would not expect from a man of such gentle temperament.
Years ago, Karl Böhm broke a baton and a replacement could not be found. Horowitz examined the pieces and, like Siegfried's sword, produced a new one. In so doing, he discovered another talent. He has hand-crafted batons for many top conductors, including Richard Bonynge, Sarah Caldwell, Colin Davis, Christoph von Dohnanyi, Plácido Domingo, Marek Janowski, Julius Rudel and Thomas Schippers. He made many batons for Leonard Bernstein, who liked to give them away as gifts. One of the ingredients in the Bernstein batons is corks from Champagne bottles. Bernstein was buried with one of Horowitz's batons.
In a 1988 profile of Horowitz in The New York Times, James Levine said, "The baton-making flows directly from subtle skills, of intonation and rhythm and steady hands, as a timpanist…A baton is the conductor's instrument: the same as subtleties of reeds to a wind player, string quality or weight of a bow to a violinist. A stick that is too heavy, long or short, distracts me. I cannot summon the same body language. The music suffers."
Bernice jokes that "Dick has been playing percussion for so long it's more like repercussion." To which Horowitz gently responds, "It was a long life. I'm happy to say it's not finished."
This story first appeared on the Operavore blog on WQXR.org. It is reprinted with permission.