Five-Year Grievance Pays Off
Musicians for "Love, Janis" Win Back Benefits
Volume CVI, No. 3
March, 2006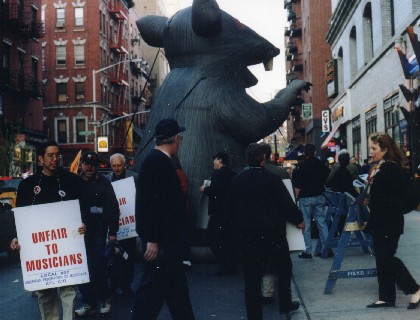 Protests at "Love, Janis" in 2001 resulted in a union contract for musicians. Photos by Joy Portugal.
A five-year grievance involving the musical "Love, Janis" is over. Musicians have finally received the benefits due to them.
From the beginning this show presented many challenges to the union. Back in 2001 the producers made it clear that they intended to put on the production without an 802 contract.
First, the producers fired two musicians because they were 802 members. The union filed an unfair labor practice charge with the NLRB. The case against the employer was so strong that the labor board urged the employer to settle. The employer agreed to pay the musicians a settlement of $30,000 and agreed that the musicians had first call rights to sub work.
Even then the employer was not convinced that they had to deal with the union. Only after several weeks of vigorous demonstrations and leafletting in front of the Village Theatre did the employer finally come to the negotiating table.
Even though the union won a collective bargaining agreement covering four musicians and their subs, the union's problems were not over. The employer constantly violated the agreement and became a contract enforcement nightmare.
Then another disaster occurred. The primary producer – Jennifer Dumas – disappeared, owing thousands of dollars in health, pension and work dues. The show looked like it might close. All of the secondary producers also disappeared. The union filed for arbitration.
In a twist, Jimmy Nederlander took over the production. The union had difficulty with him, too. Nederlander claimed that he was not a party to the contract. The union disagreed, and once again filed for arbitration. Musicians eventually won back $12,000.
In the meantime the union was still pursuing Jennifer Dumas, the original producer. Local 802 attorney Harvey Mars won a default judgment and then went looking to collect.
By a stroke of luck, the union learned where Dumas was currently working and was able to garnish her paycheck. The money finally started coming in.
Now, after five years, the union has collected the final payment. The money has been credited to the musicians' benefit accounts.
For more background, see the following articles in the May and June issues from 2001: